Hearty Beef and Tomato Macaroni Soup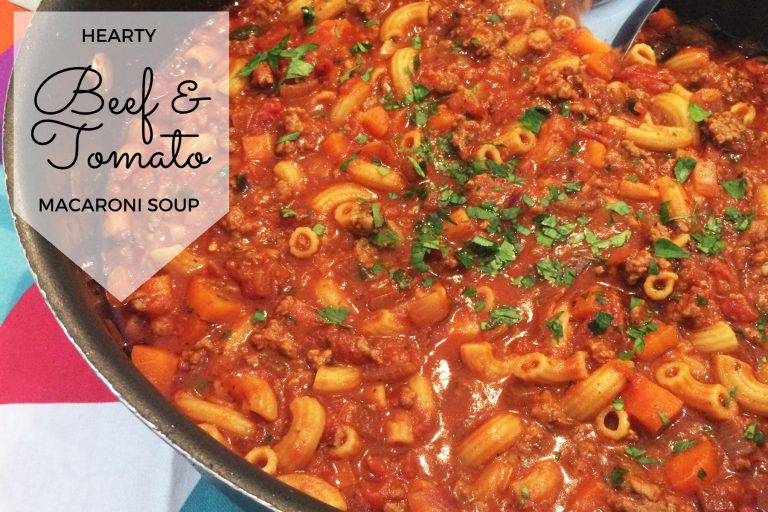 Hearty Beef and Tomato Macaroni Soup
We're always after something new to make with mince, and this hearty beef and tomato macaroni soup recipe fits the bill perfectly. Especially if you have picky eaters who will only eat spaghetti bolognaise!
It is basically a bolognaise soup with pasta in it. Nothing super fancy or sophisticated there, but ohh, it's so yummy and something the whole family will love!
There is plenty of room to add loads of vegies if you like – think zucchini, capsicum, mushrooms, tinned beans etc. I didn't have any on hand so I only added diced carrot, and it came out beautifully. You can also add things like chilli flakes or red wine to beef up the flavour, but I found it scrumptious the way it is.
Serve it with fresh crusty bread and you'll have a winter warmer that they'll ask you to make again and again.
Hearty Beef and Tomato Macaroni Soup
Ingredients
500gms minced beef
4 tablespoons olive oil
1 medium carrot, chopped
1 medium brown onion, finely chopped
2 cloves garlic, minced
Salt and freshly ground black pepper
4 cups beef stock
3 x 400gm tins diced tomatoes
1 tablespoon Worcestershire sauce
2 teaspoons dried Italian herbs
2 bay leaves
1 ¼ cups dry small elbow pasta
Fresh chopped parsley and finely grated parmesan cheese, for serving
Instructions
1. Heat a large heavy-based pot over medium-high heat, add 2 tablespoons of oil and cook mince until browned, breaking up with a spoon as it cooks.
2. Remove the mince from the pan to a wire sieve and drain the fat. Return the pan to the heat, add another 2 tablespoons of oil and add the carrots and onion, cooking until softened – about 5 minutes.
3. Return beef to pot along with stock, tins of tomatoes, Worcestershire sauce, dried herbs, and bay leaves and season with salt and pepper to taste. Bring to a boil. Add in pasta, cover and reduce heat to medium,. Boil stirring occasionally, until pasta has cooked through, about 15 - 20 minutes.
4. Add chopped fresh parsley and serve with grated parmesan cheese and crusty bread.
https://mumslounge.com.au/lifestyle/food/hearty-beef-tomato-macaroni-soup/