Home Made Chicken & Bacon Pizzas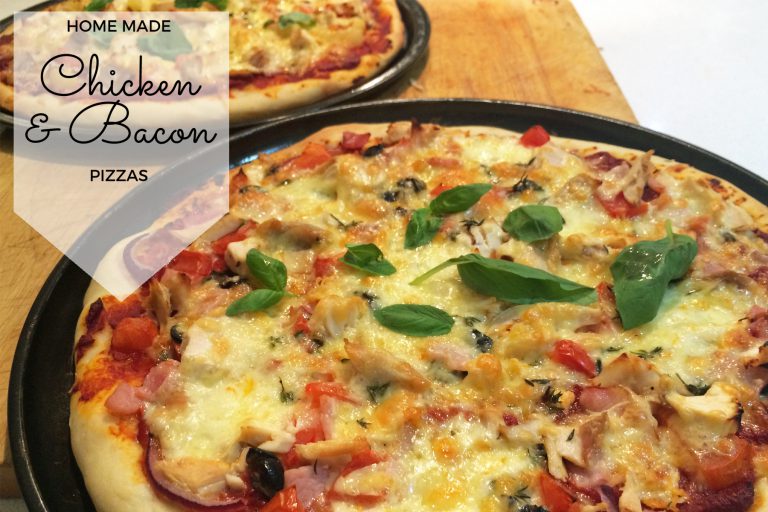 Home Made Chicken & Bacon Pizzas
It's really not that much more effort to make home made chicken and bacon pizzas from scratch, but if you don't fancy making your own, pick up some pre-made bases and start creating your delicious masterpiece straight away!
Home Made Chicken & Bacon Pizzas
Ingredients
For the dough (or buy 3 pre-made pizza bases):
375ml warm water
2 teaspoons (7g) dried yeast
Pinch of caster sugar
4 cups plain flour
1 teaspoon salt
¼ cup olive oil
Olive oil spray
Toppings:
3 heaped tablespoons tomato paste
1 cup cooked bbq chicken meat
2 small tomatoes, chopped
½ red onion, sliced
4 rashers of bacon, chopped
A handful of pitted black olives
3 large bocconcini, sliced
2 cups grated cheese
Fresh thyme
Fresh basil to serve
Instructions
Combine the water, yeast and sugar in a small bowl. Set aside for 5 minutes or until foamy. Combine the flour and salt in a large bowl and make a well in the centre. Add the yeast mixture and oil. Use a round-bladed knife in a cutting motion to mix until the mixture is combined. Use your hands to bring the dough together in the bowl.
Spray a bowl lightly with oil. Turn the dough onto a lightly floured surface and knead for 10 minutes or until smooth and elastic. Place in the prepared bowl and turn to coat in oil. Cover with plastic wrap and set aside in a warm, draught-free place to rise for 30 minutes or until dough doubles in size.
Preheat oven to 220 degrees Celsius fan forced. Divide pizza dough into thirds and spread out onto pizza trays. Add topping ingredients and bake for 15 minutes until cooked and golden. Serve with fresh basil leaves scattered on top accompanied by garlic bread.
https://mumslounge.com.au/lifestyle/food/home-made-chicken-bacon-pizzas/
Notes:
Switch out any of the topping ingredients for your favourites! Think mushrooms, thinly sliced cabanossi, pepperoni, capsicum, pineapple – the choice is yours!