Homemade California Sushi Rolls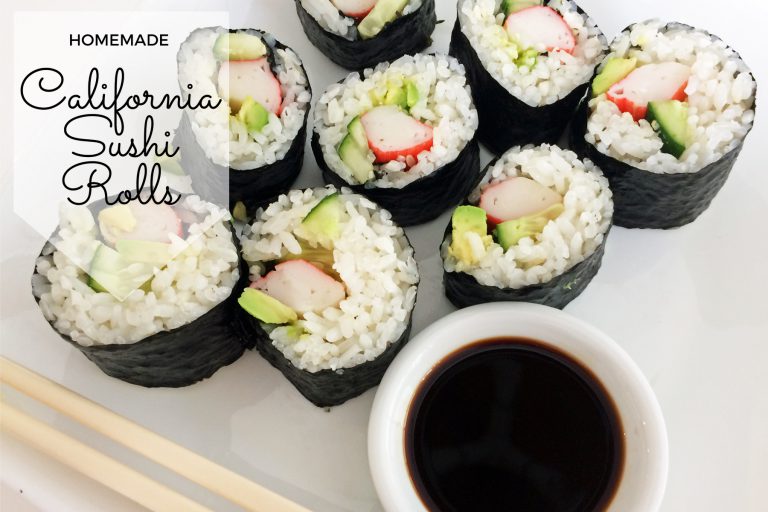 Homemade California Sushi Rolls
My kids can't get enough of sushi. They've been pestering me to make it for dinner and I thought it was all too hard and that I'd make it for them "one day".
But guess what? It's not that hard at all! Actually, it's quite easy! And much cheaper than hitting up your local sushi kiosk at the food court. Seriously, my ten year old can put away four full sized California rolls in one sitting! That can get expensive, and fast!
Here's how to make them.
You'll need some Japanese-style sushi rice, rice vinegar, mirin, caster sugar and salt to make the rice part of the sushi. You can find all of these in the "international foods" part of your local supermarket. You can even buy a kit to use instead, but I found it cheaper to buy all the ingredients separately as you get a bigger quantity for a similar price, meaning the next time I make this dish, the rice part will be free. Also, pick up a bamboo mat while you're there, as you'll need it to roll up your sushi. You can always use baking paper if you forget though, so don't stress.
Wash the rice under cold water until it is well rinsed, then add to a non-stick saucepan and add four cups of water. Cook the rice using the absorption method (recipe below) and allow to cool.
Meanwhile, make up your rice flavourings – place the vinegar, mirin, caster sugar and salt into a small saucepan and stir until the sugar has dissolved. Allow to cool.
Spread the cooled rice over a large tray and drizzle the vinegar mixture over the top. Make cutting strokes through the rice to evenly distribute the flavour.
Slice up some cucumber and avocado, and get your seafood sticks out. Those are the best part!
Then you place a sheet of nori (seaweed sheet) on the bamboo mat, add a layer of rice and your fillings, then simply roll up!
Actually, it's not quite that simple. It can get a little tricky, especially if you've not done it before. I struggled a little bit, and some of the fillings fell out but the kids loved it nonetheless.
Cut the nori rolls into six even portions and arrange on a plate. Serve with soy sauce and/or wasabi.
You can easily switch the fillings for others of your choice, think smoked salmon, prawns, chicken, lettuce, carrot etc. But then technically, they wouldn't be California Rolls!
I hope you enjoy them as much as we did!
Homemade California Sushi Rolls
Ingredients
3 cups sushi rice
4 cups water
1/3 cup rice vinegar
2 tbsp mirin
2 tbsp caster sugar
2 tsp salt
8 sheets nori (seaweed sheets)
1 large Lebanese cucumber, cut into thin strips
1 avocado, peeled, cut into thin slices
12 seafood sticks or crabsticks
wasabi paste and Japanese soy sauce, to serve
Instructions
Wash rice under cold water until liquid runs clear. Place rice into a large non-stick saucepan and add water. Bring to the boil over high heat. Reduce heat to medium and simmer for 5 minutes, or until small holes form in the rice. Cover and cook over very low heat for 15 minutes. Remove from heat. Stand, covered, for 10 minutes.
Meanwhile, place vinegar, mirin, sugar and salt into a small saucepan over low heat. Cook, stirring, for 3 minutes, or until sugar has dissolved. Refrigerate until cold.
Spread rice over a large tray. Drizzle vinegar mixture over rice. Using a wooden spoon, make cutting strokes into rice to distribute vinegar mixture (don't stir).
Place a sheet of nori, shiny side down, onto a bamboo mat or sheet of baking paper. Place 3/4 cup of rice mixture onto nori. With wet hands, gently spread rice evenly over nori, leaving a 3cm border at far end. Place a strip of cucumber onto rice, 3cm in from edge. Place an avocado slice and a seafood stick next to the cucumber. Using the mat or baking paper as a guide, roll up. Repeat with remaining nori and fillings. Cut each roll into 6 pieces. Serve with wasabi and soy sauce.
https://mumslounge.com.au/lifestyle/food/homemade-california-sushi-rolls/