Honey Mustard and Herb Chicken Kebabs Recipe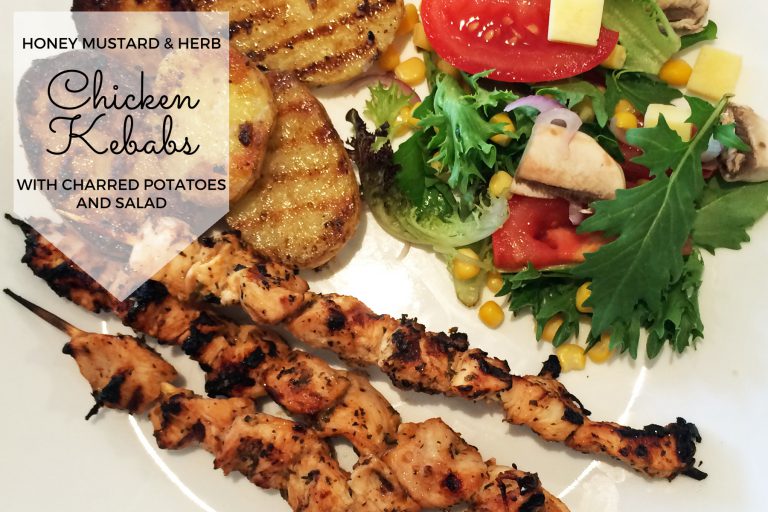 Honey Mustard and Herb Chicken Kebabs Recipe
Everyone loves a good old barbecued chicken skewer, and these honey mustard and herb chicken kebabs are no exception. Now I'm not gonna lie here. I like to use marinades in jars. They are convenient and fairly cheap and I'm busy and they taste pretty awesome and no one complains with a belly full of yummy chicken. But I am aware that we are all different and with different needs and desires, so we have options here. The marinade recipe is listed below also.
If you would like to make your own marinade, you either need to be independently wealthy or have a herb garden because buying these herbs at the supermarket will set you back at least $10. So just buy the damn marinade in the jar, no one is judging you, and I promise it is good.
Serves: 4
Prep time: 10 minutes
Cook time: 15 minutes plus at least 1 hour marinading time
Difficulty: EASY
Honey Mustard and Herb Chicken Kebabs Recipe
Ingredients
1 cup extra virgin olive oil
½ cup fresh lemon juice
2 tablespoons Dijon mustard
3 tablespoons honey
2 teaspoons salt
1 teaspoon black pepper
1 tablespoon finely chopped fresh oregano
1 teaspoon fresh thyme leaves
1 teaspoon finely chopped fresh rosemary
1 teaspoon finely chopped fresh chives
OR
1 jar of Masterfoods Honey Mustard & Herb Marinade
4 large chicken breast fillets, diced
2 kgs washed potatoes, cut into 1cm thick scallops
2 tablespoons of olive oil
Mixed salad leaves, halved cherry tomatoes, corn kernels, red onion etc to serve
Instructions
1. Combine marinade ingredients in a bowl and stir to combine, or, empty jar of marinade into a bowl, your call, no judgement here. Add chicken and stir to coat in marinade. Cover and refrigerate for at least one hour before threading chicken onto kebab skewers.
2. Steam or boil sliced potatoes for 5 minutes or until just tender. Coat with olive oil and season with salt and pepper.
3. Grill chicken kebabs and potato scallops on the barbecue or indoor grill for 10 minutes (turning halfway) or until cooked through.
4. Serve with salad and crusty bread.
https://mumslounge.com.au/lifestyle/food/honey-mustard-herb-chicken-kebabs/