How to Create the Most Awesome Ice Cream Sundae Bar for Your Next Summer Party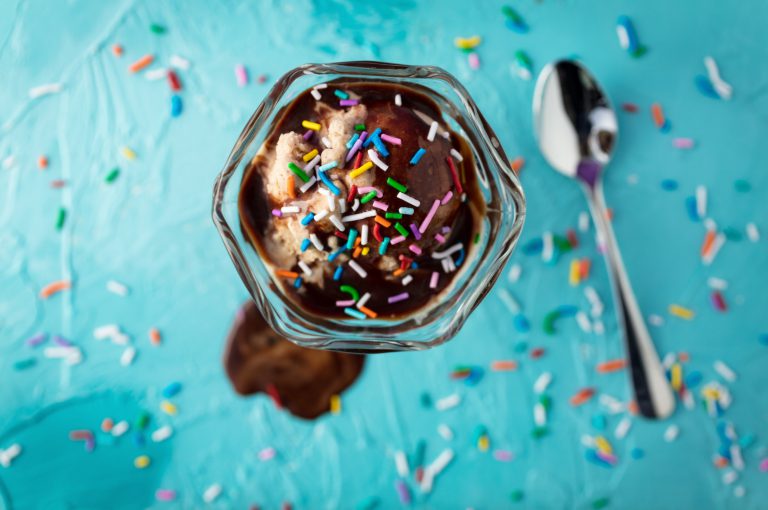 How to Create the Most Awesome Ice Cream Sundae Bar for Your Next Summer Party
Sponsored post
Is there anything more delicious on a hot day, than a creamy frozen treat? Yes, actually there is! The one thing that is infinitely more delicious, is the same creamy frozen treat piled high with tasty toppings and gooey, rich sauce. That's right! The temperature is rising, and it's the perfect time to get the party started, with an ice cream sundae bar your guests will never forget. In fact, don't be surprised if they put on a similar spread next time they hold a function, because this super cool party idea will be a huge hit with children and adults alike!
The great thing about this idea, is that you can keep it super simple (for a sleepover, or a family movie night), or go big (for a party) with a large selection of different toppings. It's totally up to you!
Ice Cream
The temptation might be to go crazy with different flavours of ice cream, but from experience, we'd recommend sticking to 1-2 basic flavours. With so many toppings to choose from, you really don't need more competing flavours. You can't go wrong with vanilla, and maybe one other like chocolate, if you insist on having a second option.
Depending on your preference, you can pre-scoop the ice cream into balls and freeze (ready for easy serving), or allow guests to scoop their own. If you opt for the later, it's a great idea to add a container of warm water to the table. That way, guests can warm the ice cream scoop to allow for easier serving.
Topping suggestions:
Healthy
Crunchy
Sweet
Sauce
A little bit extra? 
If you think your Sundae bar needs something a little extra special
to really set the bar high, some added extras could include:
To serve
Serve the toppings in individual bowls or containers. If you are hosting a large party, it might also be wise to include little labels for each, in case of any allergies.
Tip: Muffin pans make a great tray for holding toppings, and can be transported from kitchen to table in one trip!
Want to mix it up?
Consider adding a couple of bottles of soft drink, (e.g. lemonade and cola), some plastic cups and some straws, so guests can make DIY spiders.
Did you know:  You can now order your Coles groceries via eBay and have them delivered to your door. eBay Plus members enjoy double flybuy points for every $1 spent, free delivery on orders over $49 and 5% off every time they shop when they use coupon code PLUSFIVE
Sign up for your FREE eBay Plus 30-day trial here
Download the FREE Spring ebook
Full of delicious recipes, beauty tips, family activities
And your chance to win a $200 voucher to spend
at Coles on eBay & an Annual eBay Plus membership
Disclosure: This article contains affiliate links. This means, that if you make a purchase, we may receive a small commission at no extra cost to you.