6 Tasty Twists on Tacos for a Quick and Easy Mid-Week Meal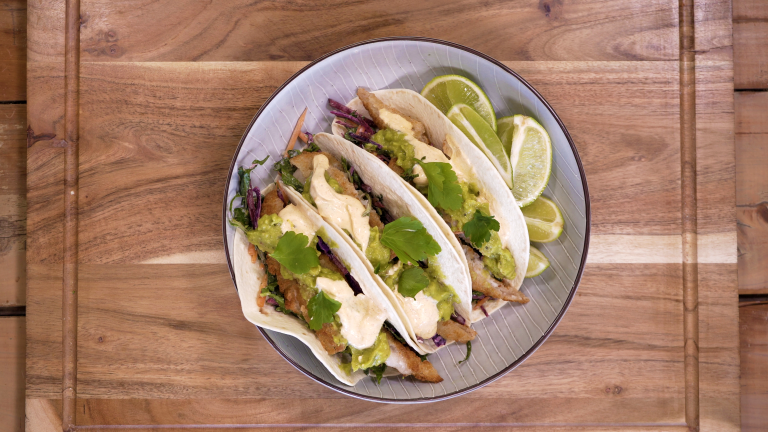 6 Tasty Twists on Tacos for a Quick and Easy Mid-Week Meal
Sponsored post
Tacos! Everyone loves tacos! Especially kids. Whether it's because they can build their own, eat them with their hands or just because they are colourful, fun and tasty, tacos have earned their reputation as a crowd-pleaser, even with fussy eaters.
As a mother of 3 children with varying likes and dislikes (that can also change like the wind), mince beef tacos have become one of those meals in my repertoire that gets pulled out regularly. I know that everyone will eat them and they are a great way to use up salad veggies from the fridge and get some extra goodness into my family. But the trouble with that is, (just like that favourite song that gets played so much that you end up sick to death of it), if you eat them too often, you can get a bit fed up of them (or so my kids tell me!)
Unwilling to give up such an easy and tasty (and also easy…did I already say that?) mid-week meal, I decided to switch things up a bit, in the filling department recently. The first taco's off the rank, were these delicious fish tacos.
Fish Tacos Recipe
Ingredients
Bird's Eye Southern Blue Whiting Fillets
Old El Paso soft taco kit -$6.50
Obela Classic guacamole $4.50
Coles sour cream -$2
Coles Kaleslaw kit $5
2 x limes

They went down a treat! Everybody loved them! In fact, only the dog wasn't a huge fan, and that's only because nobody gave him leftovers!
The beauty of these fish tacos is that I can whip them up after a busy day at work in less than 30 minutes. Because I'm using fish fillets from the freezer (the only type one of my sons will eat), I don't have to plan ahead. They are the perfect meal to cook when you can't be bothered to cook, if you know what I mean.
Other tried and tested taco fillings that have had the family-tick of approval are:
• Steggles Salt and Pepper Chicken Breast Fingers
• Lilydale Frozen Free Range Lemon and Pepper Baked Chicken Tenders (these were super tasty with lettuce, avocado, corn, tomato and garlic aioli.)
• Yumi's Classic Falafel Balls (I wasn't sure how these would be received, but I served them with salad, grated cheese and yoghurt and they soon disappeared off the plates!)
• L&J Tasty Lightly Crumbed Calamari Rings (we enjoyed them with salad, tartare sauce and lemon, and a small side of sweet potato fries)
• Coles Nature's Kitchen Mixed Garden Vegetable Koftas (I usually aim for at least 1, sometimes 2, meat free meals a week, so I am loving all the new plant-based foods that Coles on eBay are stocking now.
The possibilities of course are endless! The beauty of tacos is that you can incorporate all kinds of fresh produce and meat cooked a multitude of ways! But for a quick mid-week meal, to my mind, you can't go past a handy favourite from the freezer, pimped up with some tasty fresh salad, corn, sour cream and guacamole, between a soft taco (or hard if you prefer!) There are no rules!
Did you know:  You can now order your Coles groceries via eBay and have them delivered to your door. eBay Plus members enjoy double flybuy points for every $1 spent, free delivery on orders over $49 and 5% off every time they shop when they use coupon code PLUSFIVE.
Sign up for your FREE eBay Plus 30-day trial here
Download the FREE Spring ebook
Full of delicious recipes, beauty tips, family activities
And your chance to win a $200 voucher to spend
at Coles on eBay & an Annual eBay Plus membership