Ice-Cream Cakes You Need To Make Right Now!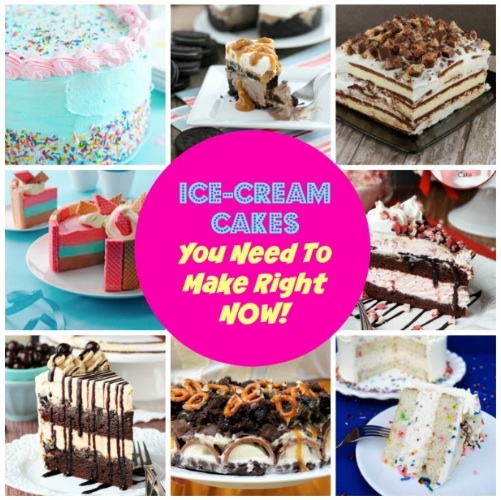 Ice-Cream Cakes You Need To Make Right Now!
If you're anything like me, then you know that there's nothing better than an ice-cream cake. Growing up, I would ask Mum for an ice-cream cake… every. single. year! Sometimes it was a store-bought one and other times a homemade one. As much as I loved the ice-cream cakes I had growing up, they have absolutely nothing on these incredibly scrumptious, totally delicious, majorly over the top ice-cream cakes!!!
First up is this Peppermint Brownie Ice-Cream Cake. This would be perfect for Christmas… or really anytime of year! Just check out that dripping chocolate sauce.
For those of us who love our coffee, a Mocha Brownie Ice-Cream Cake is just the thing! Is it bad that I feel like eating this right now and it's only breakfast time?
Start drooling… this is a Snickers Ice-Cream Cake!!! Yep it's full of chocolate, caramel, cream and crushed up Snickers – it doesn't get much better than that.
This cute-as-a-button Birthday Party Ice-Cream Cake brings back so many yummy childhood birthday memories. Isn't it just the prettiest thing ever.
The only thing better than an ice-cream cake is one that's covered in M&Ms and Kit Kats. This Candy Shop Ice-Cream Cake is a chocoholics delight.
We all know how much kids (and adults!) love neapolitan ice-cream… so this Neapolitan Ice-Cream Cake is sure to be the hugest hit ever. I love the wafer sides – so bright and colourful!
This Funfetti Ice-Cream Cake just screams fun! And we all know that sprinkles are just the best thing ever… oh and cake is the best too, of course!
When you're rushed for time, a Lazy Ice-Cream Cake is just the thing you need. Quick, simple and tastes amazing… sounds pretty great to me.
For the peanut butter lovers out there, this one's for you! Yep it's a Peanut Butter Oreo Ice-Cream Cake. Go make this now… you can thank me later.
Wow! Wow! Wow! This Pretzel Drumstick Ice-Cream Cake is so far out of this world… in an awesome deliciously, totally scrumptious kind of way. I'll have a couple of cones right now thanks!
With so much incredibly yummy ice-cream inspiration I have no idea where to start. Do you think it's possible to just have a little mouthful of each. Oh gosh, who am I kidding? A little mouthful of these? As if I could stop there! Just gimme, gimme, gimme the whole cake!
Which ice-cream cake tickles your fancy? Or are you like me and just want a little bit of all of them?!