Malteser Slice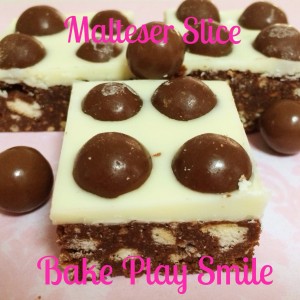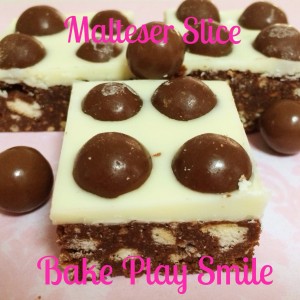 Malteser Slice
Nothing excites me more when heading to the movies with the kids than grabbing a big pack of Maltesers! So I was totally excited to come across this recipe over at Bake Play Smile.
If you love Maltesers then definitely give this a go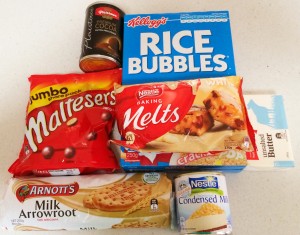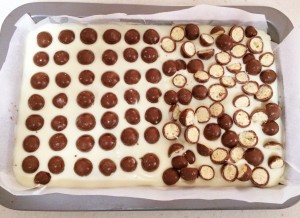 Malteser Slice
Prep time
10 mins
Total time
10 mins
If you're a fan of Maltesers… then look no further than this slice!
Author: Bake Play Smile
Recipe type: Slices
Serves: 15
Ingredients
250g pkt milk arrowroot biscuits (or other sweet biscuits)
2 cups rice bubbles
125g butter
395g tin condensed milk
2 tbs cocoa
185g pkt maltesers, cut in half (I used a 280g bag – but that's just because I knew I'd eat them as I cooked!!)
200g white chocolate
Method
Line a slice tin with baking paper.
Crush biscuits in a food processor.
Pour biscuits into a large bowl along with the rice bubbles & ¾ cup halved maltesers.
In a saucepan over medium heat, add butter, condensed milk & cocoa. Whisk until melted together & smooth. Cook for 1 minute.
Pour over dry ingredients & mix until combined.
Press firmly into tin.
Break white chocolate into a bowl & heat in microwave in 30 second bursts, stirring each time until smooth.
Pour over slice.
Press remaining maltesers into the chocolate.
Please note that if you intend to refrigerate or freeze the slice for longer than 1 day, press the maltesers into the chocolate with the cut side down. They will stay crunchy. Refrigerate/freeze until set.
Tips: to keep your white chocolate glossy & stop it from cracking, add 1 tbspn melted copha to the melted chocolate prior to pouring onto slice.
Store in the fridge for up to 1 week.