Hot Cross Buns Recipe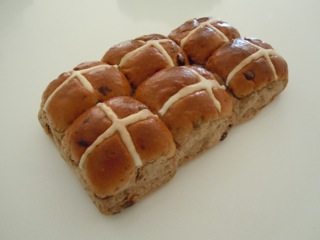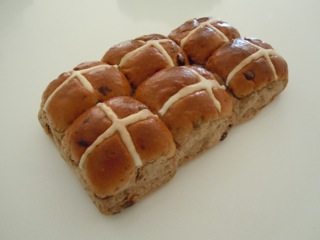 Hot Cross Buns Recipe
There is nothing better at Easter than some hot cross buns and now you can make them yourself. Aunt Rozzy's hot cross buns recipe is so simple to make and is sure to be a family favourite this Easter.
Eat these fabulous buns hot and you'll never be cross. Aunty Rozzy's hot cross buns are sure to please.
Ingredients
(Serves 12)
7g sachet (2 teaspons) dry yeast
¼ cup of castor sugar
½ cup of reduced fat milk, warmed
4½ cups of plain flour
2 teaspoons of mixed spice
2 teaspoons of ground cinnamon
50g of butter, chilled and chopped
1 egg lightly beaten
1½ cups of sultanas
Flour Paste
½ cup of plain flour (all purpose flour)
⅓ cup of water
This is how we do it!
Step 1 – Grease a 23cm (9 inch) square cake tin and line it with non-stick baking paper. Place the yeast, sugar and milk in a bowl. Stir until combined and yeast is dissolved. Cover and set aside in a warm place for ten (10) minutes or until foamy.
Step 2 – Sift the flour, mixed spice and cinnamon into a bowl. Rub in butter until the mixture looks like fine breadcrumbs. Make a well in the centre of the flour mixture and add the yeast mixture, eggs and sultanas. Stir to combine. Cover and set aside in a warm place for 1 hour or until the dough has doubled in size.
Step 3 – Preheat the oven to 200°C/180°C fan forced ovens (400°F /360°F).
Step 4 – Combine the extra flour and water and place in a piping bag or plastic bag with one corner snipped off, and pipe crosses onto buns. Bake for 35 minutes or until well-browned and springy to touch.
Step 5 – Place 3 teaspoons of hot water in a jug. Sprinkle gelatine over water. Stir with a fork until gelatine dissolves. Turn buns onto a wire rack. Brush tops with gelatine mixture while buns are hot. Serve warm with or without butter.
About Aunty Rozzy:
Aunty Rozzy is one of Australia's much loved kid's "edutainers". Aunty Rozzy, together with her sidekicks "Perry the Parrot" and "Harriette the Rabbit" are doing their part in the veggie revolution by providing a fun way to encourage healthy eating http://www.auntyrozzy.com/