Maple Mustard Chicken Recipe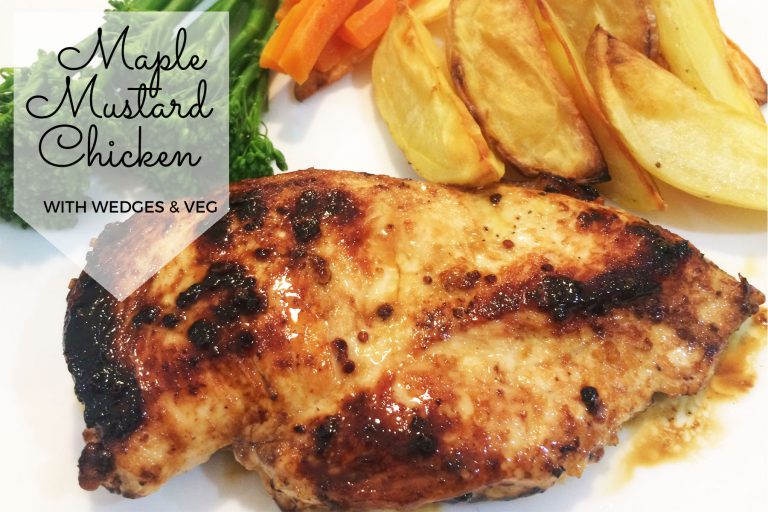 Maple Mustard Chicken Recipe
This is a marinade for everyone's recipe books! Step aside honey mustard chicken, for MAPLE MUSTARD CHICKEN has arrived!
Sweet and sticky, this marinade is simply amazeballs. And I'm not the type of person who even says things like amazeballs. That's how amazeballs it is. Hella amazeballs.
This meal is so easy to prep and throw together, and ever so delicious! Serve the chicken with whatever you like — we made some simple salted oven-roasted potato wedges and some steamed vegetables to go with ours but you could just bung in some oven fries and call it a day if you like. Hey, we're busy people, I get it. Just do whatever suits you best.
Here's what you need to get this yummy chicken on your table.
Apple cider vinegar, maple syrup, olive oil, wholegrain mustard, salt and pepper, and unsurprisingly, chicken breast fillets!
Mix the marinade together in a large bowl, then add the chicken and cover with cling film. Place the bowl in the fridge to marinate for at least two to three hours or overnight if you have the time. Prep this meal before work if you can, it will be ready to cook when you get home.
Once it's all good and marinated, heat a pan on medium high and add a swirl of olive oil. Then add your chicken and cook, turning, until it's cooked through and golden, about ten minutes.
Don't worry if it chars a little, that's the sugar in the maple syrup doing it's thing — getting all caramelised and sticky. Oh, now I'm going to have to make this again, it's making my mouth water just thinking about it.
I hope you enjoy it as much as we did!
Ingredients
2 tablespoon apple cider vinegar
4 tablespoons maple syrup
2 tablespoons olive oil
2 tablespoon whole grain mustard
Salt and freshly ground black pepper
4 chicken breast fillets
Roasted potato wedges and vegetables to serve
Instructions
In a large bowl, combine the vinegar, maple syrup, olive oil, mustard, and salt and pepper and whisk to combine. Add the chicken breast fillets, cover with cling film and refrigerate for at least two to three hours to marinate.
Heat a frying pan on medium high heat and add a swirl of olive oil to the pan. Place the chicken fillets into the pan and cook, turning for about 5 minutes each side or until cooked through and golden.
Serve with homemade roasted potato wedges and steamed vegetables.
https://mumslounge.com.au/lifestyle/food/maple-mustard-chicken-recipe/