Massaman Meatball Curry with Rice and Vegetables Recipe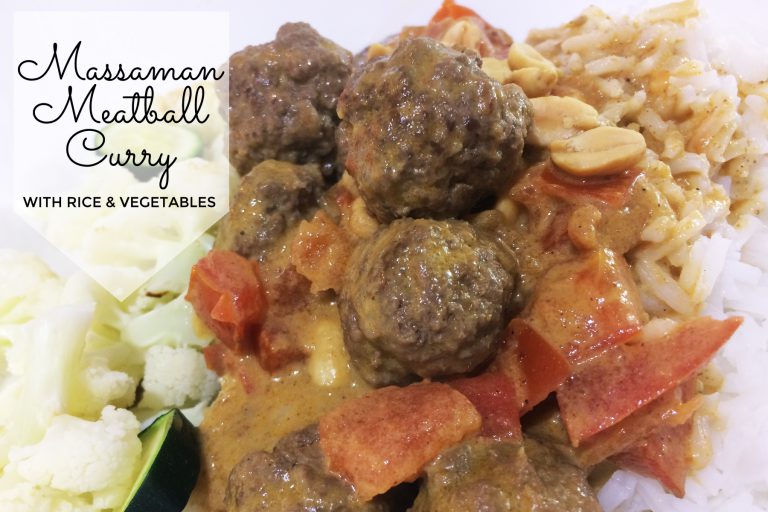 Massaman Meatball Curry with Rice and Vegetables Recipe
Family meals rarely come as flavoursome and easy as this massaman meatball curry dish! Little balls of garlicky mince cooked in the most deliciously creamy coconut curry, served with rice, vegetables and sprinkled with roasted peanuts on top. Yum with a capital Y!
I love love love massaman curries. There's something about that spicy hit combined with coconut milk and peanuts that I can't go past. And who doesn't love a meatball? (Don't laugh, this is a family show.)
This meal is super simple to throw together – here's how to get it on your table in about half an hour.
You'll need half a kilo of mince, some garlic, tomatoes, coconut milk, massaman curry paste, rice, toasted peanuts and some veggies of your choice.
The recipe also calls for coriander, but regular followers of my recipes will know that I'd sooner walk outside and cut a few leaves off my hedge, chop them finely and add to my meals than add coriander, also known around these parts as "the devil's herb". If I want my meal to taste like soap, I'll add some Palmolive to it.
But if you enjoy that awful stuff then by all means, go right ahead. Knock yourself out. 😀
First, make up your meatballs with the garlic, (coriander), and salt and pepper. Fry them in a frying pan until nicely browned, then remove to a bowl and cover with foil to keep warm.
Add the curry paste to the pan and cook until fragrant. The only massaman curry paste I could find at the supermarket were these little pots (or "shots", I guess) and I used two of them for this meal. I loved the heat but it was a bit too spicy for the kids so next time I will only use the one pot.
Then add the coconut milk and chopped tomatoes, bring to the boil, return the meatballs to the pan and simmer for ten minutes or until the sauce thickens slightly.
Serve with rice and vegetables and sprinkle toasted peanuts on top. And chopped coriander too. If you must.
[amd-yrecipe-recipe:566