Out-of-This-World Popcorn Ice cream Dessert Tacos Recipe & a Great Competition to Make You Say OH!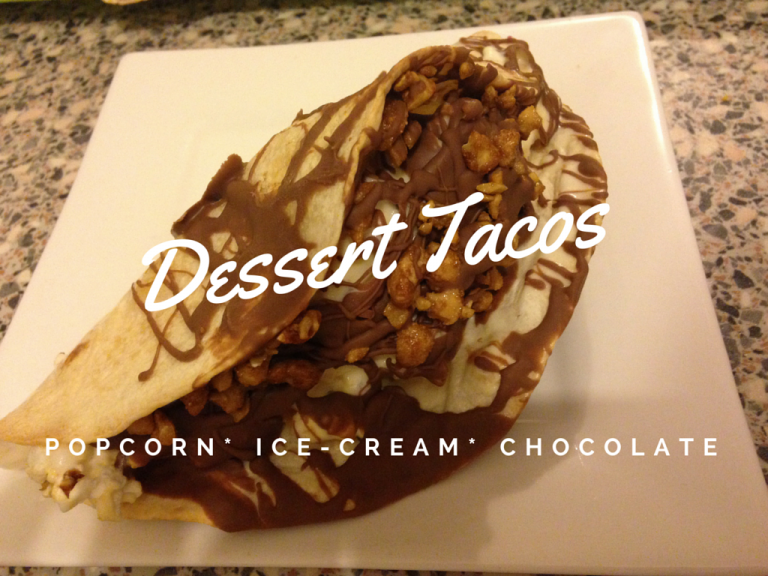 Sponsored post
Movie Night Recipe: Out-of-This-World Popcorn Ice cream Dessert Tacos 
Family movie nights always feature highly during the winter school holidays in my house. Is there anything better than snuggling up together, with the heater on, watching a good movie you can all laugh at together? It's one of my favourite things to do, and it's the perfect excuse to indulge in some treats.
A movie night, of course, isn't complete without popcorn and ice-cream choc tops, so I recently concocted the perfect recipe to combine the two, all in the comfort of my own home; Chocolate coated tacos stuffed with popcorn ice-cream! OH yes I did!
Not only are they super-easy to make, they are out-of-this-world amazing!
Ingredients:
Mission Foods mini wraps
Cooking chocolate
Vanilla ice-cream
Sweet and Salty popcorn
Optional: chopped nuts, hundreds and thousands, popping candy, to top.

Instructions:
Preheat oven to 200C. Fold over the mini wraps, and place a scrunched aluminum foil ball between them to create a taco shape (as shown below). Cook for 20 minutes until they harden and hold their shape – turning them over halfway through.
While the tacos cook, take the ice cream out of the freezer to thaw a little.
Melt chocolate in a bowl over a saucepan of water.
When the ice cream is softened a little, scoop it out into a large bowl, and mix in the popcorn. I used half of this 120g bag, but add as little as or as much as you like.
When the tacos have cooled, fill them with the popcorn ice cream mixture. (Return any left over ice cream into the tub and into the freezer for your next movie night tacos!)
Drizzle the melted chocolate over the tacos, and sprinkle with your choice of topping. (Chopped hazelnuts are my personal favourite!)
Return to the freezer for 20 minutes.
Best served with a hilarious family animation like HOME (due for release on DVD and Blu-ray on 8th July 2015.)
While you wait for the tacos, why not print out these free and fun HOME activity sheets to do with the kids.
Download HOME Decode Smek Activity Sheet
Download HOME Our Messy Landmarks Activity Sheet
Giveaway
Mission Foods, DreamWorks & Mum's Lounge are giving you the chance to win a HOME party for 10 people!

Grand prize includes:
– Purple helium balloons
– Bunting
– Bespoke mobiles supplied by 20th Century Fox
– 'Home' cupcakes
– Movie soundtrack for use at party and for all those attending to take home
– Movie screening with popcorn
– Homemade bubble making.
– Mission Foods pack of food.
There are also 10 x Mission Foods runner-up packs to be won!
To enter, tell us in 25 words or less what would make your perfect movie night?
For full terms and conditions see Missions Foods and Mums Lounge Promotion Condition of Entry
This post is sponsored by Mission Foods. However all thoughts and opinions expressed here are my own.