Oven Baked Meatballs in Cheesy Tomato Sauce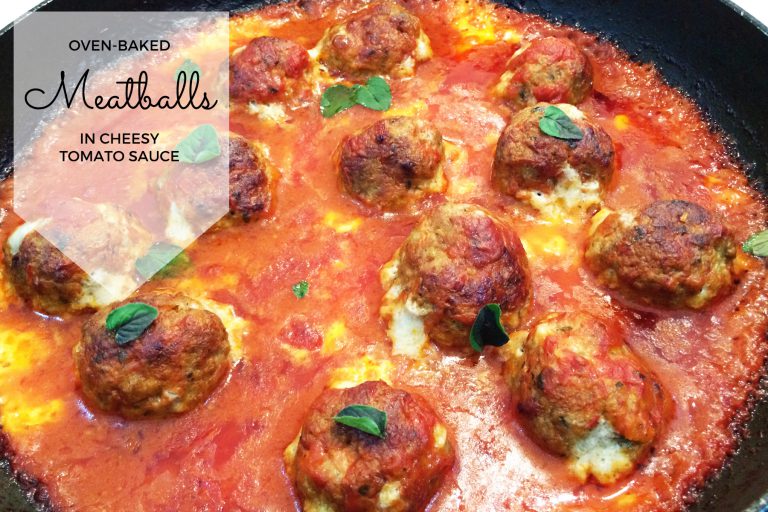 Oven Baked Meatballs in Cheesy Tomato Sauce
These amazing oven baked meatballs have become my family's favourite very quickly – rich pork and beef mince, parmesan cheese and herbs rolled into balls and oven baked with a jar of pasta sauce with big gooey blobs of melted cheese mixed through, all served on perfectly cooked thick fettuccine with crusty garlic bread. Comfort food has never tasted so good!
I had no idea that you could buy pork and beef mince together in the one packet! Where have I been? It's a little dearer than buying just beef but it makes such a difference to the end product. The pork gives such a rich flavour that I wouldn't consider using just beef at all.
The ingredients needed to make this dish are right here.
Pretty standard to be honest! One packet of pork and beef mince, an egg, fresh breadcrumbs, parmesan cheese, cherry bocconcini or mozzarella (whatever's on special), olive oil, fresh basil and oregano, a jar of pasta sauce and some dried fettuccine. We are loving this thick cut fettuccine by Barilla lately. They are a bit more expensive than our usual $1 a packet pasta, and very much worth it. The fettuccine comes in a box and they look like little nests when you get them out. The kids love them!
First, mix up your meatballs. Place the ingredients in a bowl and mix well with your hands to combine. We always use some cheap disposable cooking-grade gloves for this job. Find them in the cleaning section, they are worth their weight in gold.
Heat the oil in an oven-proof frying pan and brown the meatballs. They don't have to be cooked through as we'll finish them in the oven.
Add the pasta sauce…
…and drop pieces of cheese all around the meatballs.
Some will sink, don't worry about those. They'll mix with the tomato pasta sauce as it cooks, making it all yummy and gooey and cheesy.
Sprinkle some herbs on top and serve with your pasta and some crusty garlic bread.
Yum!!
Oven Baked Meatballs in Cheesy Tomato Sauce
Ingredients
500gm pork and beef mince
½ cup fresh breadcrumbs
1 egg, lightly beaten
1/3 cup finely grated parmesan cheese
1 tbsp fresh oregano leaves, chopped
2 tbsp fresh basil leaves, chopped
1 tbsp olive oil
500gm jar tomato pasta sauce
200gms baby bocconcini or torn mozzarella cheese
Fettuccine to serve
Instructions
Preheat oven to 200°C
Place mince, breadcrumbs, egg, parmesan, oregano and basil in a large bowl. Mix well to combine. Divide into quarters, then shape mixture into 12 balls (3 from each quarter)
Heat oil in a 6cm deep flameproof frying pan or casserole dish. Add meatballs and cook, turning, for 5 minutes or until browned all over.
Add pasta sauce and bring to the boil. Scatter with cheese and bake, uncovered for 15 to 20 minutes or until meatballs are cooked through. Top meatballs with extra basil leaves and serve over fettuccine with crusty garlic bread.
https://mumslounge.com.au/lifestyle/food/oven-baked-meatballs-cheesy-tomato-sauce/