Oven Baked Sausage & Potato Patties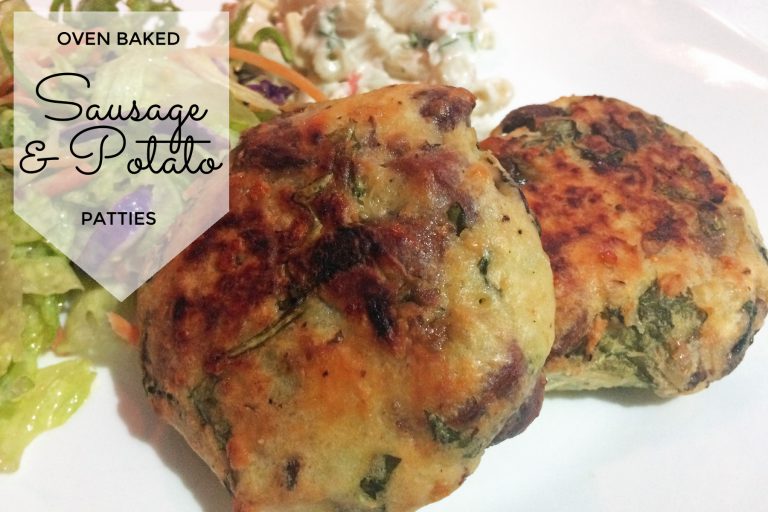 Oven Baked Sausage & Potato Patties
We do love a good recipe that makes terrific use of leftovers, and these oven baked sausage and potato patties fit that bill perfectly!
I am often left wondering what to do with leftover sausages after a barbecue lunch, because as good as they are, there is only so many sausage sizzles a gal can handle before they get a bit blah.
These yummy oven baked patties are a fantastic way to use up those extra sausages, and when combined with a salad or two, can make a family meal that everyone will love.
They are super easy to prepare — combine chopped cooked sausages and mashed potato with shredded baby spinach, chopped mushrooms, grated tasty cheese, eggs and breadcrumbs in a big bowl.
Form into twelve 1/3 cup sized patties and refrigerate for half an hour or so to firm up.
Then oven bake them on a baking paper-lined tray for twenty five minutes or until golden and cooked through.
Serve with some salad for a complete meal that will fill lots of happy tummies.
Even better if the salads are leftover from the barbecue lunch too! You can't beat creating a whole new meal out of a previous one!
I hope you enjoy these sausage and potato patties as much as we did!
Oven Baked Sausage & Potato Patties
Ingredients
1kg potatoes, peeled and roughly chopped
500g beef sausages
150g button mushrooms, sliced
80g baby spinach, roughly chopped
1 1/4 cups grated tasty cheese
3 eggs, lightly beaten
1 cup fresh white breadcrumbs
Green salad, to serve
Instructions
Place potatoes in a saucepan. Cover with water, bring to the boil and cook over for 10 minutes or until tender. Drain, mash and set aside to cool.
Heat a frying pan over medium heat. Cook sausages for 6 to 8 minutes, turning, or until cooked through. Slice.
Combine potatoes, sausages, mushrooms, spinach, cheese, eggs, breadcrumbs, salt and pepper in a bowl. Stir until well combined.
Line a baking tray with baking paper. Using 3/4 cup of mixture at a time, shape mixture into 12 patties. Place on baking tray. Cover and refrigerate for 30 minutes.
Preheat oven to 180°C. Spray patties with olive oil and bake for 25 minutes or until golden and cooked through. Serve with a salad or two for a complete meal.
https://mumslounge.com.au/lifestyle/food/oven-baked-sausage-potato-patties/