Potato Skin Nachos Recipe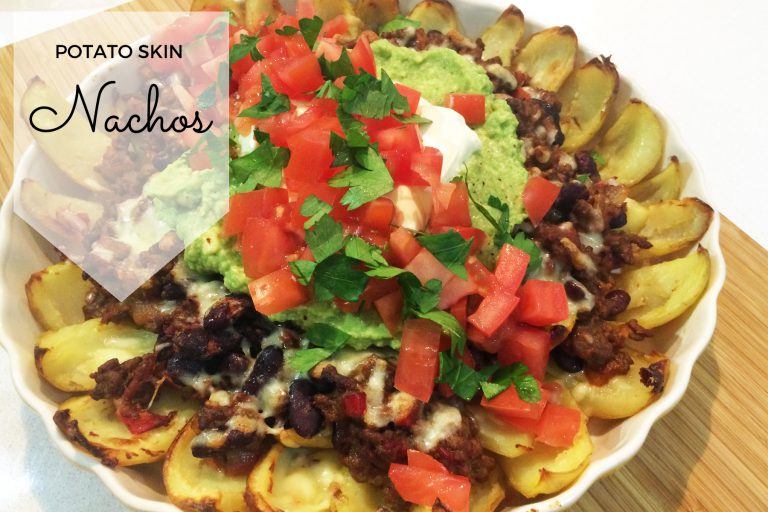 Potato Skin Nachos Recipe
What happens when you switch out corn chips for crispy potato skins in a favourite Mexican dish? You end up with this amazing potato skin nachos recipe!!
Now I'm not gonna lie. This one was a bit fiddly. It took ages because the potatoes had to bake first. But ohhhh it was so very worth it! Less than ten minutes after I took the last photo, it was all gone. All of it. The pie dish was licked clean and it was gone. The fam loved it!
So I will definitely make it again, but I will start the potatoes going much earlier. And there-in lies the beauty of this recipe – you can prepare a lot of it ahead of time, then throw it all together at the end and bake.
Firstly, here are all the things you need to make this amazing meal.
I'll also add that you can use a packet mix of taco seasoning instead of making the seasonings from scratch if you prefer to do so. I think I will next time. It's just easier and the packets only cost $1.50.
Prick the potatoes all over with a fork and individually wrap them in foil. Bake in the oven for 50 minutes until they are nice and tender. Take them out, unwrap them carefully and allow to cool for at least 10 minutes.
Cut the potatoes in half and scoop out most of the flesh with a tablespoon. I found it easiest to insert the spoon around the edges and then lift out the centre part of the potato.
It's a little time consuming and messy but not wasteful! I made these amazing and simple Cheesy Bacon Potato Cakes to make use of all that delicious baked potato flesh.
Once you've done that, cut the potato skins in half again to make wedge-shaped quarters. Arrange them on a baking paper lined oven tray and bake for at least 30 minutes or until golden and crisp.
Meanwhile, it's time to make your mince mixture. Saute the onion and capsicum first.
Then add the mince and seasonings.
Add the remaining mince ingredients and stir to combine. Allow to simmer for at least 10 minutes while the potato skins finish baking.
Take out the potato skins and arrange them around a pie dish like so.
Then top with cheese…
Then the mince mixture…
Then more cheese…
Now whack the whole thing back in the oven for another 15 minutes and prepare your toppings – mashed avocado, sour cream, chopped tomato and parsley (or coriander if you don't believe it to be the devil's herb like I do!).
Enjoy! I bet it doesn't last much longer than ours did! Ten minutes, tops.
Potato Skin Nachos Recipe
Ingredients
1.5kg potatoes
Olive oil cooking spray
¾ cup grated tasty cheese
Mashed avocado, to serve
Sour cream, to serve
Chopped tomato, to serve
Parsley, to serve
Mince mixture:
2 teaspoons olive oil
1 brown onion, finely chopped
1 small red capsicum, chopped
500g beef mince
2 garlic cloves, crushed
¼ teaspoon ground chilli powder
1 teaspoon ground coriander
410g can chopped tomatoes
1 cup beef stock
1 can red kidney beans, drained, rinsed
Instructions
Preheat oven to 200°C/180°C fan-forced. Using a fork, prick potatoes all over. Wrap each potato in a piece of foil to enclose. Bake for 50 minutes or until tender. Cool for 10 minutes.
Remove and discard foil. Cut potatoes in half lengthways. Leaving a 5mm border, scoop out potato flesh, being careful not to go all the way to the skin. Cut each potato in half again to form quarters. Place on 2 large baking trays. Spray with oil. Season well with salt and pepper. Bake for 30 minutes or until golden and crisp.
Meanwhile, make mild chilli beef: Heat oil in a frying pan over medium heat. Add onion and capsicum. Cook for 5 minutes or until onion has softened. Add mince. Cook, breaking up with a wooden spoon, for 5 minutes or until browned. Add garlic, chilli powder and coriander. Cook for 1 minute or until fragrant. Add tomato, stock and beans. Cook for 10 minutes or until slightly thickened.
Arrange potato skins in a 5cm-deep, 26cm round pie dish. Sprinkle with one quarter of a cup of cheese. Top with mince mixture. Sprinkle with remaining cheese. Bake for 15 minutes or until cheese has melted. Serve topped with avocado, sour cream, tomato and parsley.
Notes
You can use a packet of taco seasoning in lieu of the herbs and spices in the mince part of the recipe.
https://mumslounge.com.au/lifestyle/food/potato-skin-nachos-recipe/