Roasted Potato and Chorizo One-Pan Bake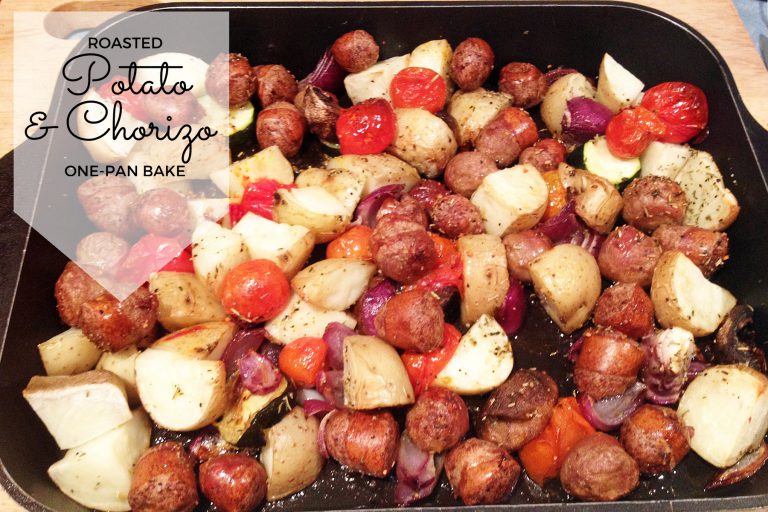 Roasted Potato and Chorizo One-Pan Bake
Roasted Potato and Chorizo One-Pan Bake is one of our favourite go-to meals on a cold evening when you're really not sure what you fancy for dinner. It is very tasty, incredibly easy, and includes loads of veggies.
Simply chop lots of potatoes, capsicum, red onion and whatever other vegetables you like (mushrooms, zucchini, cherry tomatoes, sweet potato, pumpkin, swedes, parsnips etc) into bite sized pieces, mix with some olive oil and seasonings, plop into a big oven tray with some spicy chorizo sausage pieces and bake for about an hour or until cooked.
Some of the vegetables get a little squishy and coat other vegetables with a tasty glaze as they all roast together in one easy-to-clean-up pan. Spoon into bowls, arm everyone with a fork and some crusty bread and dinner is served!
Roasted Potato and Chorizo One-Pan Bake
Ingredients
750gms baby potatoes, halved
1 red onion, sliced into wedges
1 packet of Coles Finest Chorizo sausages, sliced into bite-sized pieces
½ punnet cherry tomatoes
1 zucchini, thickly sliced
1 small red capsicum, chopped into large chunks
100gms button mushrooms
50ml olive oil
2 tablespoons Tuscan seasoning (or salt, pepper, rosemary and chilli flakes)
Instructions
1. Preheat oven to 190°C
2. Place chopped vegetables into a large ziplock bag with olive oil and seasonings, seal, and massage well to combine. Empty into a large non-stick roasting tray.
3. Bake in oven for 20 minutes, then remove and give it a good stir to ensure the vegetables don't stick to the base of the pan. Some of the softer vegetables will begin to fall apart – that's fine. Sprinkle the pieces of chorizo over the top and return to the oven. Bake for another 30 minutes or until cooked. Cooking time will vary depending on the size of your potatoes.
4. Divide the bake among bowls and serve with crusty bread.
https://mumslounge.com.au/lifestyle/food/roasted-potato-chorizo-one-pan-bake/