Slow Cooker Savoury Mince Recipe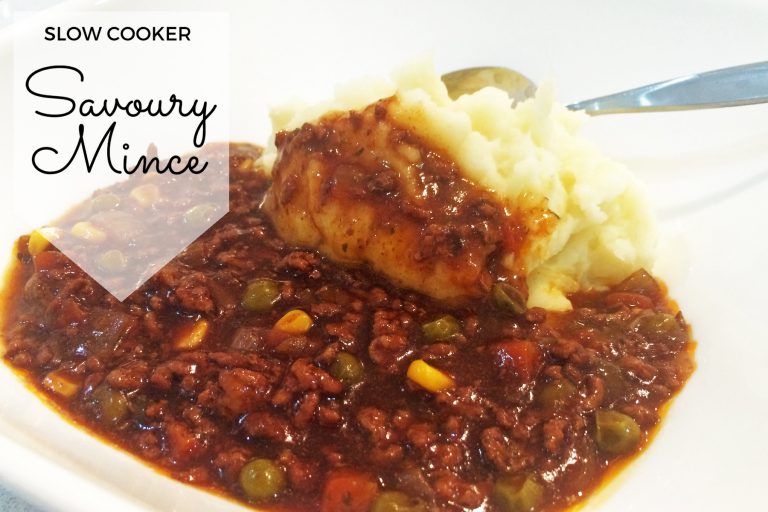 Slow Cooker Savoury Mince Recipe
Using your slow cooker to make savoury mince saves you a lot of time and effort at the end of the day. Serve over creamy mashed potato and you have the ultimate comfort food for a cold, dark winter's evening.
Slow Cooker Savoury Mince Recipe
Ingredients
1kg beef mince
2-4 brown onions (depending on size) diced
3 cups frozen peas, carrots, corn mix (or the equivalent in fresh vegetables, whatever you have on hand is fine, chop them up and bung them in)
4 tablespoons of tomato paste
6 tablespoons of soy sauce
4 cups of water
6 beef Oxos
4 tablespoons of corn flour
3 tablespoons of dried parsley
Salt and pepper to taste
Mashed potato or rice to serve.
Instructions
Brown the mince in a frying pan, breaking up with a spoon until cooked, Drain in a wire colander to remove excess fat.
Transfer mince to slow cooker pot and turn on High. Add all of the vegetables, tomato paste and soy sauce.
Dissolve the oxos into the water in a large jug. Add to the slow cooker. Then pour another half a cup of water into the jug and add the cornflour, mixing to make a paste. Add that to the slow cooker too, with the parsley, salt and pepper.
Cook on High for 6 hours or Low for 8 hours. Thicken with more cornflour paste if necessary
Serve with creamy mashed potatoes or rice
https://mumslounge.com.au/lifestyle/food/slow-cooker-savoury-mince/
Notes:
This recipe makes a LOT of savoury mince which is excellent because it is cheap, tasty, versatile, and freezes exceptionally well. Use your leftovers on top of baked potatoes, on toast or as a pie filling, or mix through hot pasta.
If you'd prefer not to use a slow cooker, you can follow the same instructions and cook, covered, on a stove top for 45 minutes.