Slow Cooker Spaghetti Bolognaise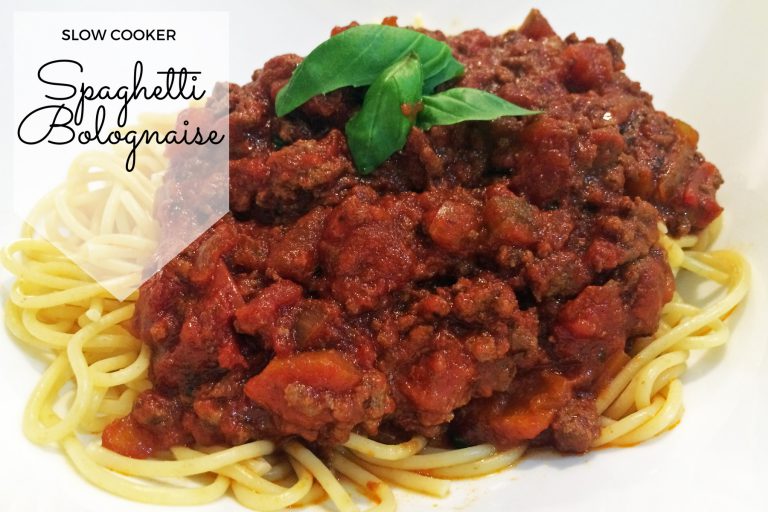 Slow Cooker Spaghetti Bolognaise
Everybody loves this classic meal, and what's better and more convenient than plain old spaghetti bolognaise in a jar? Slow cooker spaghetti bolognaise! Just "set and forget" for a meal everyone will love, and have enough leftover for a whole new meal later in the week!
Slow Cooker Spaghetti Bolognaise

Ingredients
1kg beef mince
4 x 400gm tins of diced tomatoes
3 beef Oxos
2 garlic cloves, minced
4 tablespoons of tomato paste
1/3 cup of wine (red or white, take your pick)
¼ teaspoon of chilli flakes
1 tablespoon of dried basil
1 tablespoon of dried oregano
1 tablespoon of dried thyme
1 cup of water
3 tablespoons of Worcestershire sauce
2 onions, finely diced
1 large carrot, finely diced
2 sticks of celery, finely diced
4 bay leaves
250gms dried spaghetti
fresh basil
Instructions
1. Brown the mince in a frying pan, breaking up with a spoon until cooked, Drain in a wire colander to remove excess fat.
2. Transfer mince to slow cooker pot and turn on High. Add the rest of the ingredients except for the dried pasta and fresh basil. Stir well to combine.
3. Cook covered on High for 6 hours or Low for 8 hours. Before serving, have a taste test to see if you need to add some salt and pepper, chilli sauce etc.
4. Serve with cooked spaghetti pasta and fresh basil.
https://mumslounge.com.au/lifestyle/food/slow-cooker-spaghetti-bolognaise/
Notes:
This recipe makes a LOT of bolognaise sauce which is excellent because it is cheap, tasty, versatile, and freezes exceptionally well. Use your leftovers on top of baked potatoes, on toast, in cheesy beef pastitsio, or mix through hot pasta and bake with grated cheese on top.
If you'd prefer not to use a slow cooker, you can follow the same instructions and cook, covered, on a stove top for 1 hour.
Add some of your favourite vegetables towards the end of the cooking process. Think mushrooms, capsicum, zucchini, etc.