Souvlaki Lamb Wraps Recipe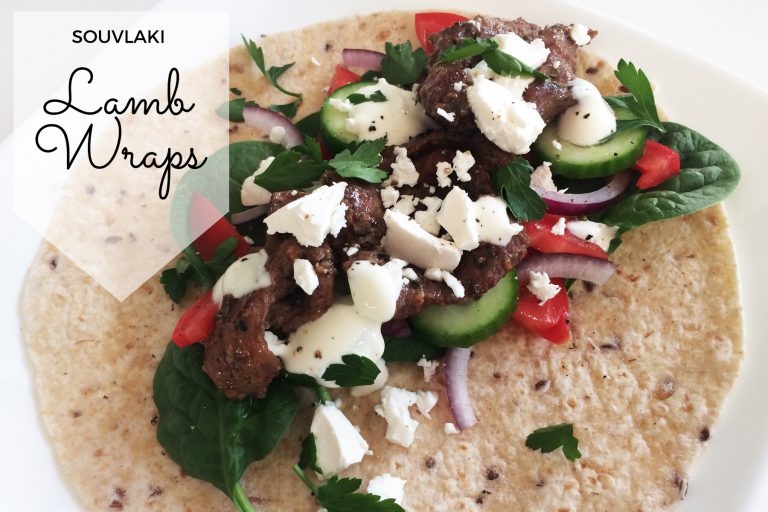 Souvlaki Lamb Wraps Recipe
My family cannot get enough of salad wraps. We make them with everything. Frozen crumbed chicken tenders, leftover taco mince, deli meats, barbeque chicken — pretty much anything goes, and that's one of the reasons I love them too. Souvlaki lamb wraps are my new favourite though.
Now, there are always two ways to do everything. The easy way and the hard way. Both yield amazing results, both cost about the same, it's really much of a muchness. I did it the easier way because I found the lamb souvlaki strips on special, but I have included the recipe to make your own marinade as well. Everybody wins!
Here's what the ingredients look like for the easy way:
Wraps, baby spinach, a Lebanese cucumber, red onion, tomatoes, fetta cheese and continental parsley. I forgot to include the small tub of natural yoghurt to drizzle on top but just imagine that in there too.
Also, you'll spot the prepacked, pre-marinated lamb strips as well. This is the easy way. The hard way is to marinate the lamb yourself, using dried oregano, lemon juice, crushed garlic and olive oil. Really not that much harder to be honest.
So you fry the lamb until cooked through, then make up your wraps!
First, place some baby spinach on the wrap, then top with sliced tomatoes, onion and cucumber. Then add the lamb and spoon some natural yoghurt on top. Then crumble some fetta, add some salt and pepper to taste and sprinkle with continental parsley. Fold up the bottom of the wraps, then fold the sides in and enjoy!
Ingredients
1 tbsp dried oregano
1 clove garlic, minced
2 tbsp fresh lemon juice
1 tbsp olive oil
400g lamb loin
OR, 1 packet Souvlaki Lamb Strips
1 packet wraps
125g baby spinach
2 tomatoes, halved and thinly sliced
1 Lebanese cucumber, thinly sliced
1/2 red onion, thinly sliced
Fetta cheese
Natural yoghurt
Continental parsley, chopped, to serve
Instructions
If using packaged lamb strips, fry them in a hot frying pan until cooked through. If making them yourself, combine oregano, garlic, lemon juice and olive oil in a bowl and add lamb loin. Refrigerate for 30 minutes to marinade, then cook for four minutes each side and thinly slice.
Place a wrap onto a serving plate and top with baby spinach, tomato, cucumber and red onion. Top with some lamb, then crumble some feta over the top. Spoon some natural yoghurt onto the wrap and finish with salt and pepper to taste and parsley.
Fold the bottom of the wrap up first, then fold in the sides. Repeat with other wraps and serve.
Notes
cook times will vary depending on whether you marinate the lamb yourself or not.
https://mumslounge.com.au/lifestyle/food/souvlaki-lamb-wraps-recipe/