FFS: A Couple Pulled Out a Potty for their Child in a RESTAURANT!!!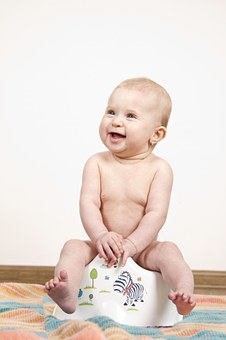 FFS: A Couple Pulled Out a Potty for their Child in a RESTAURANT!!!
People around the globe are fired up over the news that a parent in the UK got their child to use a potty they had brought along in a RESTAURANT last week.
There is literally no excuse for this. None.
I didn't even have to read the details before slightly losing my mind whilst remaining equal parts gob-smacked, horrified and repulsed. Is this yet another example of people acting self-entitled? They have an agenda and who gives a damn about anyone else, right?
Sure it's no picnic toilet-training a toddler but it's something you do at home over the course of weeks. If you have to go out while you're still in "training" then put them in a pull-up or take them to the toilet. You do Not. Ever. pull out a potty in full view of other diners, pull down your child's pants and expect everyone to be OK for them to do their business. While you're eating. WTF.
I have no idea what this parent did with the child's deposit/s but I can only imagine they tripped off to the toilet while disgusted diners were ducking and weaving out of the way hoping no droplets flung out of the bowl and onto their dinner. Then, even if this parent flushed away the evidence, no doubt they would have used a sink where patrons wash their hands to rinse it. Hello, hygiene?
Not to mention the fact that this kid is doing the biz in full view of everyone there. Where's the child's privacy?
The worst thing is, this isn't even the only example of this happening with reports a woman in Manhattan whipped out her son's potty at a restaurant so he could poop (how exactly did the clean up work I wonder?) And another woman in Utah not only brought the potty along to the restaurant but she let TWO of her children take it in turns to use it, while they were dining on their chicken nuggets.
"Professional Toilet Trainer" Amanda Jenner, believes it should be perfectly acceptable for a child to use a potty in a restaurant. Jenner charges parents up to £2,000 a week for potty training their kids and part of her system is allowing children to use the potty whenever they need it during training, wherever that may be. She claims that by confining themselves and their child to the house during the toilet-training period, as soon as you do go outside with the child, they think it's abnormal.
I know we shouldn't judge other parents and toilet training is a chore that must be endured and of course kids need to learn what to do outside the home but until that means they have mastered a toilet, then you need to stay at home and away from people's dining experiences.