So Now You Can Actually Buy Lipstick For Your OTHER Lips!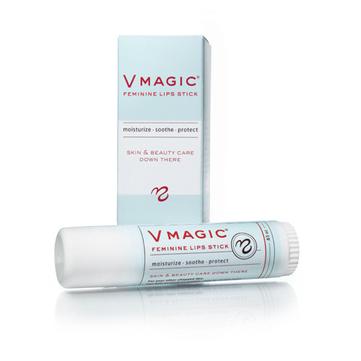 So Now You Can Actually Buy Lipstick For Your OTHER Lips!
Wow! Skin & Beauty Care DOWN THERE. Who knew I needed VMagic the Feminine Lips Stick for my other lips! At first I thought this was going to be a product to make your gear prettier in various hues of pink and reds but thankfully no.
Let's check it out:
Tagline "Because your other lips get chapped too". Ummmmm, thankfully not an issue for me thus far but moving along –
Apparently it's convenient to use on your labia and your entire vulvar (didn't know that was a word but I checked and it is) skin liberally and as needed or desired throughout the day. It brings instant relief to chafed, dry, itchy, rashy and inflamed skin, it moisturises, feels like "velvet", smells and tastes like honey, works like magic before, during and after intimate activity, removes and prevents odor causing bacteria and reduces inflammation and ingrown hairs caused by personal grooming." 
It is also supposed to balance pH, restore soothing moisture from chlorinated hot tubs, pools, soapy and hot baths, sports chafing and…long hours of sitting in a plane or office with little or no circulation. VMagic is good for V-troubles! Made from organic extra virgin oil, avocado oil, buckthorn oil, beeswax and honey. Available for $17.99 IF you subscribe and commit to a one month delivery supply OR as a one-time purchase for $19.99.
Endorsed by several medical practitioners including an ob/gyn I guess this could actually be a good product if you are suffering from issues down below.
Personally, at the moment I can't see myself with much use for it but maybe when the dreaded menopause hits one day, I'll go back to this post to click on the link and give it a shot.