Toddler Hilariously Upstages His Mum's Romantic Marriage Proposal By Peeing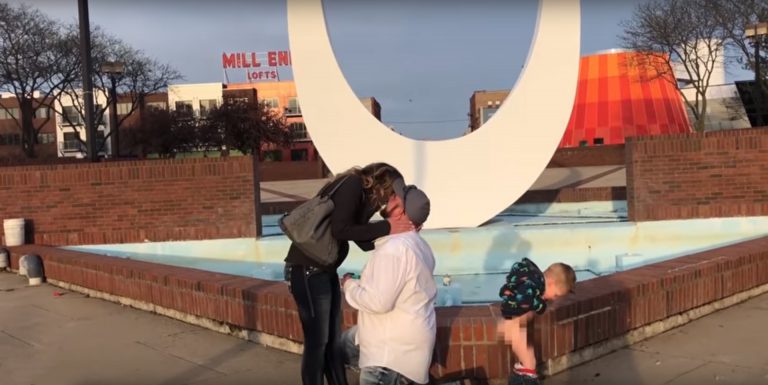 Toddler Hilariously Upstages His Mum's Romantic Marriage Proposal By Peeing
Toddlers have an uncanny ability to suck everyone's attention away from other more important things at a moment's notice, and this little boy is no exception.
Little Owen urgently needed to make use of his newly acquired toilet training skills and it didn't matter what else was going on behind him because all he knew was, he desperately needed to pee.
Unfortunately for Owen's mum, Allyssa Anter, she was in the middle of a romantic marriage proposal at the time, and the whole thing was caught on camera in the funniest way.
Just as Allyssa's boyfriend Kevin Przytula decided to propose, her 3-year-old son chose to drop trou and relieve himself in the background with the whole event filmed by Kevin's 11-year-old daughter, Kayleigh.
Watch their special moment here:
"I'm gonna pee outside!" Owen yells as Kevin gets down on one knee to declare his love for Allyssa. The couple is totally wrapped up in the moment as the ring is presented and Anter asks if he's serious before looking deep into his eyes and giving him a tender kiss.
By this stage, Owen is having his own moment.
Not even daughter Kayleigh caught on to the little guy peeing in the background until he was nearly finished, and by then she is struggling to keep it together as she tells the happy couple that they have been upstaged.
Apparently, Kevin and Allyssa had started potty training Owen about a month ago, but are currently trying to make him realise that he can't wee in public.
"He stole the show, for sure," Allyssa said.
"He pees outside at home sometimes in the yard, and we went and got ice cream the other day and he did it in the parking lot there.
"He just does it without telling anybody, he just pulls his pants down and goes."
I guess when you've got to go, you've got to go. Let's hope he doesn't do the same thing at the wedding!
We wish Kevin and Allyssa all the very best on their engagement.
Source: Youtube/Kevin Przytula