Spring Risotto with Grilled Chicken Recipe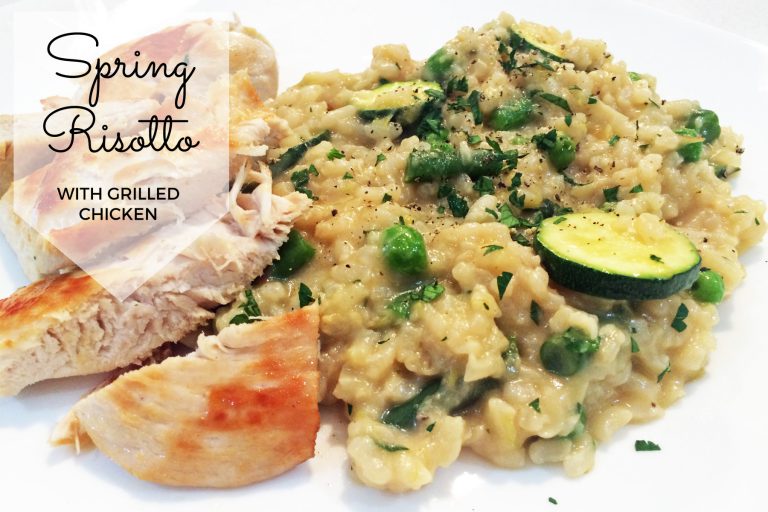 Spring Risotto with Grilled Chicken Recipe
The best thing about this delicious spring risotto, apart from the yummy spring greens, is that it is oven baked! That's right, no more standing there stirring constantly and juggling ladles of hot stock like a fool! Just bung it all in the oven and stir once. Yay!
Here are all the ingredients you'll need to throw this fabulous mid week meal together.
For the risotto, chicken stock cubes, Arborio rice, butter, garlic, one leek, some green beans, a zucchini, a cup of frozen peas and some parmesan cheese and parsley. You can add some baby rocket to serve if you like, but I forgot. Boohoo. I served this risotto with grilled chicken but you could use whatever you like or just serve the risotto by itself for a meat-free meal.
You could even switch out the chicken stock cubes for vegetable ones and go completely vegetarian if you like. Risottos are amazingly versatile like that.
Melt the butter in a frying pan and saute the leek and garlic until softened. Then add the rice and stir to coat in the butter. Add the hot stock and bring to the boil, then pour the lot into a pre-heated casserole dish, pop the lid on and shut the oven door. Cook it for 15 minutes, give it a good stir, then set the timer for another 15 minutes. If it's not finished by then, give it another 5 minutes or so. Easy peasy!
Add the greens with 5 minutes remaining, then stir through the parmesan cheese and parsley.
Serve with whatever you like! I grilled some chicken breast fillets and sliced them to stretch a little further among our family. Imagine this risotto with fresh salmon fillets or a big old juicy steak! Enjoy, no matter how you switch it up!
Spring Risotto with Grilled Chicken Recipe
Ingredients
6 cups chicken stock
20g butter
1 leek, halved and thinly sliced
2 cloves garlic, crushed
1 1/3 cups Arborio rice
1 cup frozen peas
100g green beans, chopped into 2cm chunks
1 zucchini, thinly sliced
½ cup chopped continental parsley
½ cup freshly grated parmesan cheese
40g baby rocket to serve (optional)
Grilled chicken to serve
Instructions
Preheat oven to 170°C and place a 5-litre ovenproof dish in oven to heat.
Place a large frying pan over medium heat, add the butter, leek and garlic and cook until soft. Add the rice and cook, stirring for 1 minute. Add stock and bring to the boil, then pour everything into the preheated dish. Cover tightly with a lid or foil and place in the oven for 15 minutes.
Remove and give everything a good stir, then cover again and return to the oven for a further 15 minutes. By this time all liquid should have been absorbed. If not, return to the oven uncovered for a further 5 minutes.
Add peas, beans and zucchini to the risotto with 5 minutes remaining. Remove from heat and stir through parmesan and parsley. Season and serve with baby rocket (if using) and grilled chicken.
https://mumslounge.com.au/lifestyle/food/spring-risotto-grilled-chicken-recipe/