Thermomix Chocolate Fondant Cake Recipe Plus Giveaway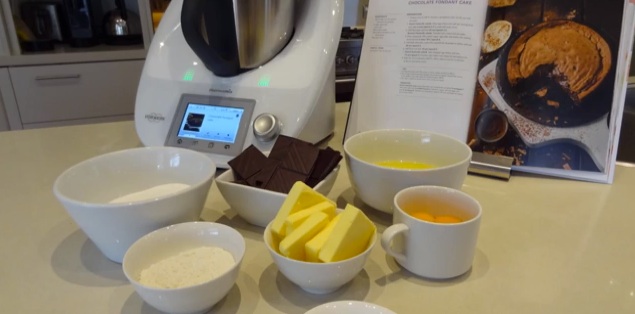 Ingredients
150g butter, cut into pieces plus extra for greasing
6 eggs, separated
1 pinch salt
200 g caster sugar
250 g dark chocolate, cut into small peices
50g plain flour
Useful items
Springform cake tin (22cm)
Preparation
1. Preheat oven to 200°C. Grease a springform cake tin (22cm) ans set aside.
2. Insert butterfly whisk.  Place egg whites and salt into mixing bowl and whip 6 min/speed 3.5 or until stiff peaks form.
3. Add 20g sugar and mix 20 sec/speed 3.5.
4. Place remaining 180g caster sugar, egg yolks and butter into mixing bowl and mix 6 mins/70° C /speed 4.
5. Add dark chocolate, wait a few seconds for chocolate to soften and mix 20 sec/speed 5.
6. Add flour and mix 10 sec/speed 5.
7. Insert butterfly whisk.  Add whipped egg whites and mix 15 sec/speed 3.  Transfer cake batter into prepared springform tin.
8. Bake for 10 – 15 minutes (200°C).  Allow cake to cool for 5 minutes in the tin and serve warm.
Tips
If using chocolate with 70% cocoa or more, reduce amount to 200g
The mixing method and short baking time produce a gooey mousse-like cake.  If you prefer a firm cake, bake for 20-25 minutes (180°C).
This cake is delicious served warm with vanilla ice-cream.
Giveaway
We have 5 x Thermomix cookbook prize pack to be won this week valued at $160 each!
The prize pack includes:
Cooking for your Baby and Toddler
Something for Everyone
Quirky Cooking
Cooking for Me and You
To enter simply complete the entry form below. Good luck!


a Rafflecopter giveaway