Thermomix Recipe: Brown Rice Salad PLUS GIVEAWAY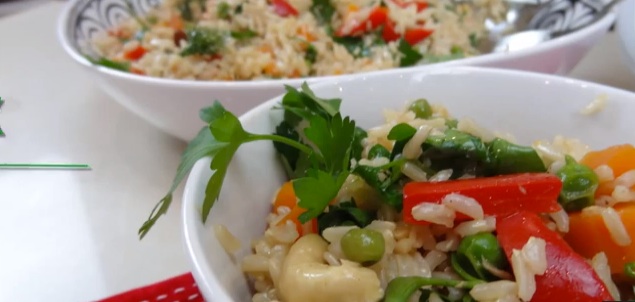 INGREDIENTS FOR 6 PORTIONS
· 400 g brown rice
· 900 g water
· 800 g mixed vegetables(e.g. carrot, capsicum, peas, beans), cut into bite-sized pieces
· 50 g roasted unsalted cashew nuts
· 50 g roasted almonds
· 30 – 50 g olive oil
· 50 g soy sauce or tamari · 80 g lemon juice (approx.2 lemons) or lime juice(approx. 4 limes)
· 95 g canned tuna, drained
· 2 sprigs fresh dill, leaves only,to taste
· 4 sprigs fresh flat-leaf parsley,leaves only, to taste
· 4 sprigs fresh coriander, leavesonly, to taste
· 1 pinch ground black pepper,to taste
· 1 pinch sea salt, to taste
USEFUL ITEMS
· large serving bowl
PREPARATION
Insert simmering basket and weigh rice into it. Remove simmering basket with aid of spatula, then rinse rice until water runs clear.
Place water into mixing bowl, then re-insert simmering basket with rice and cook 20 min/100°C/speed 4.
Place Varoma dish into position, then weigh mixed vegetables into it.
Secure Varoma lid and cook 12-15 min/Varoma/speed 2, or until vegetables and rice are cooked to preference.
Transfer vegetables into a large serving bowl. Remove simmering basket with aid of spatula and allow rice to drain. Once drained, transfer rice into serving bowl with the vegetables.
Place the large serving bowl onto mixing bowl lid, then weigh cashews, almonds, olive oil, soy sauce or tamari and lemon or lime juice into it. Add tuna, dill, parsley, coriander, pepper and salt to serving bowl, then combine well
with spatula. Serve warm.
TIPS
If using frozen vegetables, the Varoma can be placed into position in step 1 while you cook the rice. You can increase the volume of this recipe by increasing the amount of vegetables in the Varoma dish.
Enjoy as a meal on its own or as a perfect salad at your next picnic or barbecue.
VARIATION
Freshly grated carrot, spinach leaves, bean sprouts, chopped nuts and feta cheese can also be added to the serving bowl in step 5. Place into the bottom of the serving bowl and pour hot rice and vegetables over the top before mixing through.
Giveaway
We have 5 x Thermomix cookbook prize pack to be won this week valued at $160 each!
The prize pack includes:
Cooking for your Baby and Toddler
Something for Everyone
Quirky Cooking
Cooking for Me and You
To enter simply complete the entry form below. Good luck!


a Rafflecopter giveaway