Thermomix Recipe: Creamy Bacon, Cauliflower and Pea Pasta Bake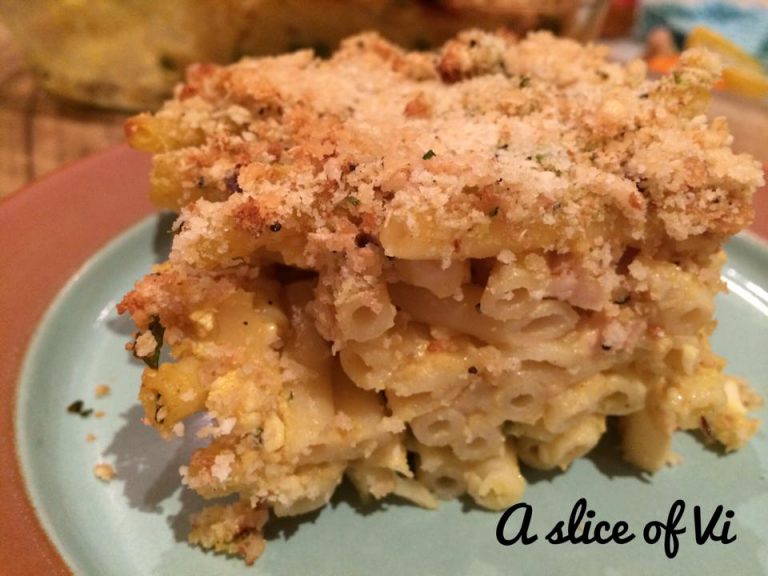 Creamy Bacon, Cauliflower and Pea Pasta Bake
This recipe was an instant hit with my family with my 3yr old and 10 month old boys and my husband all inhaling it!!! It's a perfect quick meal and is great with a green side like green beans with toasted almonds or a crunchy green salad. It also makes a large quantity so it's perfect for entertaining or making if you want to pack off a few containers for the freezer. It freezes and thaws well. Satisfying and comforting it's perfect for the cold weather!
Do this first!
Preheat oven to 180*c
Put water on to boil in a large pot with a couple of pinches of salt – this is to cook the pasta in
Find a 12 cup capacity baking dish!
Thermomix Recipe: Creamy Bacon, Cauliflower and Pea Pasta Bake
Ingredients
Sauce:
650mls milk
100mls cream*
1 tbsp curry powder
20gms TM stock paste
60gms flour
salt and pepper to taste
Pasta mix:
500gm box of Barilla maccheroni or similar tube or macaroni shaped pasta
100gms parmesan cheese cubed into 1-2cm pieces
100gms chedder cheese - cubed into 2-3cms pieces
350-400gms cauliflower broken into large florets (approx 1/4 of a large head of cauliflower)
200gms bacon (approx 3 rashes)
130gms peas (1 cup)
150gms breadcrumbs (2 cups)**
Instructions
As soon as salted water is boiling, cook pasta according to packet instructions. When it's cooked, drain well.
Meanwhile, while pasta is cooking, add 100gms parmesan cheese to clean and dry Thermomix bowl and grate 8 Secs | Spd 9. Set aside.
Add 100gms chedder cheese and grate 8 Secs | Spd 8. Set aside
Add 350-400gms cauliflower and chop 1 Sec | Spd 5. Set aside.
Now, to get the sauce on. Add milk, cream, curry paste, stock paste, flour, salt and pepper to TM bowl and cook 8 mins| 90*c | Spd 4. While this is cooking, dice bacon and put it into a large 12 cup capacity baking dish, along with 130gms peas and previously prepared cauliflower.
Once pasta is cooked and drained, add it to the baking dish.
Once the sauce is finished, add chedder to baking dish and then pour in the sauce, mixing everything up really well so that everything is combined and all the pasta is coated with the sauce. Smooth out mixture evenly in dish and sprinkle the top first with breadcrumbs and then with the parmesan cheese. Bake for 20-30 minutes or until it's golden brown.
https://mumslounge.com.au/lifestyle/food/thermomix-recipes/thermomix-recipe-creamy-bacon-cauliflower-and-pea-pasta-bake/
Enjoy!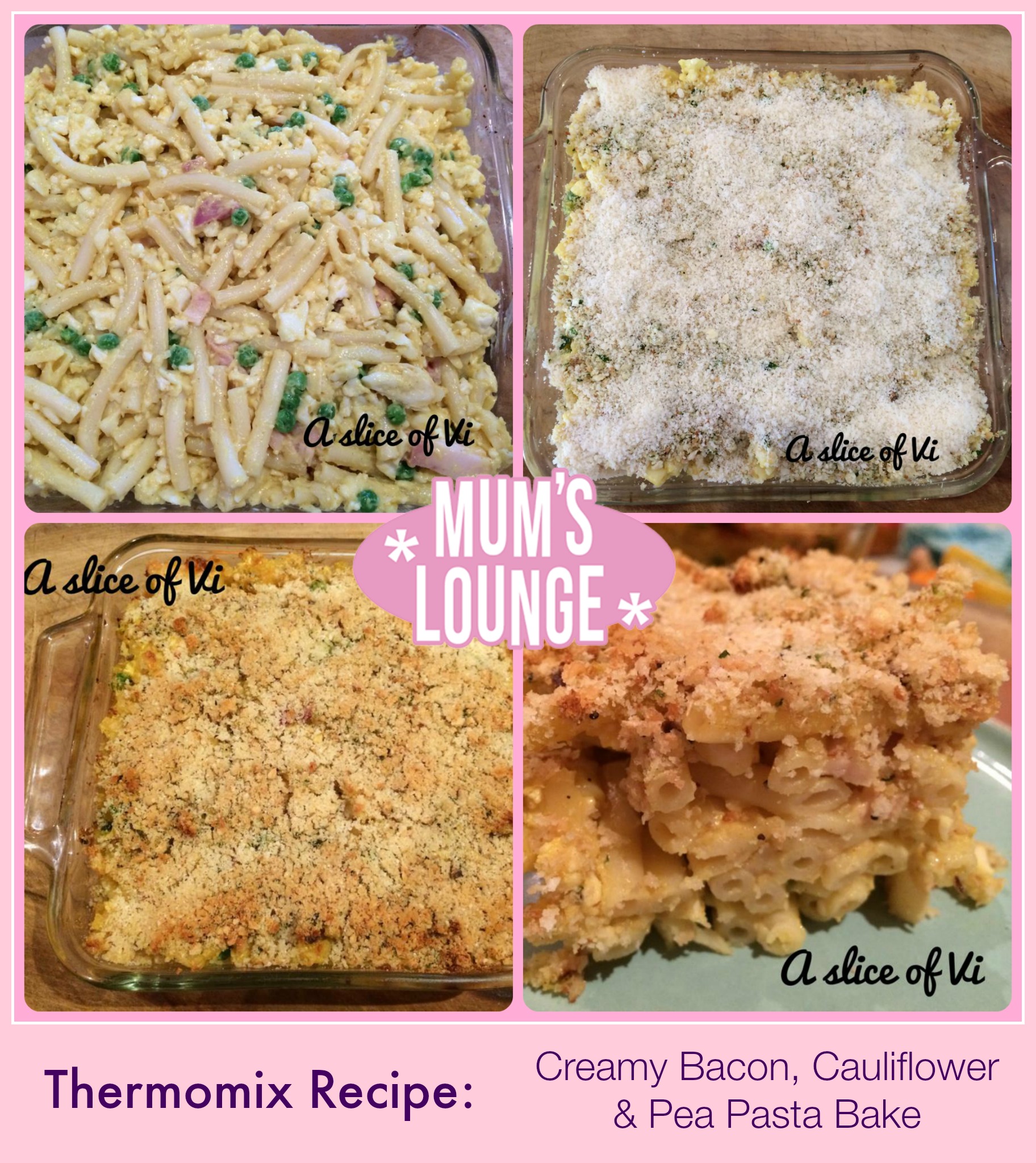 Tips
*Cream can be substituted with milk.
**I make my own fresh breadcrumbs, by saving all bread ends and stale bread and freezing. When I have enough I roughly cut/tear, place in my Thermomix with a clove or 2 of garlic and a handful of Italian flat leaf parsley and blitz on Spd 8 until I have a small crumb texture. I then refreeze and use directly from the freezer.
Author: Elisha-Vi Raso
I was lucky enough to spend most of my childhood in Far North Queensland. My school holidays were spent barefoot in the stifling humidity, in my Nan's kitchen. It was mission brown and olive green with hints of orange in Lino on the floor. Nan taught me all the important things in life – how to sew a button, brown gravy and bake a chocolate cake. When I wasn't helping Nan in the kitchen, I could be found splashing in the shallows down the beach in front of my grandparents house or pinching brazillian cherries off the tree near the laundry and passionfruits off the vine near the back shed. These early years inspired my love of cooking and creating and all things creative!! I love trying new ingredients, recipes and making things beautiful – even if no one cares! I've had my Thermomix 3 years now, and I love using it to convert recipes and create amazing things in my kitchen, I especially love using new ingredients and preserving things like jams, chutneys and pickles. My husband of 7 years and my boys aged 3 and 11 months are both my biggest fans and harshest critics!!! All my recipes must be approved by their fussy palates first!! When I'm not cooking or creating (or washing or working!!) I'm usually found in a sunny spot with my nose in a recipe book. You can follow my adventures onFacebook – A slice of Vi on Instagram asliceofvi or at www.asliceofvi.blogspot.com.au