Tips on How to Create the Perfect Cheese Platter (Even if You are on a Budget)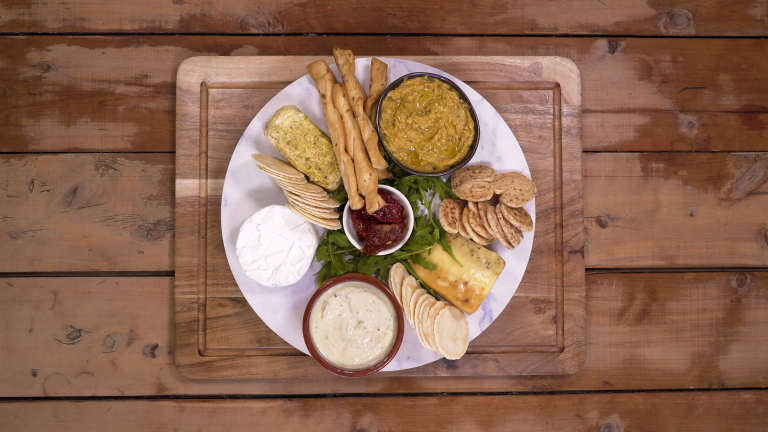 Tips on How to Create the Perfect Cheese Platter (Even if You are on a Budget)
Sponsored post
You only have to open up your Instagram feed to see that beautifully arranged grazing platters are very much on trend right now. But considering we humans, have been enjoying cheese since around 8000 B.C, it's probably safe to assume that the good old cheese platter won't be going anywhere in a hurry. That's because a cheese platter is the perfect crowd pleaser for every occasion. Parties, weddings, family get-togethers, BBQ's with friends and drinks with the girls, wouldn't be complete without a selection of cheese and crackers to nibble on. I've even been known to throw a little platter together on a Friday movie night with my family, with a side of popcorn for the kids, and a nice glass of red wine for me. Heaven!
The great thing about a cheese platter is that you can make it as elaborate and luxurious, or as simple and elegant as you choose, depending on the crowd, the event, your taste or your budget.
The Basics of Assembling a Cheese Platter
Select a board that is large enough to hold all of your chosen ingredients. You'll need to allow enough elbow room around the cheese for people to slice it. We recommend opting for a wooden board, but marble and slate work really well too.
Cheese is best served at room temperature, so don't forget to take them out of the fridge at least 30 – 90 minutes before serving (depending on your climate). Keep cheese covered to prevent it drying out though.
When assembling your platter start with the big items, such as the cheeses and dip bowls. Medium sized ingredients such as crackers and bread sticks can be fanned out between these, creating sections on the board. Smaller items such as fruit, vegetables etc can be tucked into the spaces to create colour and interest. For example, you'll see in the video below how the introduction of some greenery fills in some space on the board, makes the central dip pop, and makes the platter more visually appealing.
Provide a cheese knife per cheese to prevent cross-pollination of flavours.
Have fun and get creative. There really is no end to the things you can add to your platter!
How to Make a Cheese Platter for under $35
Ingredients
Did you know:  You can now order your Coles groceries via eBay and have them delivered to your door. eBay Plus members enjoy double flybuy points for every $1 spent, free delivery on orders over $49 and 5% off every time they shop when they use coupon code PLUSFIVE
Sign up for your FREE eBay Plus 30-day trial here
Download the FREE Spring ebook
Full of delicious recipes, beauty tips, family activities
And your chance to win a $200 voucher to spend
at Coles on eBay & an Annual eBay Plus membership