Tips for Making Sushi Rolls at Home with the Kids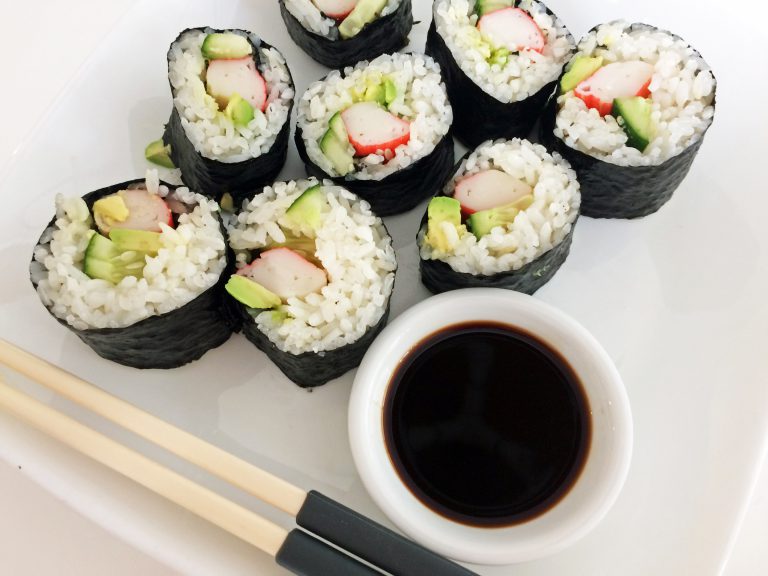 Tips for Making Sushi Rolls at Home with the Kids
If your family loves sushi, you'll know, that a trip to a sushi restaurant or even the food court can quickly become quite expensive. That's why, when I was last bombarded with requests for sushi, I decided to buy the necessary ingredients, and make them at home. The beauty of making them at home, is that it's a fun and creative activity that kids can help with, and it's a great way of getting them to eat more veggies, that they might otherwise resist.
Related: Homemade California Sushi Rolls Recipe
Ingredients
Your choice of:
Vegetables (e.g. cucumber, carrot, red capsicum, lettuce, avocado)
Protein (e.g. chicken, tuna, smoked salmon, cream cheese, seafood sticks)
You will also need:
Method
Preparing the rice is the most consuming part of the process, so cook the rice first according to the instructions on the packet.
While the rice cooks, prepare the other ingredients. Cut the vegetables and other ingredients into thin strips and set aside.
Mix the rice vinegar, sugar and salt together.
When the cooked rice has cooled, add the vinegar mixture. This is what will give the rice its flavour and glossy shine.
Lay the bamboo mat out. Cover it in a sheet of plastic wrap (this will help minimise the mess, and make it easier to cut later.) Lay a sheet of nori paper (shiny side down) on the plastic wrap.
Pro tip: Have a bowl of warm water and a tea towel handy as the rice gets sticky, and you'll need dry, clean hands for rolling.
Place a thin layer of rice across the nori sheet, leaving 2 – 3 cm space between the rice and the top of the sheet. This will allow you room to seal the roll easily.
Place a row of your chosen filling ingredients across the centre of the nori sheet.
Using the bamboo mat, roll from the bottom of the sheet. Squeeze gently as you roll to bind the ingredients together. Don't squeeze too hard though, as the nori will tear.
Slice the sushi roll into bite sized discs and serve immediately.
Only make as many as your family will eat. Sushi rolls can't be refrigerated as the rice goes hard and tastes awful.
Did you know:  You can now order your Coles groceries via eBay and have them delivered to your door. eBay Plus members enjoy double flybuys points for every $1 spent, free delivery on orders over $49 and 5% off every time they shop when they use coupon code PLUS5.
Sign up for your FREE eBay Plus 30-day trial here
Download the FREE Spring ebook
Full of delicious recipes, beauty tips, family activities
And your chance to win a $200 voucher to spend
at Coles on eBay & an Annual eBay Plus membership