Warm Chicken & Potato Salad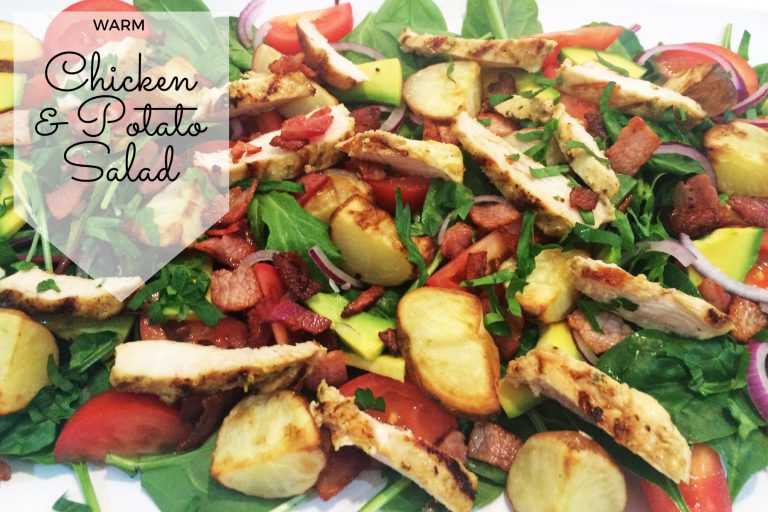 Warm Chicken & Potato Salad
Sometimes the best meals are the most simple, and this warm chicken and potato salad is no exception to that rule. If you can't find these delicious lemon and ginger chicken steaks, marinate some chicken breast fillets in a combination of lemon juice, garlic, olive oil, salt and pepper for at least  one hour before barbecuing, chargrilling or pan-frying. Or, use your favourite marinade, the choices are endless and you can easily customise it to your tastes.
I find serving salads on large platters to be much nicer and more pleasing to the eye than using large salad bowls. It is easier to evenly spread the ingredients through the salad by layering them, and you also avoid the eternal problem of all the good stuff falling to the bottom! Use some tongs or salad servers to serve the meal onto plates and then allow everyone to help themselves to seconds.
Warm Chicken & Potato Salad
Ingredients
1 pkt Lilydale Chicken Breast Steaks – Ginger & Lemongrass flavour
500gm baby potatoes, quartered
4 rashers of bacon, chopped
2 small tomatoes cut into wedges
½ avocado, sliced and chopped into chunks
150gms mixed baby salad leaves
Finely sliced red onion
Fresh continental parsley, finely chopped
Olive oil spray
Salt and pepper
Instructions
1. Preheat oven to 210 degrees Celsius. Place quartered potatoes onto baking paper lined oven tray, spray with oil and season with salt and pepper to taste. Bake in the oven for 45 minutes or until golden and cooked through.
2. Sauté bacon until crispy. On a large platter, arrange the salad leaves, tomato, avocado, and red onion.
3. Either barbecue or pan fry the chicken steaks for 4 minutes each side until cooked. Slice thinly and add to the salad platter with the roasted potatoes. Sprinkle the bacon and parsley over the top and serve.
https://mumslounge.com.au/lifestyle/food/warm-chicken-potato-salad/