10 of the Best Sunscreens for Your Face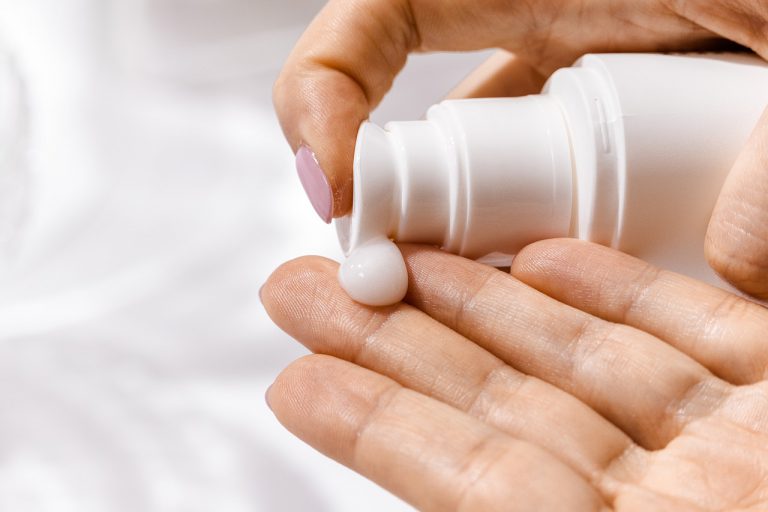 10 of the Best Sunscreens for Your Face
We all know that we should be wearing sunscreen every single day but when it comes to your face it's often hard to find one that your skin will love. Thankfully sunscreen formulas have come a long way. Greasy lotions have been replaced with sunscreens that feel light, using ingredients with anti-aging properties. It's a win win!
La Roche Posay Anthelios Sun Intolerance Creme

A very high protection facial sunscreen cream. Powered by XL-PROTECT™ to provide very high, photostable & broad-spectrum UVA/UVB protection. Enriched with calming Neurosensine to limit UV-induced discomfort, itching & redness. Infused with La Roche-Posay Thermal Spring Water for soothing & anti-oxidant benefits. Leaves no white marks on skin. Suitable for sun-sensitive skin prone to UV intolerance Allergy-tested & non-comedogenic.
Ethical Zinc SPF50+ Daily Wear Light Sunscreen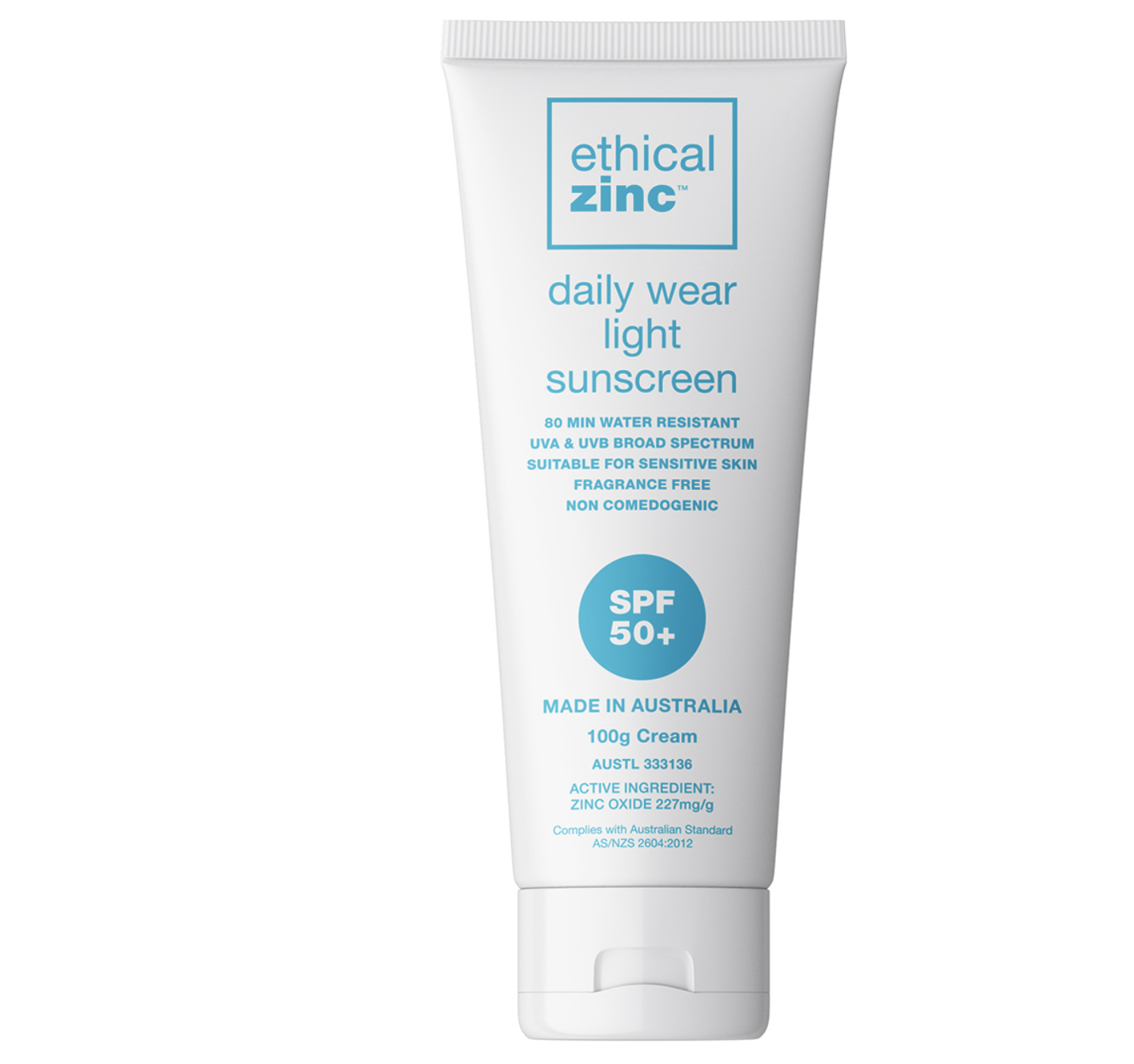 Protecting your skin from the suns harsh rays is important no matter what the weather. Ethical Zinc's SPF50+ Daily Wear Light Sunscreen is ideal for everyday wear with a lightweight feel that rubs in clear. With 80 minute water resistance, this SPF is great for the beach or for outdoor swimming.
BENTON Skin Fit Mineral Sun Cream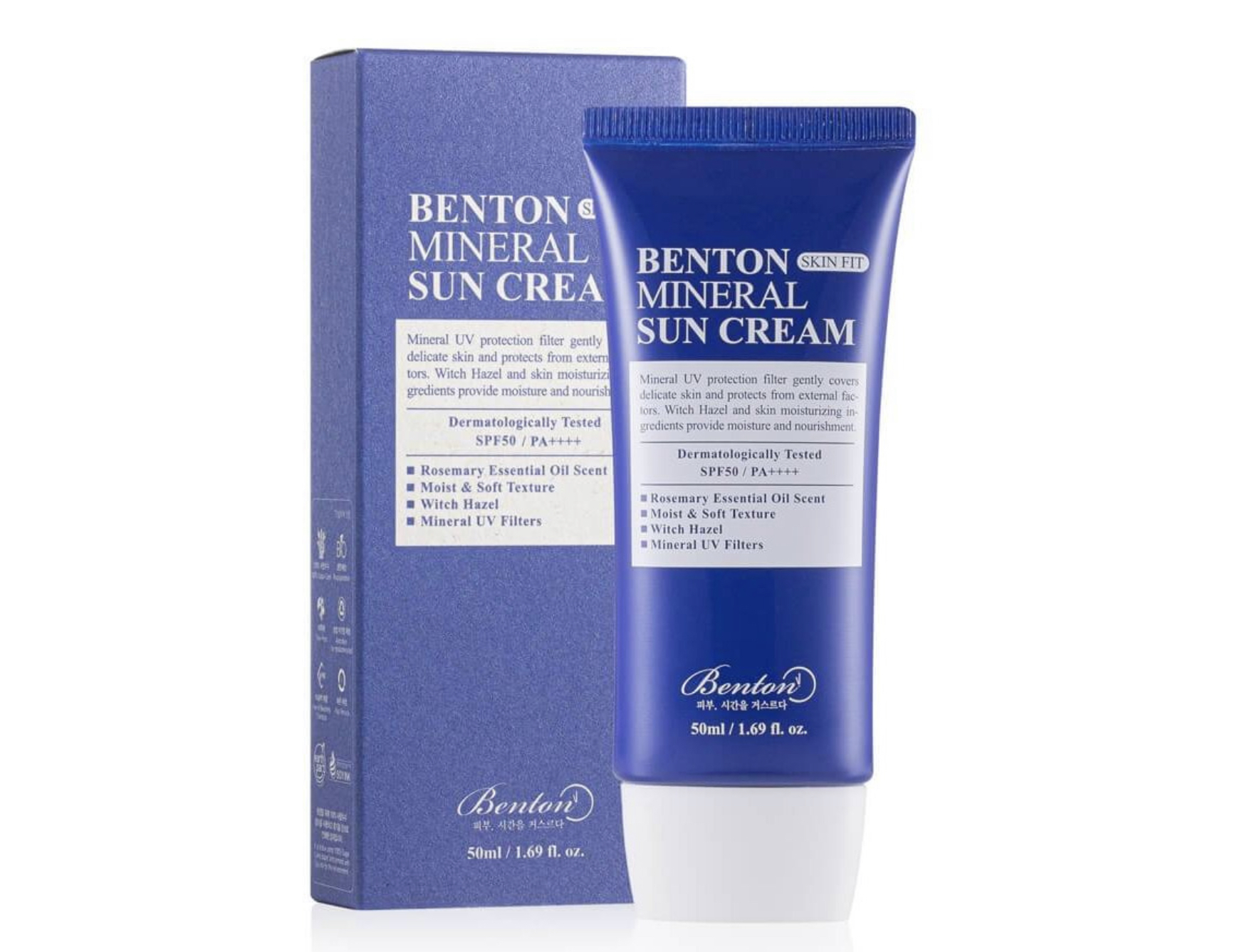 "A sunscreen that provides intense UV protection and improves your skin's radiance and elasticity"
Benton's Skin Fit Mineral Sun Cream is a broad-spectrum skincare cream certified by a clinical test organization in Europe, so you know it will help keep your skin safe from harmful UV rays.
Witch Hazel Extract and Centella Asiatica work together to soothe sensitive skin, while the Calamine helps keep your skin protected from external aggressors. The cream texture is light and blends evenly on the skin without feeling heavy or greasy.
This product is made with natural ingredients, including rosemary essential oil, which gives it a fresh scent without any artificial fragrances. It also provides intense UV protection, improves skin radiance and elasticity, and has a soft, low white cast.
So if you're looking for sun protection that won't leave your skin feeling dry and irritated, the Benton Mineral Sun Cream is perfect for you!
CosMedix Hydrate + Moisturizing Sunscreen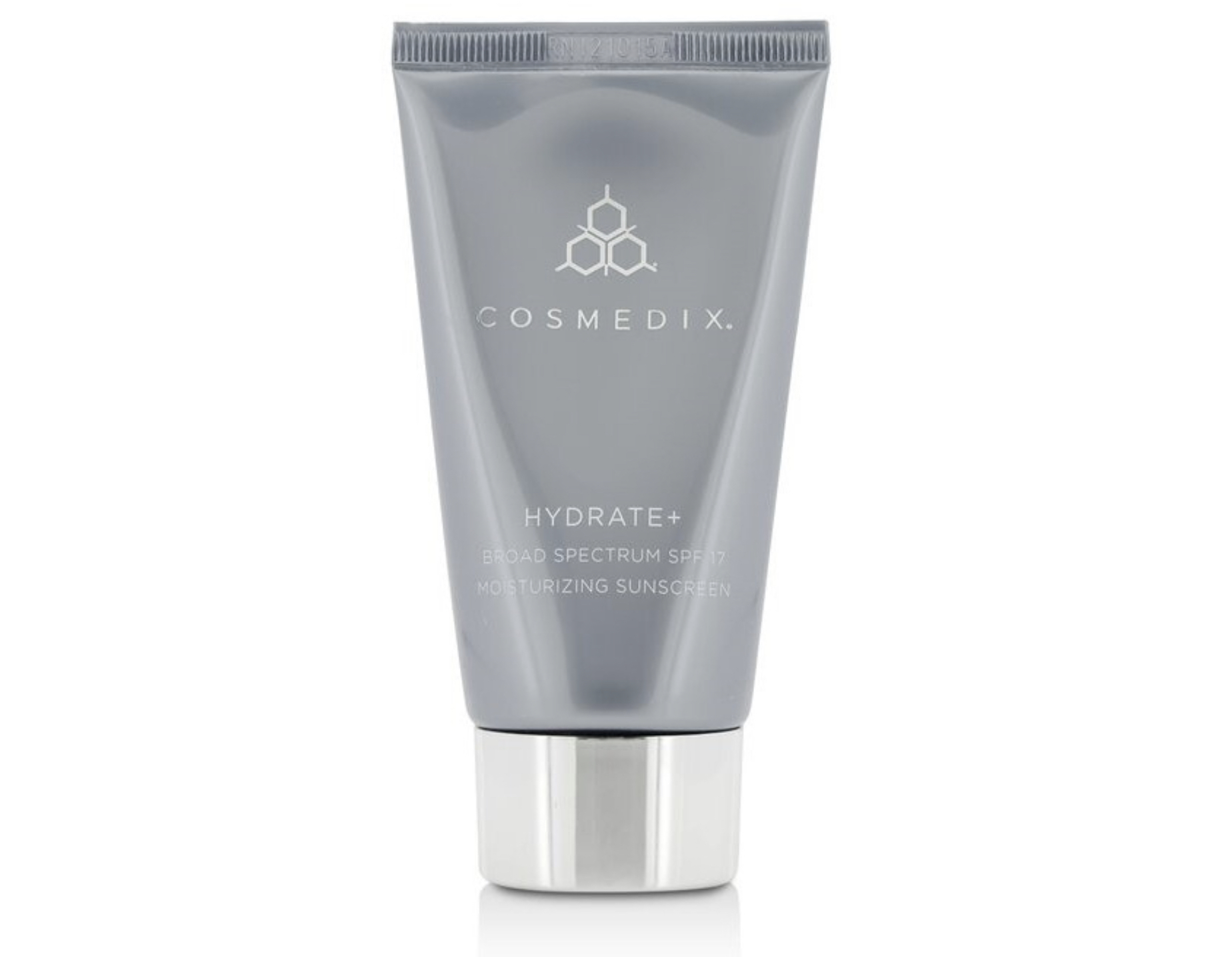 A hydrating, non-irritating facial sunscreen. Formulated with Jojoba to naturally hydrate & condition skin. Blended with Wheat Germ for nourishing & moisturizing benefits. Loaded with Tocomin, a powerful antioxidant Vitamin E complex Infused with Zinc Oxide, a natural mineral sunscreen. Offers broad spectrum protection against both UVA & UVB rays. Leaves skin comfortable & healthy looking. Free of harsh or irritating chemicals.
Invisible Zinc Tinted Daywear SPF30 Mineral Shield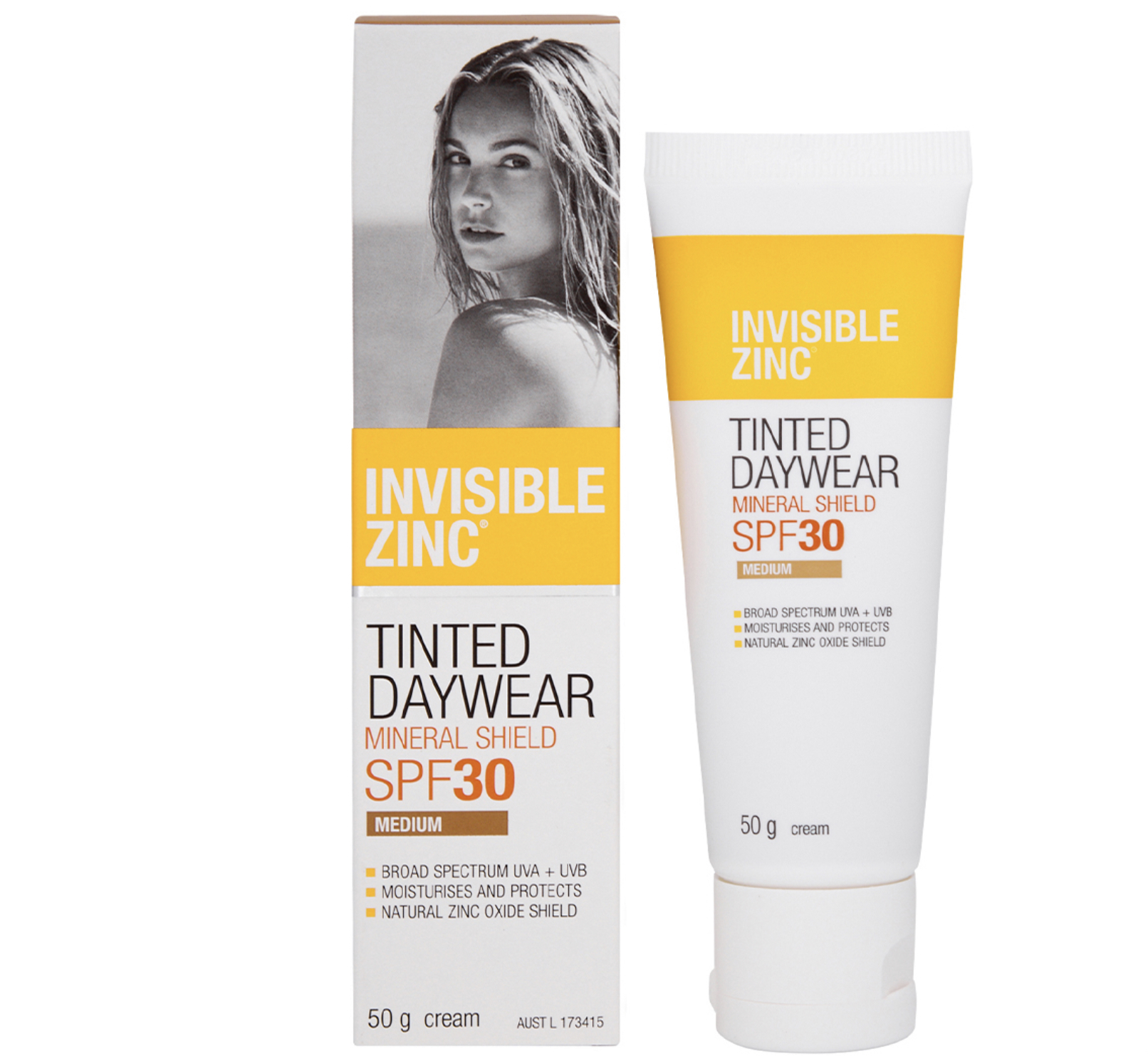 Invisible Zinc SPF30 Tinted Daywear is an award-winning 3-in-1 moisturiser, sunscreen and sheer foundation formulated for everyday high UV protection. Pop it into your bag and use it daily to nourish, protect and help prevent the appearance of premature ageing of the skin caused by UV exposure. The low irritant formula is free from parabens and perfect for sensitive skin.
Vichy Capital Soleil AntiAgeing 3In1 Daily Antioxidant Sun Care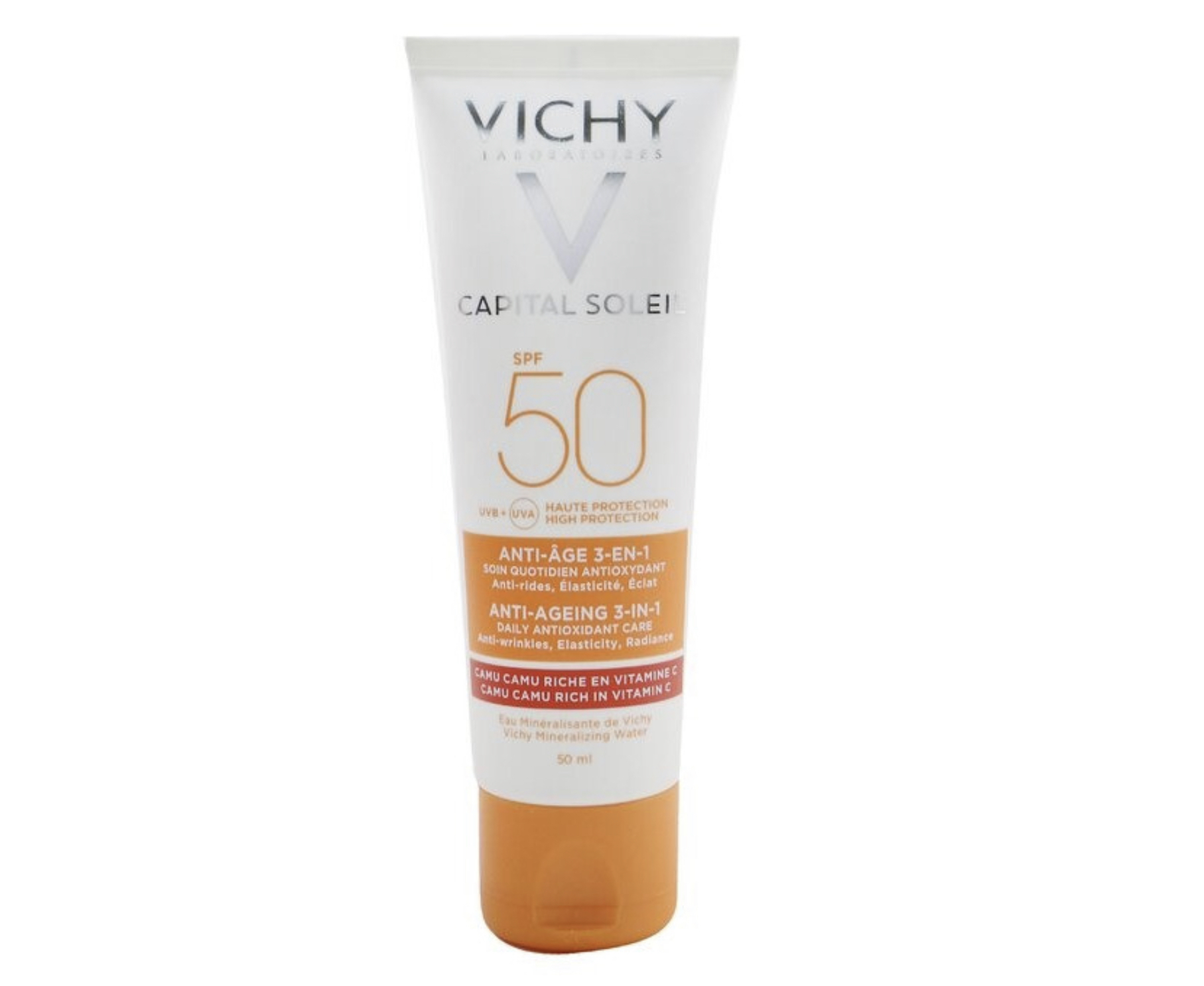 A very high SPF50, broad-spectrum sunscreen for the face. Enriched with anti-oxidants including black tea & Camu Camu with concentrated Vitamin C. Proven to combat the visible signs of aging including the appearance of wrinkles, loss of elasticity & dullness. Offers extremely high broad-spectrum sun protection with SPF50 Enriched with Vichy Mineralizing Thermal Water to strengthen the natural defenses of skin. Unveils radiant, supple-looking skin. Suitable for sensitive skin. Hypoallergenic & dermatologically tested.
Guinot Sun Logic Uni Bronze Anti-Ageing Tinted Sun Cream For Face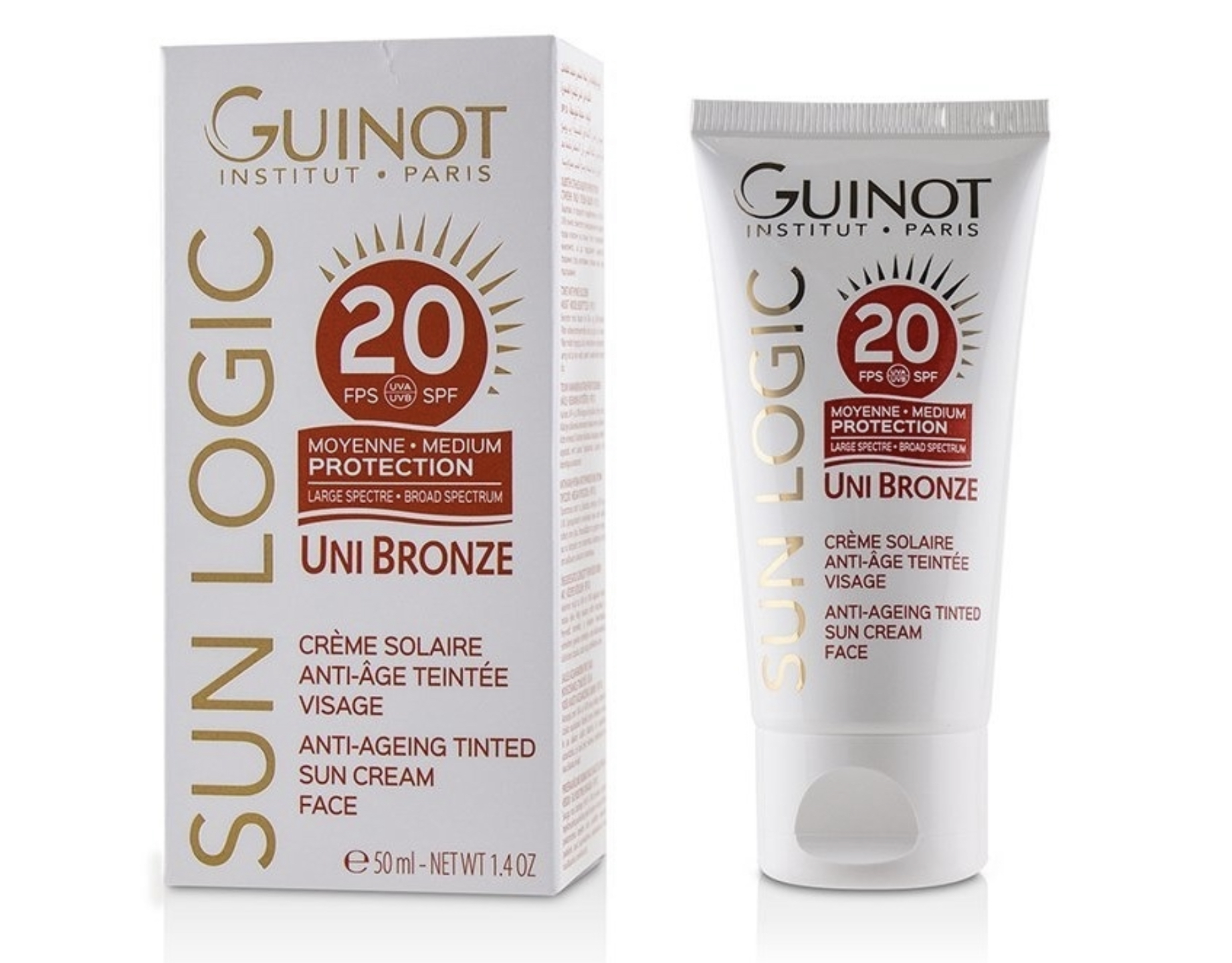 Guinot Sun Logic features a medium protection tinted formula for the face. Protects skin against the harmful effects of UVA and UVB rays. Shields against blue light and it's harmful effects in skin ageing, protects elastic fibres and DNA of skin cells.
Biotherm Waterlover Sun Milk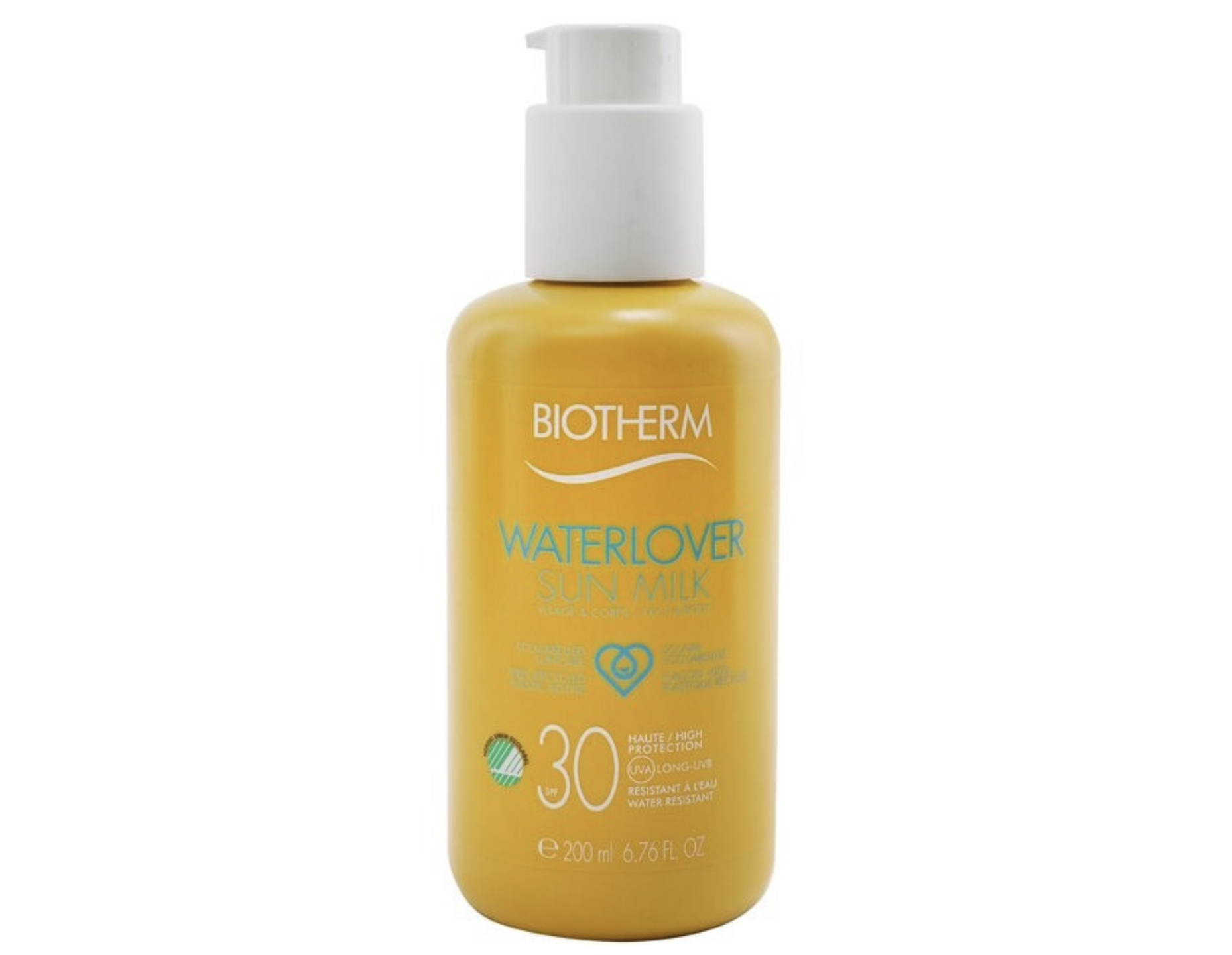 A water-resistant, high protection sun milk for the face & body. Fast-absorbing, easy-to-apply & non-greasy texture leaves no white traces on skin. The biodegradable base formula causes lower impact on the water environment. Contains soothing & regenerating ingredients which limit the oxidative damage of UV rays Protects skin against harmful sunrays with eco-tested SPF filters Leaves skin feeling fresh & hydrated Suitable for all skin types, even sensitive skin.
Simple As That 100% Natural & Vegan Sunscreen Lotion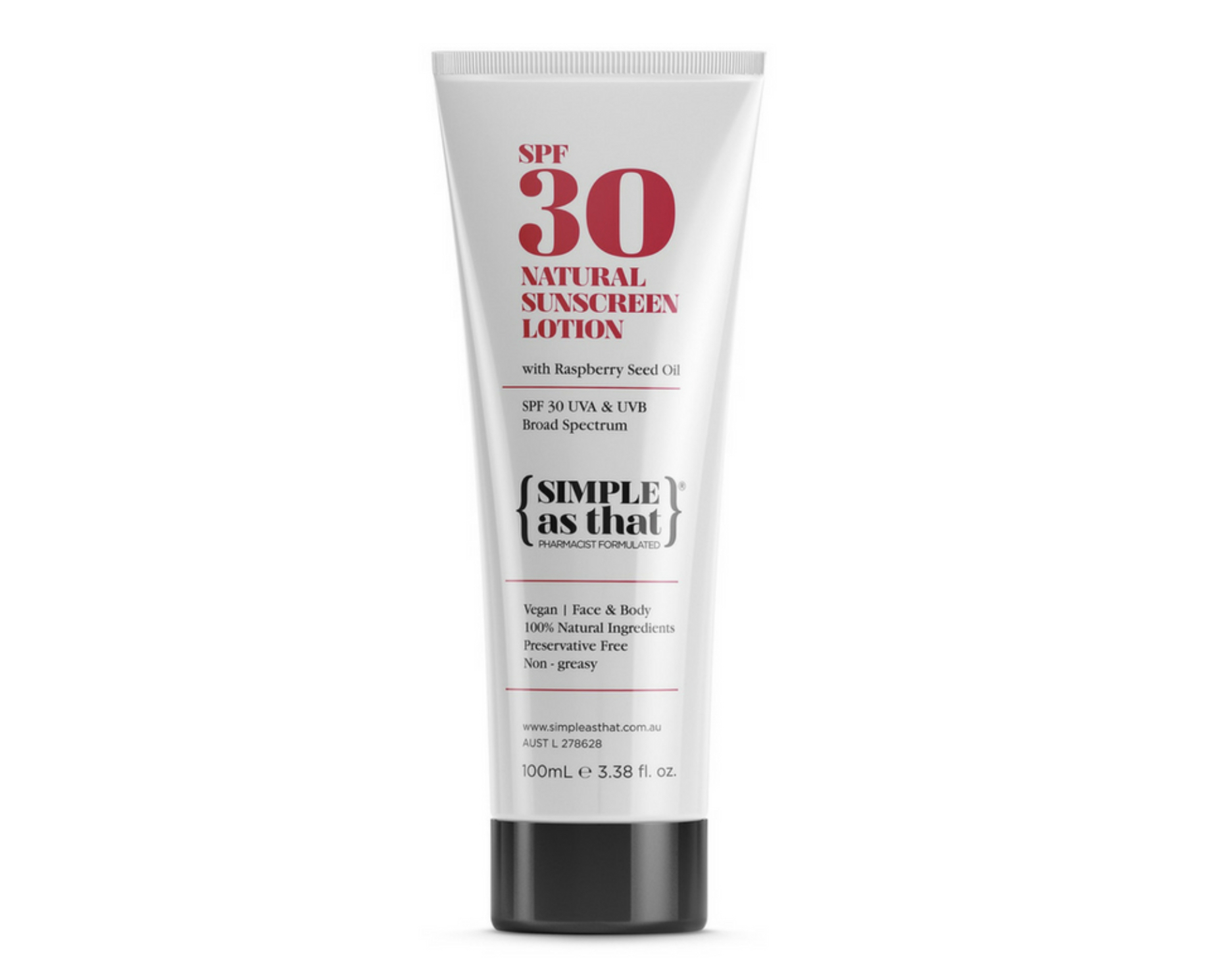 This summer Simple As That is adding a 100% natural, light-weight mineral sunscreen to its pure, vegan skincare range. The team behind Simple As That are committed to sourcing the best natural and organic ingredients available, to bring you a non-greasy, preservative free, SPF 30 natural sunscreen lotion suitable for both face and body, and the entire family. With an uncompromising approach to quality and purity of ingredients, the sunscreen has been pharmacist formulated to safely provide broad spectrum protection from the suns UVA and UVB rays using zinc oxide as its active ingredient. The Simple As That SPF 30 natural sunscreen lotion also contains green tea and rosehip oil, well known for their antioxidant properties, as well as their signature ingredient, red raspberry seed oil for its natural protection against UVA and UVB rays.
Dr Dennis Gross DRx Dark Spot Sun Defense Sunscreen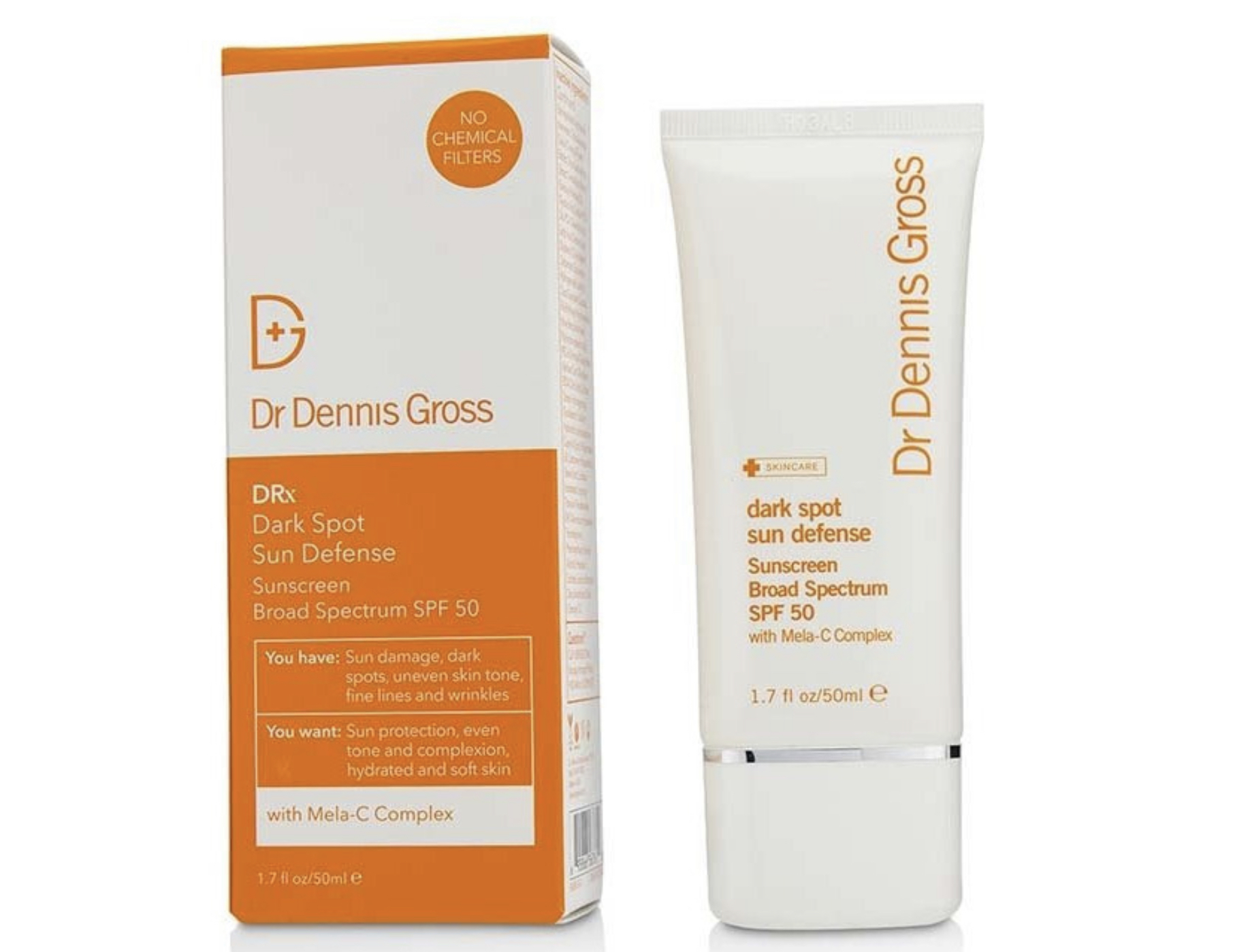 A high protection, anti-aging sunscreen cream. Contains a breakthrough complex featuring melatonin plus three forms of Vitamin C & Vitamin E Loaded with ceramides, hyaluronic acid & evening primrose oil. Helps hydrate skin & improve its elasticity. Reduces the appearance of dark spots & discoloration.
Disclosure: This article contains affiliate links. This means that if you make a purchase, we may receive a small commission at no extra cost to you. This helps to pay the running costs for our website and the wages of our work-from-home writers, who are parents, just like you.