Former Model Shares Graphic Photo Of Her Cervix To Help Raise Awareness Of Cervical Cancer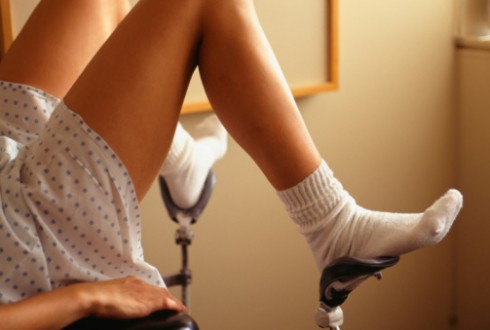 A former glamour model and mother of two has shared a rather confronting photo in the hope it will encourage and remind women to have regular pap smear tests. Tracy Kiss, 28, from Buckinghamshire posted the photo to raise awareness as part of Cervical Cancer Prevention Week which ends on Saturday.
Although the posting of the photo may seem a tad unorthodox, the intentions are all very good. The Cervical Cancer campaign is very close to Tracy's heart as abnormal cells were discovered in her cervix following a routine pap smear.
Writing about the experience on her blog Tracy said she didn't think she had anything to worry about. When she experienced changes in her body she didn't think there would ever be anything wrong.
'At the age of 28 I never would have thought that something like this could happen to me, I thought irregular bleeding, period cramps that linger and back ache was just a sign of getting old and having children but it's not,' she said.
'You know in yourself when something isn't right and when your body isn't behaving as normal. A quick smear test could save your life and I'm incredibly thankful that I had mine.'
Following Tracy's pap smear test and biopsy she was found to have CIN2 cells, which are usually caused by certain types of human papillomavirus (HPV). Although not cancerous they can sometimes become so and spread if not treated. Tracy had the cells removed.
'HPV is a common virus found in most women at one point in their life which can come and go and doesn't require treatment,' she wrote on her blog.
'However if the body doesn't expel the virus (just like cold and flu) it can cause abnormal cell growth in the cervix which is why girls are now being vaccinated for it at school. I never had the injection as it was after my school days.'
'On my blog I like to talk about things other people won't and I am urging women to go for a smear test – it would be amazing if this advice saved somebody,' she said.
Tracy believes the photo of her cervix is the first of it's kind to be posted on social media and hopes that her courage in sharing the image will make other women see the importance of keeping up with regular pap smear tests.
Images courtesy of Youtube