Women & Metabolism: Tips on Handling the Hormone Highway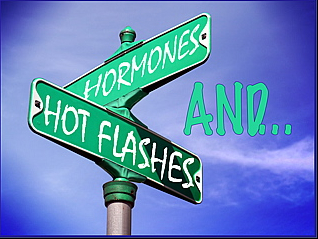 So do you know what affects your metabolism?
• Genetics
• Hormones
• Age and Lean Body Mass
• Menopause
• Temperature
• Circumference
• Calorie reduction
Studies have shown that your genes will explain 50% of your weight!!!
If you have no obese parents you have a 20% chance of being obese.
If you have 1 obese parent you will have a 40% chance of obesity.
If you have 2 obese parents you will have an 80% chance of obesity.
The Facts & More!
Women have 25 billion fat cells, however if you are overweight you have around 65 billion.
A woman's body adds fat cells at 3 critical times – Last Trimester of pregnancy, the First Year of your life and Puberty.
The Ever Important Lean Muscle Tissue (1 kg = 2.2 pounds)
– Age 45-65 (Average loss of lean muscle tissue – 30%)
– One pound of lean muscle tissue (0.454 kg) uses 35-50 calories a day (the more lean muscle tissue you have the better)!!
– A loss of half a pound of lean muscle tissue equals a weight gain of three pounds per year.
Estrogen & Progesterone live a life of highs and lows and when the balance is lost your body it acts in unpredictable and undesirable ways including insomnia, migraines, hot flushes and carbohydrate cravings.
Estrogen increases fat storage in breasts, hips, thighs and butt.
Once you hit menopause a woman can increase weight by 5 lbs or 2.2kg per year.
During peri-menopause which is the lead up to menopause you may experience weight gain, bloating, heart palpitations and decreased sex drive.
To counteract this you have to make an adjustment in expenditure and intake – DON'T STRESS!!
WHAT CAN YOU DO??
Essential Vitamins
Vitamin A for growth and repair – 700mcg
Vitamin B1 – 2mg (for carbohydrate metabolism)
Vitamin B6 – 2mg (for protein metabolism)
Vitamin B12 – 2mg (for fat metabolism)
Folic Acid – 400mcg (cell production)
Vitamin C – 500mg (for immune system support)
Vitamin E – 200IU (menstrual cycle helper)
Calcium, Magnesium and Iron – 1) Pre-menopausal (1,000mg)
2) Menopausal (1,500mg)
Best Tips!
• Incorporate pelvic floor exercises
• Moderate intensity cardio workouts at 70-80% of maximum heart rate.
• Weight Training – Lower repetitions (around 10 repetitions per exercise) at high weight (Lift as heavy as you can) – working all body parts. Using higher weights uses lots of calories and increases fat oxidation, lean muscle tissue and your metabolic rate.
• Allow 30-90 seconds rest between each set.
• Allow 2-3 days off per body part.
• Workout time – 50-60 minutes
• After exercising within 30 minutes drink a liquid protein.
• Eat a meal within 2 hours of exercising.
What Proportion of Food?
Protein – should make up 35-40% of food intake each day – 1-1.5kg per kg of body weight. Excessive protein can affect calcium absorption.
25 calories per 100 calories is used for digestion.
Carbohydrates – around 4kg per kg of body weight daily (around half of your plate).
10 calories per 100 calories is used for digestion.
Fats – around 20% of intake including Omega 3's to maintain healthy triglyceride levels.
2 calories per 100 calories are used for digestion.
Use some of the above suggestions and tips and you will have a far smoother run on the hormone highway and have an awesome level of metabolism as you head towards menopause.
Want to know more?
Leanne Sklavenitis has been extensively involved in the Fitness industry in not only Australia but also the USA for over 20 years as an Online Fitness Expert, Group Fitness instructor / Personal Trainer and Speaker running a successful online home based fitness business.
She has won the Aquatic and Recreation Victoria Group Exercise Instructor of the Year Award, the YMCA Group Fitness Instructor of the Year Award, has presented to 5000 delegates in Singapore, spoken to numerous corporate organisations and presented at conferences. She has also been interviewed in Fitness Instructor editorials and written fitness articles for magazines.
Leanne currently runs her own Online Health & Fitness Motivation Business where she provides the latest health and fitness motivation and helps to motivate fitness clients "online" no matter where they live and has a 13 Week Online Fitness Forever Program. She has also launched a new health and fitness membership site www.fitnesstipsmembership.com which contains all the information you need to know about creating the healthy lifestyle you deserve.
Find Her on Facebook at http://www.facebook.com/pages/Fitness-and-Health-Tips-by-Leanne-Sklavenitis/124917980860573?ref=hl