Ideas for Dinner Table Party Settings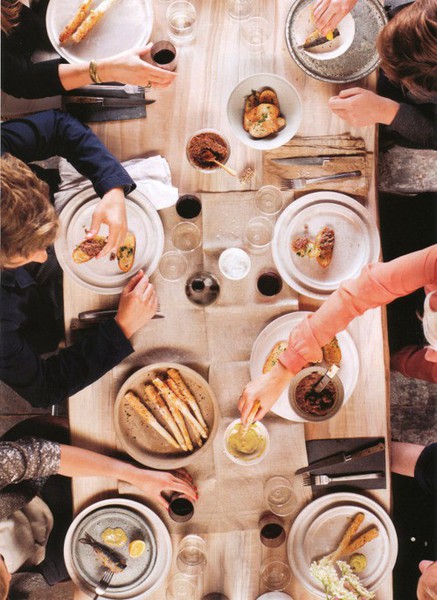 A dinner party is all about getting together with friends and sharing good food and wine but isn't it nice to throw a dinner party that also looks spectacular! Below are some ideas on how to make your next dinner party the talk amongst your friends.
Top tips for a stylish dinner party
Set your theme – choose a theme that you can co-ordinate everything around. Centrepieces, Food, music, place setting, lighting all working together to make the theme.
Place settings – Here's a chance to do something different, pretty, quirky even!
Menu – This can be handwritten or printed it just needs to match your theme.
Lighting – candles are an easy and inexpensive way to create the mood and can be done in many different ways. Fairy lights and hanging lights are a great way to add ambience to your dining room.
Last but not by far not least…. Food. Now's your time to shine!
Image via www.whitneyrosenthal.com/blog/
1.Set your theme
The centre of your table is the focal point for your dinner party and helps to set the theme. Whether it is candles or flowers it is important to consider how this is arranged and that your guests can still see each other over the top of it.
Lots of vases filled with different flowers and bright coloured runners and napkins help to create a garden party theme.
Image via Loft I love
 Mismatched plates, jars and dining chairs help to create a vintage theme to this dinner party.
Image via Loft I love
Neutral tones and organic setting creates and country rustic theme.
Image via Loft I love
White linen and a neutral clean palette creates a sophisticated romantic theme to this dinner party.
Image via Loft I love
 2.Place settings
The place setting follows through the theme and is where you can add the special personal touches for your guests. Some examples…
Quirky name tags, mismatched plates and wild floral arrangements all create a fun country rustic theme
Image Via Loft I love
Why not try an Autumn theme, neutral tones and simple settings and the decorations can be found in your backyard.
Image via Loft I love
 Time to bring out the antique plate set and pick some wrap up some flowers with cooking string this theme is simple yet elegant.
Image via Loft I love
3.Menus
Make sure the menu and place cards reflect your theme. Chalkboards are a novel idea for that more relaxed event or beautifully printed menus for a more elegant theme. Here's just a few ideas….
Menus and name tags done on chalkboards
Image via pinterest
Name cards with an Autumn twist…
Image via www.marthastewart.com
Elegant printed menu and place setting…
Image via pinterest
4.Lighting 
Lighting is so important to set the mood of the night. Fairy lights are an easy way to create a whimsical feel or candles are always good as they are cheap and there are endless ways you can use them.
Romantic entrance created by fairy lights… 
Image via My Ideal Home blogspot
Intimate, cosy feel created by lots of different candles in all shapes and sizes..
Image via Leo Patrone photography
Jars are a great idea – fill them with water and a floating candle with cooking string tied around the top to create this look.
Image via Pinterest – Kate Gibson
 Lanterns hung under a tree creates this romantic and stunning setting for this intimate dinner party.
Image via pinterest
Festoon lighting is perfect for those big outdoor events where you want to give that party atmosphere.
Image via the cotorie
 5.Bon Appetite!
Image via www.marthastewart.com
 Cheers! 
My name is Georgie Shepherd I am an interior designer, stylist, decorator, Adelaidian, a design addict, wife (and above all) mother of Chloe 18 months. I love everything to do with Design and decorating and love being inspired and inspiring others