Don't Swoon Too Soon!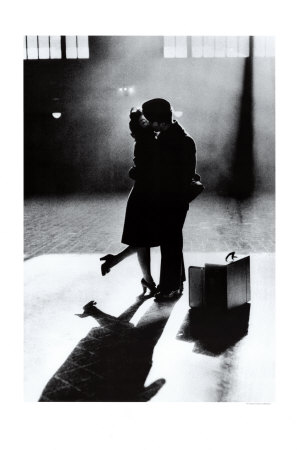 Arriving home on Wednesday evening after an epic train journey from Adelaide to Melbourne (due to volcanic ash clouds and cancelled flights), I could barely contain my excitement at the prospect of being reunited with Hubbster and the children.
Having secured a reliable baby-sitter to stay home with the sleeping children (a.k.a. Nana), Hubbster picked me up from the train station.
If you are imagining a black and white movie-style reunion; me in stiff knee length tweed skirt suit gliding gracefully across a busy platform in sensible but butt-enhancing heels, into the waiting arms of a military-uniform clad Hubbster, complete with watery eyeballs and a passionate (but decently constrained) embrace; then you will understand how my imagination and I, whiled away the last of the twelve very long, butt-numbing hours of my expedition.
The clacketty-clack of (painfully slow) train wheels on the track, is nothing in comparison to the endless clicketty-click of knitting needles and the overpowering smell of lavender water and egg mayonnaise sandwiches. 
As the train pulled into the station, and I hauled my handbag onto one shoulder, my laptop bag onto the other and struggled to hoist my backpack onto my back, my stomach did a double back flip.  It could have been the memory of some old dear sucking on a spam sandwich, only hours before, but I prefer to think that it was excitement at the prospect of that romantic clinch on the railway platform with Hubbster.
Even after eleven years together I still get that fantastic, nervous fluttering in my innards, when I think of him.  After three nights away, I couldn't wait for him to take me in his arms, dip me backwards (in that swooning movie style) and plant one on my lips after declaring his undying love for me.
As the train slowed to a stop, and the safety beep sounded to inform the remaining four passengers (including me) that it was safe to open the doors and disembark, I stared out into the darkness.  At the end of the platform sauntering my way, with a cheeky grin and a glint in his eye, I immediately spotted Hubbster.
Weighed down with baggage, I didn't quite manage the graceful gliding I had imagined.  As we met halfway, Hubbster unloaded my shoulders and took the two heaviest bags.
Swoon ~ Such a gentleman!
Cupping my face in his hand he pressed his lips to mine and breathed, "I missed you."
Double swoon ~ Such a romantic!
"I missed you too," I managed, as I all but melted on the spot.
"Great!" He grinned pulling away.  "The kids are asleep and I've had a shower…what are my chances?"