Easy Mini White Chocolate & Raspberry Bread and Butter Pudding Recipe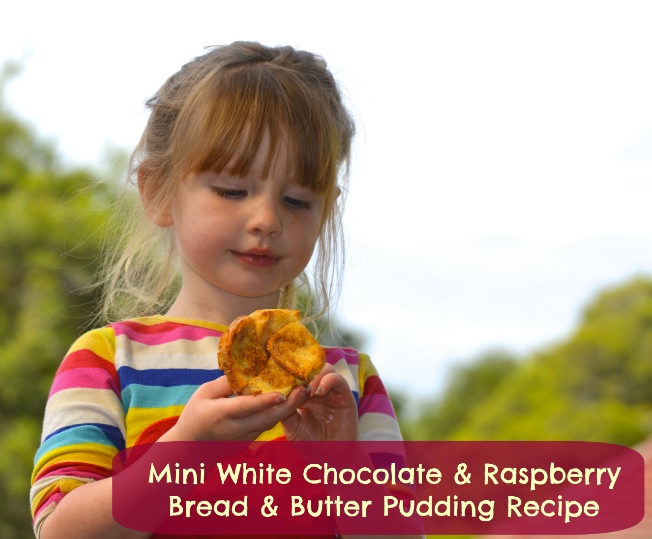 Easy Mini White Chocolate and Raspberry Bread and Butter Pudding Recipe
These mini bread and butter puddings are delicious served warm with custard or cream for desert or allow them to cool, and store in the fridge in an air-tight container for a delicious lunchbox treat!
You will need:
A muffin tin
12 slices of bread (buttered)
Raspberries (fresh or frozen)
Cooking White chocolate drops or squares cut up
3 eggs
2 ½ cups of milk
Optional: sprinkle of sugar to top
Directions:
Butter the bread and cut into squares.
Line the bottom of the muffin tin with 2 squares of the bread.
Add some raspberries and white chocolate on top of the bread.
Top with another layer of bread squares.
Whisk 3 eggs and 2 ½ cups of milk together.
Pour the egg mixture over the bread.
Using a fork, gentle push the bread down, so that it absorbs the egg mixture.
Sprinkle the top with a little brown sugar, and bake on 180c for 35-40 minutes.
Enjoy warm or cold.
The beauty of this bread and butter pudding recipe, is that it is super-versatile.  Experiment with different ingredients and flavours.
Spread jam, maramalade, or honey on the bread and add sultanas for a more traditional bread pudding, or try adding cocoa powder to the egg mix, throw in some choc chips and grate some orange rind for a decadent choc-orange pudding!
What flavour combination would your family love?