The Exhausted Parents' Guide to Valentine's Day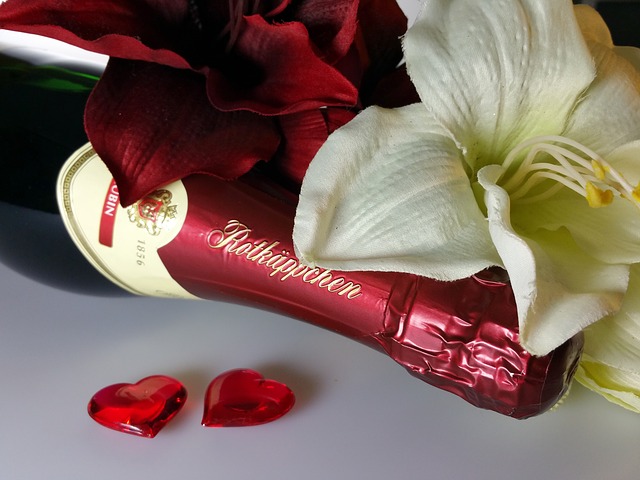 The Exhausted Parents' Guide to Valentine's Day
This weekend couples the world over will be celebrating their undying love whilst sipping champagne over expensive meals in exclusive restaurants and exchanging fancy gifts. And then…well, then there's the rest of us, who'll be happy to get a five minute roll beneath the sheets without one of the kids attempting to bang the door down because a) they've wet the bed b) they're scared of the dark or c) they just seem to have a god-damn 'sexy-time radar' and seem intent on making an appearance at exactly the WORST time EVERY god-damn time! Seriously, what is with that?
With all the hype and pressure to get romantic on Valentine's Day, it can be hard not to feel a little disappointed if your Valentine's meal consisted of the cold left-over chicken nuggets that your toddler refused to eat at diner time.
So we've put together this simple, but handy guide on how to fulfill all your partners needs this Valentine's Day even if you are exhausted and broke!
Guide for Him: What a Woman Really Wants
Organise a Babysitter
If it is at all, even vaguely possible that you can get a babysitter for a few hours (or better still over night) DO IT! You don't have to book a fancy restaurant or blow a weeks wages on gifts – get back to basics and spend some time together as a couple and reconnect. Hold hands, walk on the beach, go for a picnic…use your imagination!
Buy Her a Goddam Card
Yeah, we've all heard that it's a 'Hallmark Holiday' intended to eek money from gullible consumers…blahdy, blahdy blah! We get it, we do. But a word of advice: even if she says she doesn't expect a Valentine's Day card…trust us when we say that a card with some heart-felt words (or even some sexy suggestive ones) is never a bad idea. Everyone likes to feel special/sexy and cards make particularly nice keepsakes. (You know we keep all of that shit!)
Get Your Chef On
It's true – ladies go ga-ga for men that can cook. There's something seriously sexy about a man that knows his way around the kitchen as well as he knows his way around the bedroom…right girls?
Most mums would just give their first born for a night off cooking duties though – so if you can't cook, don't stress. Order in her favourite takeaway and light some candles. Job done!
Make Her Feel Sexy
If there is some money in the family-kitty for a gift, we recommend lingerie…but only if you know what size to get. You do not want to get the wrong size! We suggest sneaking a look in her underwear draw – you'll find the size tag on the back of her bras near the clips. But don't check one of her maternity bras by mistake…or that one she has had since high school…because her breasts have grown/shrunk/changed since then. Actually…just forget it. Unless you are 100% certain what size she is…just forget the fucking underwear. It's just not worth it! Promise to take her shopping to pick something sexy instead. It's just safer for everybody that way.
Let Her Pick the Movie
Yeah…we know it's hard, but relinquish the ball-scratcher TV remote for one night. Better still, get your romance-on (ad-free) with a spot of Netflix, some chocolates and a bottle of wine!
List of acceptable Netflix Valentine's movie's include:
The Notebook (of course!)
Crazy Stupid Love
New York, I Love You
Sex and The City; The Movie (and Sex and the City 2)
50 First Dates
Love and Other Disasters
Manhatten Romance
Mr and Mrs Smith
Words and Pictures
Love – Netflix Original
List of unacceptable movie's:
Basically anything else you want to watch other than one of the movie's listed above!
Guide for Her: What a Man Really Wants
Fortunately Valentine's Day isn't such a minefield for us girls. There are just two things you need to remember to make his day:
You're done!  Enjoy!