How Not to Seduce Your Husband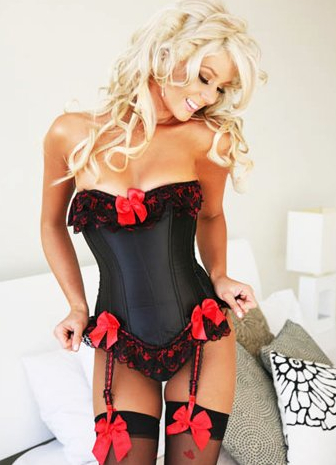 Yesterday was Hubbster's birthday.
I knew it was his birthday as I had already bought him a gift from the children just the day before. And the week before that he used his upcoming birthday against me whilst in The Good Guys, in order to get me to agree to ordering a new TV (to replace one that had died under very suspicious circumstances.) This was particularly annoying since I had lured him into the shop in order to buy a Dyson handheld vacuum.
I got the Dyson of course, but it cost me the price of a TV too. Goodbye end-of-year tax rebate, it was nice almost knowing you.
Anyway…in all of the morning chaos of trying to get myself and three children ready to walk out of the door by 7am (so I could make it to the ENJO event), the significance of the day slipped my mind.
It wasn't until later in the day when Hubbster sent me a photo text of him holding a cake at work with lit candles, that I realised my mistake.
I had forgotten to wish him a happy birthday, and I was devastated.
On the way home from the city, I decided I was going to have to pull out the big guns if I was going to make amends, and so stopped off to grab something nice to wear…for me…later…y'know…in the boudoir.
Last night, with the kids tucked up safely in bed, Hubbster suggested we jump in the spa. I toddled off to the bathroom to complete my sexy transformation.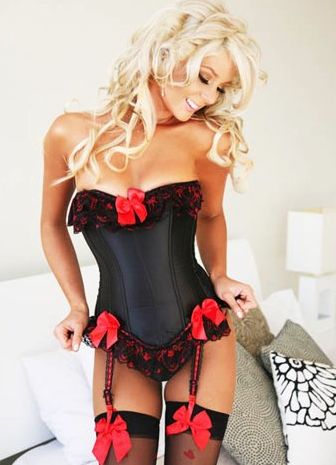 And in my dreams, I so totally looked like this.
It was black enough to be slimming, with a splash of red to add the Pwoar-factor.
I put on some lipstick and tousled my hair.
Yep, I thought, looking at my reflection in the mirror. I'll knock his socks off so hard, that he'll forget what day it is.
I put on my dressing gown and followed him out to the spa.
He was sitting in the water, the whisps of steam curling up around his face.
He looked hot, and this was definitely going to be his lucky night!
Standing in front of him I let the dressing gown fall from my shoulders, to reveal my sexy outfit.
Slowly I turned so he could admire my curves from every angle.
"So," I said with a seductive smile. "Whada-ya-think?"
And without missing a beat, he replied "Go bombers."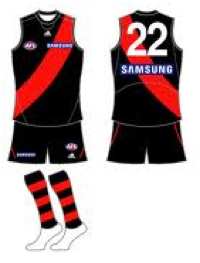 "Huh," I was blindsided. Did he just say what I thought he said?
"You look hot babe," he said.
"Really? The first thing you think is "Oh, it's the same colour as the team I go for? Really?"
Oh yeah – he's smooth alright! Wisdom and age do not neccessarily always go hand in hand.
Suffice it to say, I think that absolved me from the guilt that had plagued me all day for forgetting to wish him a happy birthday. Let's just say, I didn't feel the need to spend the rest of the evening 'sucking up,' if you know what I mean!
For the rest of the evening I sipped my wine as we chatted, and I quietly fantasised about poking him in the eye!
Has your partner ever spoiled a potentially romantic moment by saying something stupid?