Dad'll Fix It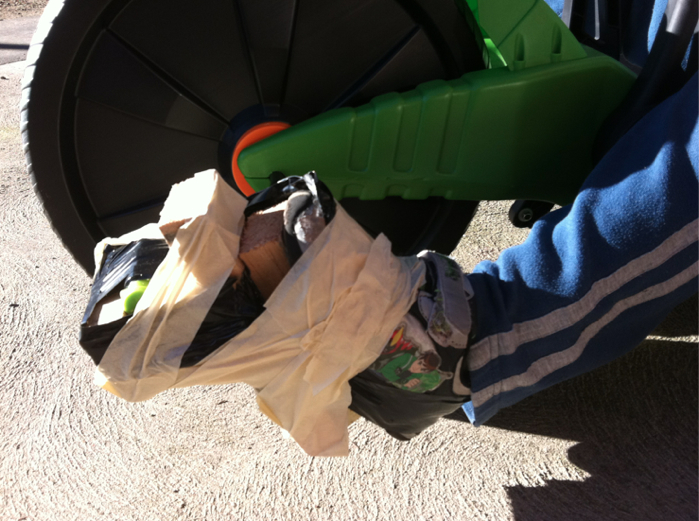 Have you ever noticed how dads just think differently to mums?
You know like how they'll take the baby out and hose him off in the summer sunshine rather than wipe all that poo off with a wet wipe?
Or how they will build the kids a tent with your best doona cover on the kitchen table, as you're about to serve up dinner.
(Can't be just Hubbster, surely?)
On the weekend I witnessed another very Dad-like act by Hubbster.
Do you remember how I told you yesterday that we spent 10 long, frantic minutes searching for Foghorn's shoes before we could get The Woo to school? Yes – just another manic Monday.
Well, over the school holidays I took Foghorn shopping to spend his birthday money.  He chose, as I knew he would, the Huffy Green Machine go-kart from Big W.
On the weekend Hubbster put it together…much to the boys' excitement.
After much huffing and puffing, and muttering…and lots of help from the children (of the most unhelpful variety) it began to resemble the product on the box.
Foghorn's little face was a picture as Dad told him it was ready.  He could hop on and try it.
He had a smile from ear to ear as he slipped into the bucket seat.
His eyes twinkled as he grabbed the hand controls.
And then…his little brow furrowed and his bottom lip dropped as he tried to put is feet on the pedals.
My heart sank. 
Why hadn't I checked the age on the box?  Why did I let my 4 year old buy a go-kart for 4-8 year olds?  We were going to have to pack away his brand new toy until he'd grown enough to use it.  Now this was a parenting fail of monumental proportions.
"Don't worry," Hubbster said.  "We can fix that." Foghorn took his Dad's hand in complete faith and the two of them trotted off to the carport to 'fix' the problem.
Short of sticking him on some form of Medievel torturing rack to stretch h im I couldn't imagine how they were going to fix him.
But, then dads think differently to mums.
And there is nothing that Hubbster can't fix with cable ties or a roll of sticky tape.
 Only a dad, eh?
After first checking that I wasn't an unwitting extra in a redneck reality TV show, I had to admit, as hilarious as it looks, it works…well, Foghorn's face says it all, doesn't it?
Do you have any stories of funny things that only Dad's do?