Jolene's Festive Reindeer Neenish Tarts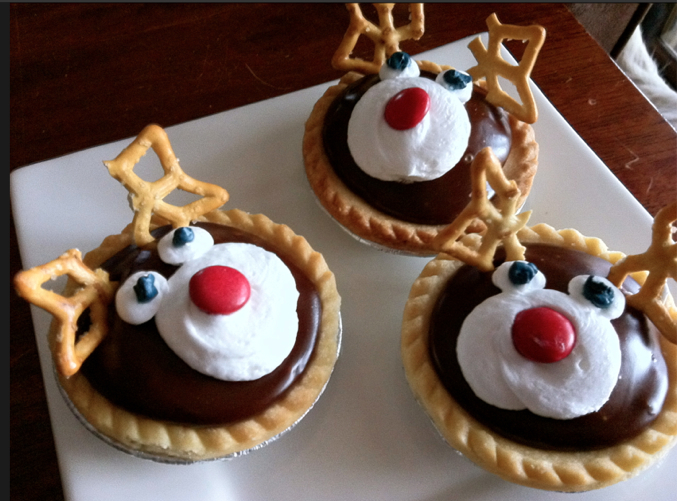 Jolene's Festive Reindeer Neenish Tarts
Spurred on by my recent baking effort (in which The Woo, Foghorn and I knocked up a sensational looking cricket cake from a Cake 2 the Rescue Kit) I decided to get a little creative in the kitchen again.
My children, as a treat, love a Neenish tart. So I decided to try my hand at making some disguised as reindeers!
I'm sure that I don't need to tell you that, much like, Santa's reindeers on Christmas eve, these flew off the plate!
And rest assured, (by the fact that I managed to make them without stuffing it up) that they are easy peasy…and look gorgeous!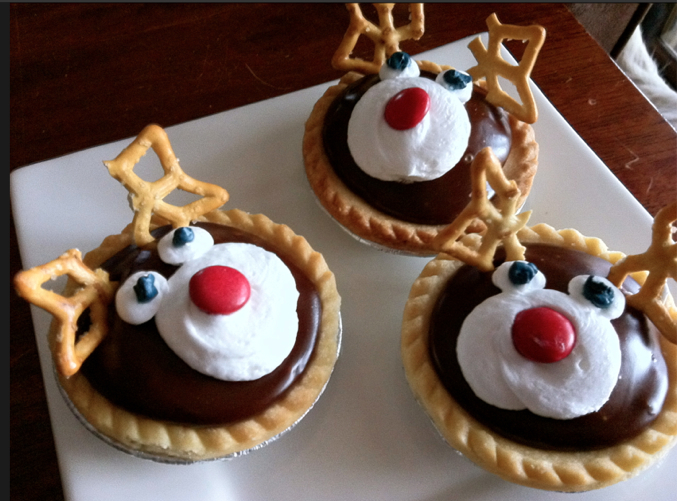 INGREDIENTS
1 packet frozen sweet tart cases
FILLING
¼ cup raspberry jam
¼ cup icing sugar
¼ cup condensed milk
50g butter, at room temperature
1 tablespoon lemon juice
ICING
1½ cups icing sugar, sifted
4 teaspoons cocoa, sifted
4 tablespoons warm water
WHIPPED CREAM
1/4 cup thickened cream
1/8 cup sugar
1/2 teaspoon vanilla essence
TO DECORATE
Red Smarties
Star Shaped Pretzels
Blue Icing Pen
METHOD
• Preheat oven to 200°C. Arrange cases on a baking tray. Bake for 8-10 minutes until golden. Allow to cool.
• FILLING. Spoon a teaspoon of jam into the bottom of each pastry shell.
• In a small bowl, combine icing sugar, condensed milk, butter and lemon juice. Beat with a wooden spoon until smooth.
• Divide filling evenly between the pastry cases. Chill in the refrigerator for 15-20 minutes until firm.
• ICING. Place icing sugar and sifted cocoa powder into a bowl and gradually add the water until the mixture is smooth and spreadable.
• Spread chocolate icing over the tarts.
• Put back into the refrigerator to chill until set.
• WHIPPED CREAM. Whip the cream until almost stiff. Add the sugar and vanilla essence and then beat until cream holds its peaks.
• Place a large dollop of whipped cream on the tart to make the snout, and two smaller ones for the eyes.
• TO DECORATE: Place a red smartie into the centre of the large dollop for the nose.
• Carefully draw two blue eyes onto the smaller dollops of whipped cream.
• Finish off by breaking the star-shaped pretzels in half and placing above the eyes to make antlers.
Voila!
You have some very tasty, very festive, reindeer Neenish tarts that the kids (and the adults) will love!