Recipe: Lemonade Scones with Raspberries and White Chocolate (Plus Win Your Share of $10,000 with IGA)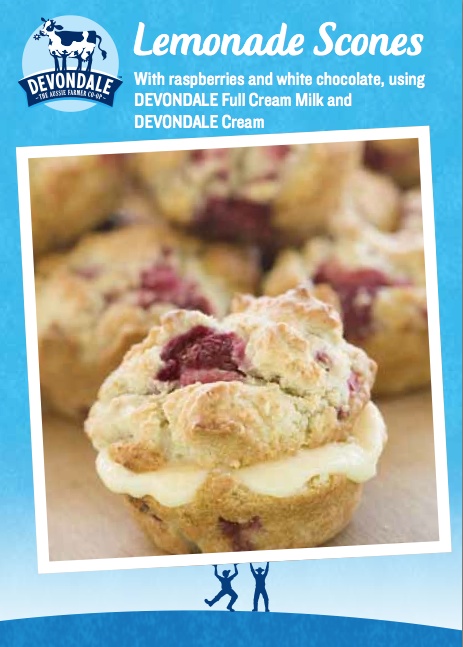 Sponsored post
Finally Spring has sprung, and for the kids and I that means escaping the four walls of the house, and instead of serving winter soup to warm our tummies, I am once again on the look out for tasty snacks that can be packed into a picnic basket and shared with friends.
Of all the flavour combinations, there is one that I am powerless to resist, and that the children are guaranteed to scoff down without so much of a murmur of complaint.
White chocolate and raspberry. (Admit it you just drooled a little didn't you?)
And…what could be better than a playdate at the park with friends over a plate of lemonade scones, with raspberries and white chocolate?
Ingredients
• 3 cups Self raising flour
• 200ml DEVONDALE Cream
• 50ml DEVONDALE Full Cream Milk
• 1 cup Lemonade, cold and fizzy
• 200g Small white chocolate drops
• 1 cup Frozen raspberries, keep frozen until use
• 50ml Extra DEVONDALE Full Cream Milk, to glaze
• DEVONDALE Cream to serve
Instructions
1. Preheat oven to 180°C and lightly grease baking tray or line with baking paper.
2. Sift flour into a large bowl. Add DEVONDALE Cream, DEVONDALE Full Cream Milk and lemonade. Lightly mix the ingredients together until combined into a soft dough.
3. Stir through the white chocolate drops and finally, gently fold in frozen raspberries.
4. Turn dough out onto a lightly floured surface and gently bring the dough together . Use fingertips to gently pat the dough into a 2cm thick disc.
5. Use a 4cm-diameter round pastry cutter dipped in flour to cut out scones. Arrange scones on the tray so that they are touching. Gently brush the top of each scone with a little extra DEVONDALE Full Cream Milk to glaze.
6. Bake scones for 20 minutes or until golden brown and scones sound hollow when gently tapped. Turn scones out onto a wire rack.
Serving Tip
Serve scones warm with whipped DEVONDALE cream.
You can find this recipe and more seasonal meal inspiration on the IGA website
To celebrate the arrival of Spring (and the delicious produce it brings) IGA are giving its customers the chance to win a share in $10,000. Just purchase any of the selected brands, keep your receipt and enter here.