RelaxMax Kava Review: The All-Natural, Anti-Anxiety Supplement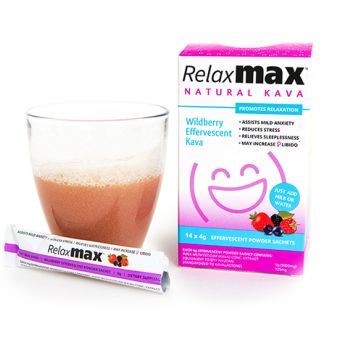 RelaxMax Kava Review: The All-Natural, Anti-Anxiety Supplement
As regular and long-time readers may already know, I have struggled with anxiety since I was pregnant with my third child.
Over the years I have learned that I can manage it quite effectively through regular exercise, getting sufficient sleep, limiting my caffeine intake and taking time out for myself to relax. But when life throws up unexpected challenges, sometimes doing all of these things isn't enough to keep the stress and anxiety at bay. Some days it can just show up completely out of the blue without anything to trigger it..  It can be uncomfortable at best, and crippling at worst. So when I was recently sent a couple of sachets of RelaxMax Kava to review you can bet I was very intrigued to learn more.
RelaxMax Kava is a newly launched, all-natural anti-anxiety supplement formulated by healthcare practitioner and medical science researcher Dr Bruce Kambouris.  A massive 2 million Australians like me, suffer from anxiety each year, and according to the Australian Psychological Society, 72% of Australians say that stress is having at least some impact on their physical health which was what prompted Dr Bruce Kambouris to develop RelaxMax Kava.
"Many of my patients were presenting with major health problems stemming from ongoing stress and anxiety. I knew that if I could find a natural non-addictive way to treat the underlying mental problems, this would also help to resolve the physical manifestations." – Dr Bruce Kambouris
As the name suggests, Kava is the key ingredient in RelaxMax Kava which has been shown in clinical trials to calm nerves, create a general feeling of well-being, and induce a feeling of peace, relaxation and contentment. Interestingly, kava has also been shown not to affect mental alertness and concentration so it is suitable for use at any time of day and whenever the situation requires calmness and clarity. For example, because it doesn't sedate the mind, you might choose to take RelaxMax Kava before an event that you feel nervous or anxious about such as a business meeting, an interview, an exam, a date, or before boarding a plane. It can also be taken before bed to promote deep, restful sleep (which is something that can often elude anxiety sufferers like myself).
Sounds great right? But the question I know you all want the answer to is does it really work?
I tried Relax Max Kava for the first time last Friday when I was having 'one of those days' when I was feeling a bit overwhelmed with everything I needed to try to cram into the day, and my anxiety levels were on their way up! I mixed the contents of the sachet (which contain just 5 calories by the way) with cold water as directed on the packaging.
According to the instructions it can be mixed with at least 125ml of water or milk. Personally I'm not keen on the idea of wild berry flavoured milk, so I'll stick to the water, but if you do give it a whirl with milk I'd be interested to know how it tastes.
I'll be honest, after mixing the sachet contents and the water together I was a little hesitant to taste it. It smelled pleasant but I think I was expecting it to taste like medicine. (You know, like how they try to mask the horrible taste of children's medicine with sweet flavours).
But I was very pleasantly surprised by the wild berry flavour. It actually tastes the same way it smells with no horrible aftertaste. Only a few sips in though was halfway through I did experience an unexpected tingling in my mouth and down my throat. I don't mind telling you that this did initially cause me a little bit of anxiety and prompted me to reach for my phone to Google the side effects of kava. For a horrible moment I did wonder if I was having some kind of allergic reaction to it.) This was quickly alleviated though when I read that it may induce a tingly response on the lips and tongue, and I was able to relax and actually enjoy the experience.  (I actually looked forward to this part of taking the supplement the second time around. It's weird in a really good way!)
After finishing the drink, the hustle and bustle of family life quickly took over as I prepared snacks, fed the animals and loaded my three kids and their sports equipment into the car. I can't say that there was a perceptible shift, or a defining moment when I felt the anxiety lift but I realised an hour later as I sat watching my sons playing cricket (whilst also keeping my daughter occupied with a game of eye-spy), that I could no longer feel the horrible tight, heavy sensation in my chest that I'd had for much of the day. Was it the effect of finally sitting down, or perhaps soaking up some much needed vitamin D from the warm sun (the likes of which we haven't seen for some time here in Melbourne), that had decreased my anxiety? Or had the RelaxMax Kava actually worked?  I wasn't sure, but I was keen to try it again next time I was experiencing anxiety symptoms.
Unfortunately for me the opportunity arose all too soon yesterday. After walking into the kitchen just in time to stop my 10 year old from poking a knife into the toaster, my anxiety was majorly triggered, and continued to grow as the day progressed.

Once again I prepared a RelaxMax Kava and drank it. (Oh I do love that mouth tingling thing that happens! I can't even explain it but it feels awesome!)
Within about 20 minutes I noticed that I was feeling much more relaxed, and less irritable and uptight. Whilst I can't prove that it was down to the supplement, I will say that I do genuinely believe that it was. Usually when I start to feel that way it grows to the point where the only thing that helps is a pretty intense workout to burn off the excess nervous energy or I find it difficult to fall asleep. But after drinking the RelaxMax Kava the anxiety didn't grow. It actually dissipated.  I can't tell you how excited I am to have found a supplement that I can add to my arsenal of healthy ways to cope with and manage my anxiety, and having used both sample sachets that were sent to me, I have placed an order via RelaxMax Kava website for more.
For more information visit www.relaxmaxkava.com
RelaxMax Kava is not recommended for use by pregnant or lactating women.
Always read the label. Use only as directed.
Win a $250 Red Balloon Gift Voucher to Spend on Your Favourite Pamper Experience
Taking time to relax is important for a healthy body and mind, which is why we're giving you the chance to win a $250 Red Balloon gift voucher. That way you get to choose the experience that best suits you. Whether it's a romantic lunch with a loved one, an indulgent spa treatment or a day out at the hot springs with a friend, you'll get to choose the right pamper package for you, and chill!
For your chance to win, complete the entry form below.  Good luck!