Ten of The Best Personalised Christmas Gifts For Teachers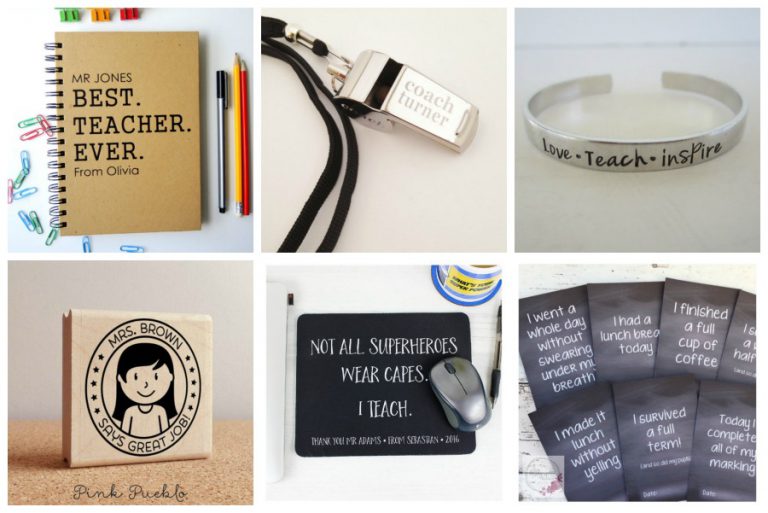 It's ten weeks till Christmas, so now is the time to start making a list of people you need to buy gifts for as the big day looms ahead. Some of you may have started earlier, during the year, but some of us like to leave it a little later in the year to get prepared.
In an effort to help you feel organized as the silly season approaches, we are going to put together some fabulous gift guides to make Christmas shopping a bit easier.
We love supporting home run businesses and will endeavor to share our favourite gifts from online.
The best part of online shopping is there is no need to leave your home and you don't have to negotiate impatient shoppers or the typical end-of-year frustration of finding a car park.
The first group of people to consider purchasing for are teachers. We recently shared a post from a former teacher, giving the low down on what gifts are most appreciated by their students.
The homemade gifts are often the most budget friendly and work well for those with multiple kids at school.
The teachers on your list may include sports coaches, music teachers, or teachers that your child regularly engages with during out of school activities.
While there is never an expectation of a gift from the teachers, it's always lovely to give them something small so they know they are appreciated. Some teachers may volunteer their time, so a little appreciation can go a long way.
Personalised gifts are always well received, so with that in mind, we've found ten of the best personalised Christmas gifts for teachers.
1. Personalised Clipboard. Your teacher will love having their personalized clipboard for class excursions and those outdoor drawing activities.
2. Teachers may not wear capes, but they are definitely superheroes to little minds. A mousepad to remind a teacher how valuable they are is a great personalized gift.
3. A personalized Christmas decoration will offer a yearly reminder of the investment made into one child's life.
4. A great gift for sports teachers, this whistle leaves no doubt who owns the whistle.
5. What teacher doesn't love stationery? Why not get some personalized pads that the teacher can use to send notes to their future students?
6. Still on the stationery path, a personalized stamp would impress a lot of teachers.
7. Tell your child's teacher they are the best teacher ever with this notebook.
8. A bracelet cuff to remind teacher's why they teach when the going gets tough would definitely be well received.
9. Teacher milestone cards would be a great gift for a fairly new teacher or even a friend who is about to start their career as a teacher.
10. A personalized mug will sit pride in place on a teacher's desk.
How many teachers will you be giving gifts to this Christmas? Got any suggestions on gifts that teacher's might like to receive?
Disclaimer: There are affiliate links on this post. Should you choose to purchase an item, we will receive a small commission at no extra cost to you.