Stripping the Super Mum Bare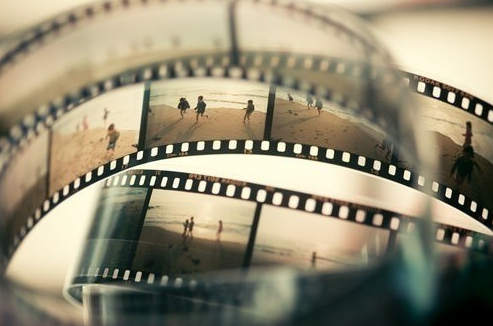 With so many memes and images floating around and being shared on Facebook, it is easy to start to feel a bit, well, for want of a better word – 'meh' about it all. But every once in a while, something will catch my eye. Unlike the thousands of other images or quotes that are read and almost instantly forgotten, occasionally one will take root in my subconscious and I'll find myself thinking about it as I cook the dinner, make the beds, or bath the kids.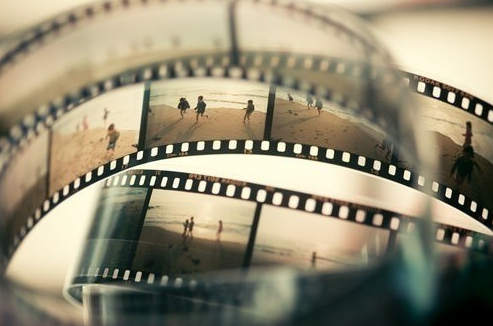 'The reason we struggle with insecurity is because we compare our behind scenes
with everyone else's highlight reel.' ~Steve Furtick
The truth of it smacked me in the face, and I wondered why I had never thought about it this way before. I am sure there are few of us that can say we've never looked at another mother and marveled at how well they cope with everything, how well their children behave, how clean their home is…how they just seem to exude that 'super-mum' vibe that we so desperately would like to emit even a tiny whaft of once in a while. The Super-mum makes us feel incompetant and insecure.
On Facebook we edit our lives and share only what we want others to see – happy smiling clean faced children, holidays, a new dress, some fancy furniture. Nobody ever flashes around photographs of the dishes piled up in the sink, the unmade beds, or the spare room overflowing with laundry that they haven't had time to fold because the baby is sick.
Last night, something wonderful happened on my Facebook page when I shared this: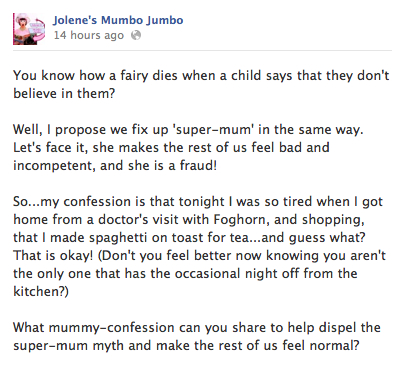 I was unsure of how people would respond, or in truth, if anyone would even respond at all. Would it sit there as a sad and lonely update, I wondered as I hovered my little arrow over the post button.
But, the response was immediate and amazing as Mums began to confess to all kinds of very un-super-mumly activities. As women began to share their stories of wiping their child's nose with their t-shirt because they didn't have a tissue handy, hiding their washing in the car or dishes in the oven before friends arrive, and (my personal favourite) dusting store bought mince pies with icing sugar to make them look homemade, the rest of us breathed a collective sigh of relief. We are normal. We don't need to be perfect!
As author Rebecca Mugridge commented on the Mums Lounge Facebook page:
So, incase you missed it last night, or thought of any additional un-super-mumly confessions you'd like to add, I'd love you to share here on the blog – so we can strip the super-mum bare.