The Official Rules of the Man Cave!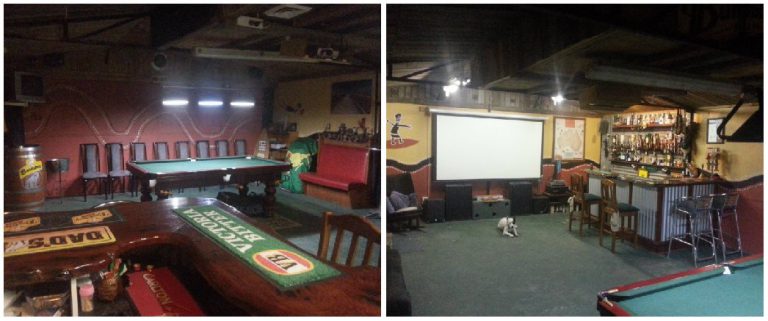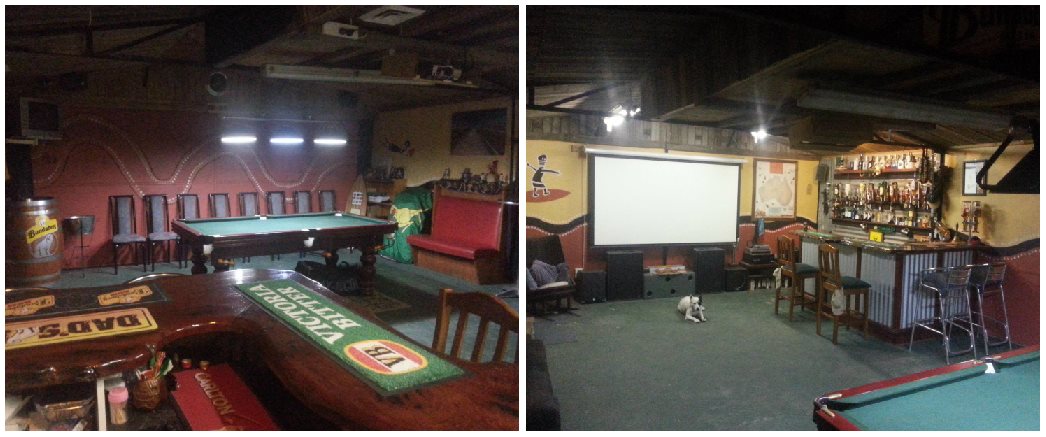 Last weekend, I hosted an adult toy party. (Seriously hilarious evening!)
A good friend was launching her business, and I happily volunteered Hubbster's man-cave as the venue. It was perfect – far enough away from the house not to worry about noise waking the kids, plenty of room, music set up, bar etc.
Hubbster, however, was not quite so excited as he was to have his sanctuary usurped for the evening. In fact, he was very nervous, and had he been a smell, he would have no doubt been one of the unpleasant lingering variety!
As the school mums began to arrive and make themselves comfortable, Hubbster appeared (yet again) with a handwritten note which he passed to the party planner, and on it were his list of rules!!!
Really?
And, don't ask me what they were. They were read out by the party planner, mocked by all, and promptly thrown into the fire. Ha! Rules! We wear our balls on our chest mate. We make our own rules!
Although we did adhere to the unwritten rule – whatever happens in the man-cave, stays in the man-cave, and thankfully, there was a ban for the evening on posting Facebook photos, (although many were taken for potential blackmail purposes at a later date!)
But it lead me to wonder what rules , if any, 'The Other Half' would stipulate if their man-caves where taken over by a bunch of school mums one unexpected night.
David 'Bucky' Goldstein – Aussie Daddy Bloggers
A Man Cave is a truly sacred site. It's as important to a man as Offspring is to the woman. It's the place where ideas are born, where the best sarcasm is nurtured, and where a man's stories are spawned, re-told and re-hashed. It's like the engine room to a man's happiness. You need to think of it as an exclusive club, because, it's nothing less. To be given an opportunity to utilise the man cave for such as event is rare indeed and shouldn't be taken lightly. Therefore, strict rules need to be abided by.
Man Cave Rules in a Six Pack.
1. Thou shalt respect the beer fridge. Thou shalt not check make-up using the beer fridge door reflection. The door shall only be used for viewing and selecting which premium beer will be consumed. A strict BYO policy is in place. Drinks must not be placed in beer fridge unless permission granted by Chief Cave Controller. That there beer fridge is for beer, not West Coast Coolers
2. Thou shalt not taint music system with 80's music, P!nk, Mambo No. 5, or Alanis Morissette. Cold Chisel, AD/DC, Led Zeppelin and Black Sabbath permitted.
3. Thou shalt not take photos or video. Only those invited to the Man Cave have the privilege of viewing the Man Cave. Posting photos on Facebook in strictly prohibited.
4. Thou shalt not place high heels, bare feet, sex toys or bare bums on billiard table, poker table or bar…(unless activity initiated by Chief Cave Controller).
5. Thou shalt not touch, mock or deface sporting memorabilia. Drawing a large penis on my Shane Warne Bowler of the Century framed print is not acceptable.
6. Vibrators and dildos cannot be used to stir drinks…not in my Man Cave.
Travis 'Chubba' Bull – Tacklenappy
To me the man cave isn't about how big it is, it's how you use it that counts. I happen to have a rather small um man cave, but boy do I get my tools out regularly, swing em about, drill stuff then march back inside in the afterglow of triumph that I have created something.
Of course I use different tools (although I do have my favourite the big planner) and sometimes I do my best work alone, just me, my favourite tool and my Chicko Roll Swimsuit calendar. The idea of women using my space to have a party makes me sick to my stomach and to think that it will be used for a den of inequity only makes me vomit a little bit in my mouth.
How can I ever listen to the footy on the radio and crack open a beer and relax when all I can think of is a pair of edible undies and someone drinking an orgasm through a penis straw? I will have to take down my Chicko Roll Calendar and replace it with Keep on Truckin 2013. Any female party will deflower my cave and you can just piss off.
Dad Down Under
A man cave is a sacred place, a place where sport is watched, a place where beer is drunk and a place where farts are let go without fear of criticism. Man caves are wall to wall testosterone; they are decorated with power tools, dart boards and legend has it that really good ones even have pictures of topless women.
For a man to hand over his special place to a clutch of giggling girls there has to be rules.
The first rule of Sex Toy Party Club is that I am allowed to watch the entire event, whether I am hiding in a washing basket (not that man caves have washing baskets) or watching via CCTV. Not in a pervy kid of a way, those charges were dropped, more in a curious 'what goes on at a sex toy party' kind of a way.
The second rule of Sex Toy Party Club is that you do talk about Sex Toy Party Club. I want all of the gossip that will undoubtedly be offered up by the other school mums after a couple of glasses of champers and a hold of a vibrator.
The third rule of Sex Toy Party Club is, predictably, that all toys purchased are given a thorough road test that evening, once you've stopped giggling.
The fourth rule of Sex Toy Party Club is that any toys purchased can in no way make me feel inferior about my own manhood.
Apart from that anything goes, just don't f*#k with the pie warmer.
www.daddownunder.wordpress.com
Reservoir Dad
The rules I would lay down to Reservoir Mum if she were to host an Adult Sex Toy Party in my man-cave with all her screaming, wine drinking, knee-high-leather-boot-wearing girlfriends:
Start Of Rules
1. You must buy into an Adult Sex Toy Party franchise and host parties for groups of screaming, wine drinking, knee-high-leather-boot-wearing women EVERY weekend.
2. You must make me the exclusive deliverer of drinks.
3. You may dress me as you please.
End Of Rules
Fast Lane Dad
My words to Fastlane mom should she wish to enter the sacred ground of the man cave for an event of some kind are this:
You are in the mancave so you have to therefore act like a man and by this I mean the following actions have to take place:
– If you or any other farts during the evening you have to knowingly raise your left eyebrow, smile, slightly nod and acknowledge the great work that has gone into the production of such awesomeness.
– You are not, I repeat NOT allowed at any point to have two drinks on the go at any one time. If this happens then you have to skull the first one immediately! Double Banking is not an option.
– You are allowed to talk about 'The husband and kids', however this must only take place for a maximum of 25seconds at the beginning of the evening when sober. The talk must then turn to such highbrow topics such as, sport, cars
– Final one, you have to drop the odd Cbomb in an aussie style.. with an A instead of a U.
I know you just did that in your head
Then, once you leave you can revert back to the sensible, unassuming, intelligent person you once were.. Just like I do.
Amen.
So there we have it ladies! The rules of the man-cave.
Would any of the ladies care to respond?