A 15-Year-Old Girl is Redefining The Ballerina Stereotype by Proving Size and Shape Don't Limit Passion and Ability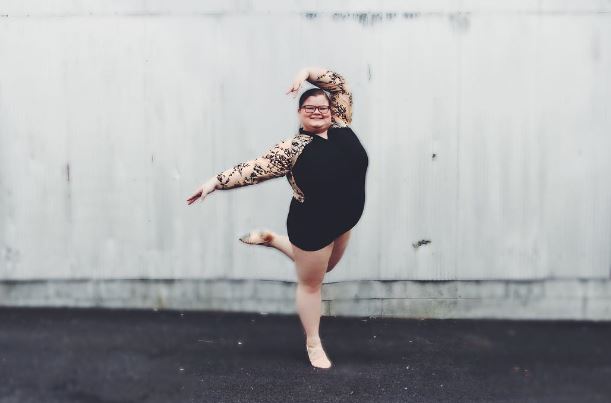 Thin, lean and petite are often the stereotypical characteristics of professional dancers, yet one dancer, Lizzie Howell is proving you can still have the skills, even if you don't have the 'preferred' body type.
The 15-year-old ballerina shared a video of herself in ballet class two months ago and viewers were stunned to see the teen nail her fouetté turns.

turning monday¿ #ballet#turn#balletdancer#dancer#foutte by @lizzy.dances
The gorgeous teen radiates as she performs her moves and has single-handedly redefined stereotypes associated with ballet.
When BuzzFeed spoke to Lizze about her viral video, she said she couldn't be happier, but didn't want to be labeled as 'plus size'.
"If I can do everything that anyone else can, why should I be in a separate category?" she told BuzzFeed. "I'm very happy that someone has discovered me. It's a whole new thing for people where I live."
Lizzie's size and body shape are a whole new thing for the dance industry.
Lizzie uses dancing as a way to relieve stress and deal with her medical condition known as pseudotumor cerebri. The condition adds excess pressure or Lizzie's brain for no known reason. Through her dancing and posts on Instagram, the teenager has raised awareness for the condition.
Lizzie's fans are inspired by her posts and they're proof that size doesn't limit one's passion or ability.
Here are just some of Lizzie's posts on Instagram.

? by @lizzy.dancesvideo.instagram, img.instagram {width: 100% !important; height: auto !important;}

thank you miss aimee for choreographing the most emotional dance I have ever done. this is what dance was made for, showing and letting your emotions out. i know my mom is up there watching down right now and is thanking you❤️?? "set me free,leave me be, I don't wanna fall another moment into your gravity"- Sara bareilles? by @lizzy.dances
video.instagram, img.instagram {width: 100% !important; height: auto !important;}

? by @lizzy.dances
video.instagram, img.instagram {width: 100% !important; height: auto !important;}

I had the honor to perform the solo in memory of my mom at the Milford Farmers Market. Words cannot begin to describe how thankful I am for this opportunity to express my emotion and passion for dance. Thank you @aimeestring for taking the time out of your busy life, to stay with me after dance to choreograph this touching lyrical piece. Thank you for everyone who came out on Saturday to support me and my friends? by @lizzy.dances
video.instagram, img.instagram {width: 100% !important; height: auto !important;}

i haven't done one of these since i was 10….and it's been 5 years….. ignore my face…and my shirt…and my shorts that are there somewhere by @lizzy.dances
video.instagram, img.instagram {width: 100% !important; height: auto !important;}

thank you all for the nice comments, dm's and, post about me on your accounts. it makes me very happy, and I really appreciate it? if I do not respond right away, or at all, I've gotten a lot of messages and I apologize ? follower count-9,987 by @lizzy.dances