Apparently, Wearing a Red Dress to a Wedding is a "Traditional" Sign that You F***ed the Groom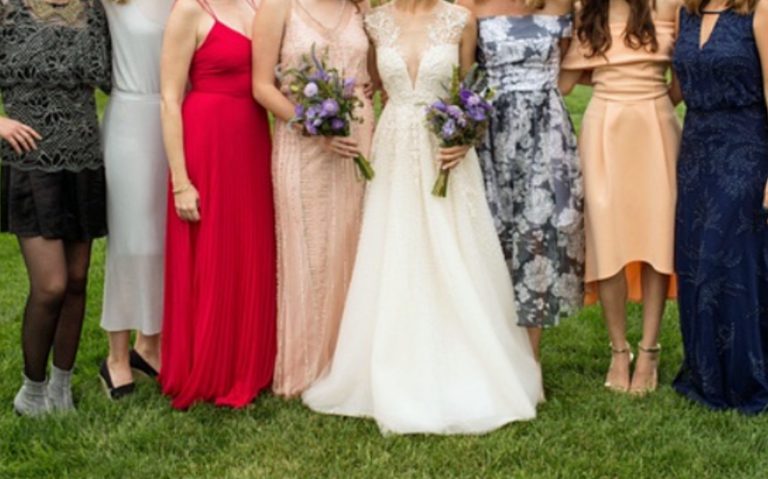 Apparently, Wearing a Red Dress to a Wedding is a "Traditional" Sign that You F***ed the Groom
According to an unhinged bride, wearing a red dress to a wedding is a surefire sign that you and the groom have shared an intimate moment in the past, or at least, wanted to.
This unexpected revelation is sure to prompt confusion and panic in women everywhere as they frantically try and remember if they had ever worn a red frock to someone's big day, or worse, if anyone wore red to theirs.
Much like carefully placing a bunch of bananas in your shopping trolley or displaying pineapples on your person, incorporating 'dog whistle' items into your outfit is nothing new. But red dresses and screwing the groom is a new one for us.
This new "rule" was revealed in an angry post on Reddit's popular Am I The Asshole sub, as the aforementioned unhinged bride ranted about the audacity of her sister-in-law, who is apparently "obsessed" with her brother, to wear red on their wedding day.
Not even waiting a day to vent her spleen, the outraged bride let loose on her younger sister-in-law.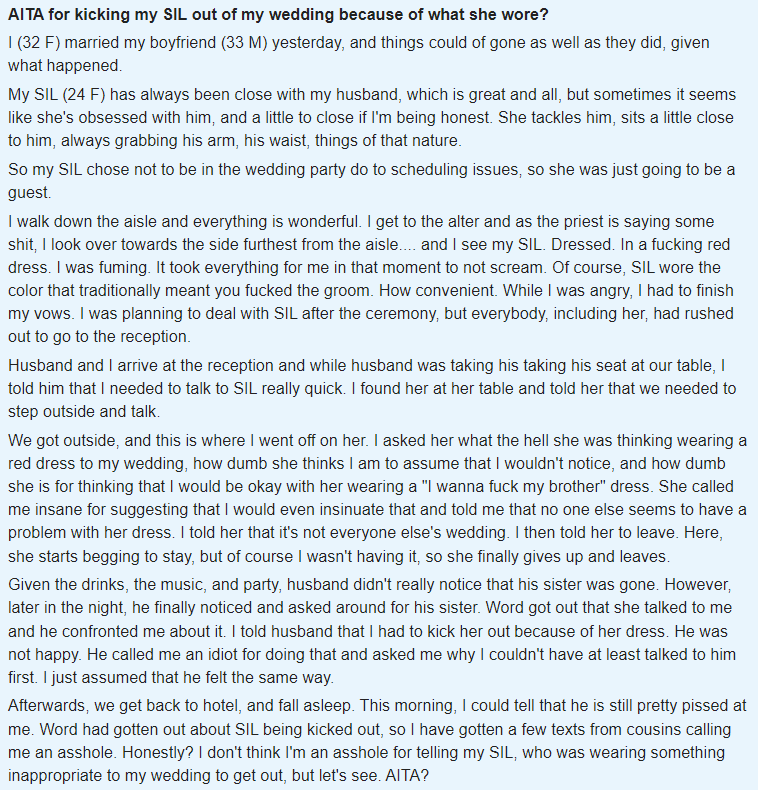 Just going to highlight the fun bit:
"I get to the alter and as the priest is saying some shit, I look over towards the side furthest from the aisle…. and I see my SIL. Dressed. In a fucking red dress. I was fuming. It took everything for me in that moment to not scream. Of course, SIL wore the color that traditionally meant you fucked the groom. How convenient. While I was angry, I had to finish my vows."
Gosh, she sounds like a peach!
Before the original post was removed, it was crossposted to my second favourite sub Am I The Devil, which specialises in displaying the very worst attributes in humankind. In other words, all the drama. Big fan.
All up, this subject received over 750 comments, all of them totally confused as to where the colour red means that you slept with the groom.
"I've never heard that red means you fucked the groom or I wouldn't have worn red at my mom's and stepdad's wedding," quipped one woman.
"My little niece wore red to my cousin's wedding last weekend. Uh oh," added another.
"My mom wore a red mother-of-the-bride dress and now she has some splainin' to do," wrote a third.
"I wore a red dress to a wedding once and now this is going to keep me up at night."
Finally, the comment that made me snort-giggle: "I have heard red referred to as the "color of harlots" but only by old biddies."
Sounds like this bride made up any old reason to exclude and humiliate her younger sister-in-law. The marriage is less than a week old, there is still time for an annulment!