Baby Born With Rare Genetic Condition Is Abandoned By Adoptive Parents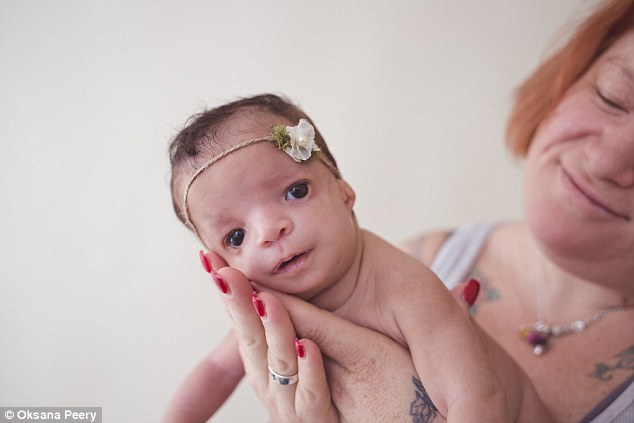 When Christina Fisher fell pregnant she felt she couldn't adequately provide for her child so she decided to give her up for adoption.
The 36 year old mother from Florida had already raised one daughter, Debra, 18, and felt she wasn't in a position to raise another.
The baby's father was nowhere to be seen, and Christina was living in a trailer park during her pregnancy.
Christina had already selected the unidentified adoptive parents, a couple from Georgia, through an agency. But when the adoptive parents first saw Christina's baby, Abigail when she was born. they instantly fled the hospital saying she wasn't what they had hoped for.
Precious Abigail Lynn was was born with a very rare condition, Treacher Collins syndrome. The condition meant that the bones and tissue of her face were affected, resulting in the underdevelopment of some facial structures such as the cheekbones, ears and jaw.
So in a beautiful turn of events, birth mother Christina kept her baby Abigail and says she couldn't imagine life without her.
'I spent the better part of last year pregnant and I was planning on giving Abigail up for adoption,'  Ms Fisher explains on a GoFundMe page to raise money for Abigail.
'She was born with Treacher Collins syndrome to our surprise… It was not detected in the amniocentesis or in the ultrasound,' Ms Fisher continued on the GoFundMe page. 'When she was born on 1-11-16 the adoptive mom left the hospital crying saying how deformed she is…and never heard from her again. That is when I realised she is meant to be mine only now.'
Christina and her daughter have taken part in a beautiful photo shoot with Florida-based photographer, Oksana Peery.
The photos capture the unspoken bond between mother and daughter.
I was not fully prepared for Abigail but now I can no longer see my life without either one of my daughters,' Ms Fisher concludes.
'I would like to send out my thanks to everyone for everything that's happened and all the support.'
If you would like to donate to Abigail Lynn and her mother, click here.
Photos courtesy of Photographer Oksana Peery.