Chocolate Brownie Cupcakes Recipes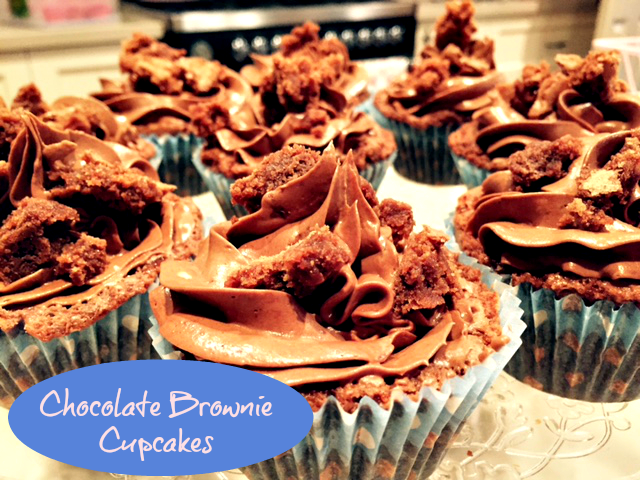 Chocolate Brownie Cupcakes Recipes
My two most favorite cakes in the world are cupcakes (because they are cute, easy to decorate, easy to freeze, easy to pop into lunchboxes – need I go on) and brownies because they are rich and dense and moist and delicious so what better than to combine the two together!
The top of the cakes forms a hard crust and then it collapses inwards (which might make you think they have failed) but this is exactly what you're looking for. It is so chewy and delicious on the outside, it's fudgey and moist on the inside and then add some chocolate buttercream and yum-yum-yum.
This recipe yields 17 cupcakes – a strange amount I know. You are going to slaughter one of the cupcakes un-iced as a topping over the rest of the iced cakes. The recipe I base this on actually makes 12 cupcakes and then suggests you use the rest of the batter in a tray for this crumble but most of that was not needed so just whack a couple extra patty cases into another tray so you have extras!
Ingredients
Chocolate Brownie Cupcakes Recipes
Ingredients
Cupcakes
2 cups (300g) all purpose (plain) flour
1 tsp baking powder
1/2 tsp salt
250g (8 oz) dark chocolate, coarsely chopped
1 cup (250g) unsalted butter, cut into pieces
2 cups (400g) sugar
4 large eggs
2 tsp vanilla extract
Chocolate Buttercream
250g (8 oz) dark chocolate, coarsely chopped
1 cup (200g) sugar
3 large egg whites
3/4 cup (180g) unsalted butter, cut into small pieces
Instructions
Cupcakes: Preheat the oven to 180C/160C fan-forced/350F. Line a standard 12-cup muffin pan with paper liners and you will have enough left over batter to make approximately 4 extra ones.
Sift the flour, baking powder and salt into a bowl. Combine the chocolate and butter in a heat-proof bowl over barely simmering water, stirring until melted and smooth. Set aside to cool a little.
Add the sugar to the bowl with the chocolate and beat with an electric mixer on medium-high speed until smooth. Add the eggs one at a time, beating until just combined after each addition. Then add the vanilla.
With the mixer on low speed, add the flour mixture. Spoon the batter into the paper liners, filling each one two-thirds full.
Bake for 18-20 minutes, they will have a slight wobble to them still.
Let the cupcakes cool in the pan for 5 minutes then finish cooling on wire racks.
Chocolate Buttercream: Melt the chocolate in a heatproof bowl over barely simmering water, or in the microwave. Let cool a little.
Combine the sugar and egg whites in a heatproof bowl over barely simmering water, whisking constantly until the mixture is heated and the sugar is dissolved.
Remove from the heat and beat with an electric mixer until cooled and stiff peaks form. With the mixer running, add the butter, one piece at a time, beating until fully incorporated. Continue beating until a light, fluffy cream has formed. Stir in the chocolate until well combined.
Put the buttercream in a piping bag and pipe over all but one of the cupcakes. With the last cupcake, crumble into small pieces and sprinkle over the decorated cupcakes.
https://mumslounge.com.au/lifestyle/food/chocolate-brownie-cupcakes/