Big W Recalls Water Bottles Due to Potential Choking Hazard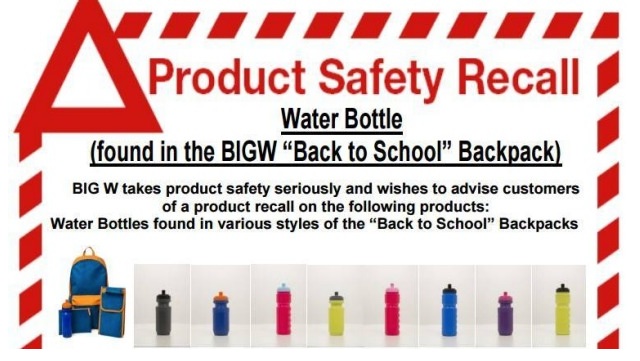 Big W Recalls Water Bottles from Their 'Back to School' Packs
Popular Australian retailer Big W has issued a recall on water bottles found inside their 'back to school' packs.  The products in question were part of a 4-piece backpack bundle lunch set that has been on sale from 21st December 2015 – 20-21 January 2016.
The recall notice states 'BIG W takes product safety seriously and wishes to advise customers of a product recall on the following products: Water Bottles found in various styles of the "Back to School" Backpacks.'
"DEFECTS: The rubber top on the bottle may become loose during use resulting in it detaching from it.
HAZARD: The detached rubber top may pose a potential choking hazard.
ACTION REQUIRED: Customers should immediately cease using the water bottle and return it to any BIG W store for a refund. All other components of the backpack bundle are not affected by the recall and can continue to be used."
Customers are instructed to check the number on the swing tag on the back of the backpack.
The recall affects the following products:
944011 4PC BACKPACK BNDLE CLR PURPLE/PINK
944008 4PC BACKPACK BNDLE CLR BLACK/GREY
944009 4PC BACKPACK BNDLE CLR BLUE/ORANGE
944010 4PC BACKPACK BNDLE CRL LIME/GREY
944004 4PC PRINT BPACK ST DESIGN CAMOUFLAGE
944007 4PC PRINT BPACK ST DESIGN PINEAPPLE
944005 4PC PRINT BPACK ST DESIGN FLAMINGO
944006 4PC PRINT BPACK ST DESIGN SOCCER
For further information
Please direct all calls and any queries concerning this recall to Big W Customer service on telephone: 1300 244 999