Breakfast Bars Recipe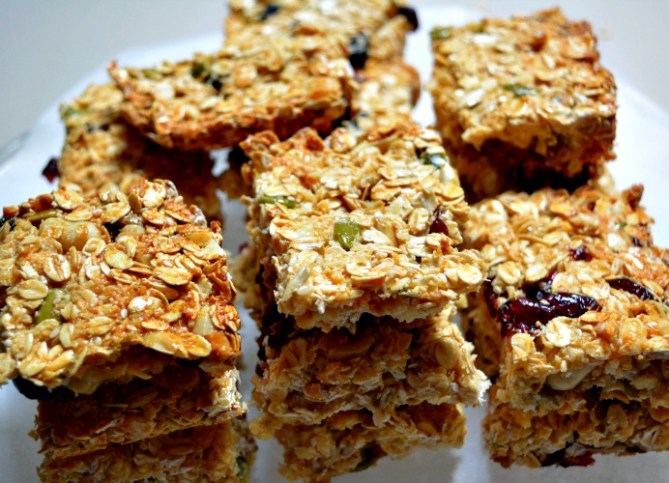 Breakfast Bars Recipe
As we are rapidly approaching back to school and all that entails I really wanted to include these Breakfast Bars. Everyone knows that breakfast is the most important meal of the day but some kids (and some adults too) really can't cope with eating first thing in the morning and far too many of them head out the door with nothing in their stomach.
These breakfast bars are every bit as good as a big bowl of muesli and the best thing about them is that you can change them up to include or exclude anything you want. Don't like almonds? Substitute cashews. Don't like fruit? Leave it out altogether. And if you want to tempt especially fussy eaters, drizzle a hint of dark chocolate over the top.
At least this way, when your kids are walking to school or riding on the bus, hopefully they will dig this out of their bag and munch on it while they're travelling. I have been making these for myself for months and they are incredibly easy. Just a quick mix of the dry ingredients, add a can of sweetened, condensed milk and bake and cut. I found this recipe on the internet and saw that some people substituted the condensed milk for almond milk or coconut milk but I haven't personally tried it myself. They keep perfectly for weeks in an air-tight container and are perfect for the whole family.
Adapted from Nigella Lawson's recipe
Ingredients
1 397g sweetened condensed milk
250g rolled oats (not instant)
75g shredded coconut
100g dried cranberries (or blueberries or apricots)
125g mixed seeds (pumpkin, sunflower, sesame)
125g natural unsalted peanuts
Instructions
Preheat oven to 130C/250F and grease a 23 x 33 x 4cm or a 9 x 13in baking tray.
Warm the condensed milk on the stovetop or in the microwave.
Mix all the other ingredients together in a large bowl, then stir through the warmed condensed milk. Spread the mixture into the tray and press down to even out. Bake for 1 hour, remove from the oven and allow to sit for 15 minutes, then cut into squares and allow to cool completely.
https://mumslounge.com.au/lifestyle/food/breakfast-bars-recipe/
Carolyn started her blog Pinkpostitnote.com just over a year ago as a way to deal with her obsession of trying new recipes from the copious collection of cookbooks that she owns (and continues to buy). She is particularly fond of "man" food, both cooking it and eating it. She will happily elbow people out of the road at the sight, sound and smell of a pulled pork burger. When she's not lying awake at 5am wondering if she should buy chooks and a cow to deal with the constant need for eggs and butter, she's dealing with all the paperwork associated with owning a bunch of tip trucks and her favorite time of the day is wine five o-clock.